(1) DOUBLE YOUR PLEASURE. Decided this weekend, the 2019 Eurocon will be hosted by TitanCon 2019 in Belfast, NI. The con is scheduled to complement the dates of the expected Dublin Worldcon.
Our proposed dates are Thursday 22 to Saturday 24 August 2019. That is the weekend after the proposed WorldCon (currently being bid for and running unopposed) to be held in Dublin, Ireland on Thursday 15 to Monday 19 August 2019.

We will also be running our traditional TitanCon Coach Tour on Sunday 25 August visiting beautiful locations around Northern Ireland that have been used as filming locations in HBO's Game of Thrones.
(2) PHONE CALL FROM THE PAST. Today Galactic Journey had its inaugural video conference call from 1962. Sartorially splendid in his white dress shirt and narrow black tie, The Traveler, Gideon Marcus, shared the split screen with Janice Marcus (his editor), and Professor Elliott (whose blog promises to "Document the obscure").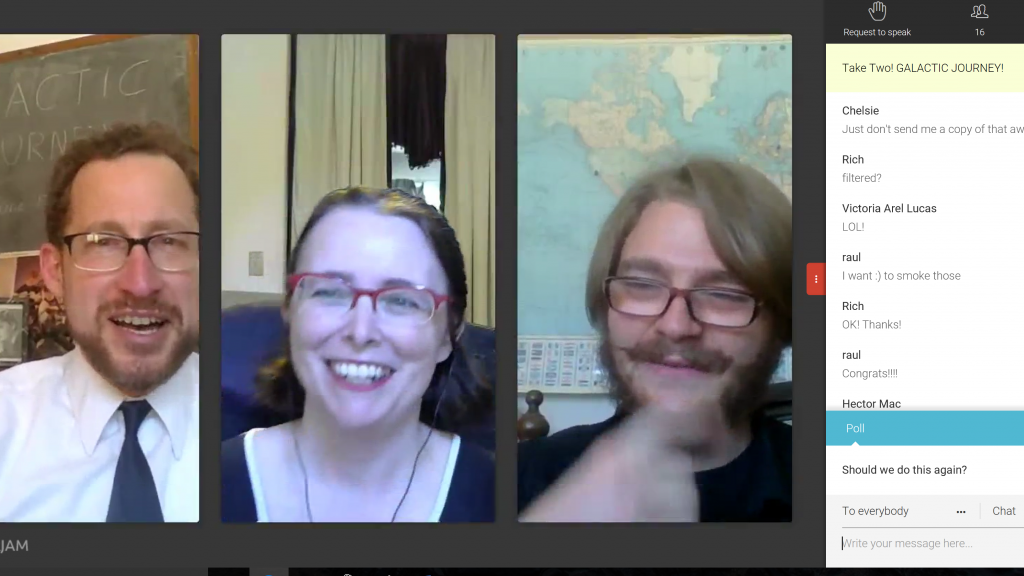 He started with a recap of significant genre news, including the new issue of F&SF with Truman Capote and Zenna Henderson on the cover, and developments in film, music, and gaming, like Avalon Hill's recently released Waterloo.
The Traveler masterfully rolled clips like the technical director in those control booth scenes from My Favorite Year, showing us a performance by the band The Shadows (some of them smoking onscreen) and the trailer for Journey to the Seventh Planet (which surprisingly did not end John Agar's movie career on the spot).
The trio also took questions from the audience — there were about 18 of us on the call — and gave us 1962's perspective on dogs in space and something called the Radar Range.
If you'd like to take your own trip 55 years back in time, the session was recorded — here's the link.
(3) FAUX DINO. The Nerdist admires Neil deGrasse Tyson despite his earnestness about certain topics. "GODZILLA Gets Debunked by Neil deGrasse Tyson".
But, let's face it, sometimes the good Dr. Tyson is kind of a killjoy. Especially when it comes to debunking the scientific possibility of your favorite science-fiction franchises. He loves to be that guy, the one to tell you how Superman couldn't really exist, or how this or that sci-fi movie got it wrong, etc. He loves to be Captain Buzzkill sometimes.

The latest example of Neil deGrasse Tyson telling us how one of our favorite science fiction icons simply could never be real happened on his Star Talk radio podcast. According to Tyson, beloved kaiju Godzilla simply could not exist in the real world, because the laws of physics could not allow for it to happen. A giant creature the size of Godzilla would be way too heavy for his limbs, and would therefore collapse under his own weight. Tyson kills your dreams of Godzilla ever emerging from the oceans in this clip from his Star Talk Radio podcast, which you can watch down below….
(4) MIND IN A VACUUM. Or maybe we would find a little of Tyson's earnestness useful here — "Is the Universe Conscious?"
For centuries, modern science has been shrinking the gap between humans and the rest of the universe, from Isaac Newton showing that one set of laws applies equally to falling apples and orbiting moons to Carl Sagan intoning that "we are made of star stuff" — that the atoms of our bodies were literally forged in the nuclear furnaces of other stars.

Even in that context, Gregory Matloff's ideas are shocking. The veteran physicist at New York City College of Technology recently published a paper arguing that humans may be like the rest of the universe in substance and in spirit. A "proto-consciousness field" could extend through all of space, he argues. Stars may be thinking entities that deliberately control their paths. Put more bluntly, the entire cosmos may be self-aware.

The notion of a conscious universe sounds more like the stuff of late night TV than academic journals. Called by its formal academic name, though, "panpsychism" turns out to have prominent supporters in a variety of fields
(5) WTF? That was my first thought upon reading in Variety that YouTube personality Lilly Singh has been cast in HBO's adaptation of Fahrenheit 451.
Based on Ray Bradbury's classic novel of the same name, the show depicts a future where media is an opiate, history is outlawed, and "firemen" burn books — Montag, a young fireman, forsakes his world, battles his mentor, and struggles to regain his humanity.

Singh will play Raven, a tabloid vlogger who works with the fire department to spread the ministry's propaganda by broadcasting their book-burning raids to fans. She joins an A-list cast that includes Michael B. Jordan, Michael Shannon, and "The Mummy" star Sofia Boutella.
I've watched a lot of her comedy videos — my daughter is a fan — and she's talented and funny. This sounds like she's being given a dramatic role, so we'll have to see how well that works. I don't automatically assume Ray Bradbury would be unhappy with the choice — after all, he seemed to like Rachel Bloom's YouTube act well enough.
(6) MORE RAY TO SHARE. BBC's Radio 3 program The Essay ends a five-part series with "Ray Bradbury's The Wonderful Ice Cream Suit".
Five writers recall clothes and accessories that resonate vividly in works of art: The series started with a white dress and ends with a pristine white suit …

Author and journalist John Walsh describes the transformative powers of a 'two-piece', worn in turn by a motley bunch of blokes in Los Angeles and celebrated in Ray Bradbury's story 'The Wonderful Ice Cream Suit'.
(7) TOUPONCE OBIT. Ray Bradbury scholar William F. Touponce (1948-2017) died of a heart attack on June 15, His colleague at the Center for Ray Bradbury Studies, Jonathan Eller, has posted a thorough and heartfelt appreciation.
Our good colleague, steadfast friend, and long-time Ray Bradbury scholar William F. Touponce passed away from a sudden heart attack on 15 June 2017. Bill joined the faculty of the Indiana University School of Liberal Arts in Indianapolis (IUPUI) in 1985, and attained the academic rank of Professor of English and adjunct Professor of American Studies during his twenty-seven years with the school. In 2007 Bill co-founded the Center for Ray Bradbury Studies and became the Center's first director. During his four-year tenure as director, he established The Collected Stories of Ray Bradbury and a scholarly annual, The New Ray Bradbury Review. He retired from the faculty in 2012, but continued to pursue his scholarly interests as Professor Emeritus right up until his passing.

…During the first decade of the new century Bill wrote introductions and volume essays for seven special limited press editions of Bradbury's works; these included an edition of the pre-production text of Ray Bradbury's screenplay for the 1956 Warner Brothers production of Moby Dick (2008). In 2007, we co-founded the Center for Ray Bradbury Studies within the Institute for American Thought, and Bill agreed to take on the direction of this new and exciting enterprise. During his four-year tenure as director, he established The Collected Stories of Ray Bradbury multi-volume series, and a scholarly journal, The New Ray Bradbury Review.
(8) FURST OBIT. Stephen Furst, best known to fans as Vir Cotto on Babylon 5 has passed away. The LA Times obituary sums up his career.
Furst's breakout role was as Dorfman in the 1978 film "Animal House," which also marked the film debut of "Saturday Night Live" star John Belushi.

…He was later a regular on "Babylon 5" and "St. Elsewhere."

In addition to his acting career, Furst directed several low-budget films, and was a producer on the 2009 drama "My Sister's Keeper," starring Cameron Diaz.
(9) TODAY'S FANNISH ANNIVERSARY
(10) TODAY'S BIRTHDAYS
Born June 17, 1931 — Dean Ing
Born June 17, 1953 — Phyllis Weinberg
(11) CARRIE FISHER REPORT. An Associated Press story by Anthony McCartney, "Coroner Releases Results of Carrie Fisher Death Inquiry", says the coroner determined that Fisher died from a variety of causes, one of which was sleep apnea, "but investigators haven't been able to pinpoint an exact cause."
Carrie Fisher died from sleep apnea and a combination of other factors, but investigators were not able to pinpoint an exact cause, coroner's officials said Friday.

Among the factors that contributed to Fisher's death was buildup of fatty tissue in the walls of her arteries, the Los Angeles County coroner's office said in a news release late Friday. The release states that the "Star Wars" actress showed signs of having taken multiple drugs, but investigators could not determine whether they contributed to her death in December.

Her manner of death would be listed as undetermined, the agency said.
(12) FOLLOW THE MONEY. Kara Dennison returns with "CONVENTIONS: Where Does Your Money Go?"
The Alley

Artists and vendors, this is for you. This is a whole other concept of paying for cons.

I've worked both as a seller in Artist Alley and an AA head, so I've seen a lot of sides of this. Tables at events can go for anywhere from $40 to (apparently now) $300, all for a six-foot table with a hotel tablecloth and two chairs. And seriously what the heck.

Here's what the heck.

For starters, renting those tables actually costs the cons money. Yeah. To take them out of storage and use them for three days, the con has to pay the hotel. That's a part of the contract. Each hotel chain will have their own version of pricing for that, but that fits into your fee.

Beyond that, the price is reflective of the fee to rent the space the Alley is in, as well as the sort of business the con believes you can expect to do. Not a guarantee, but an estimate. If you shell out $100 for a table, that's in essence the con saying "A good vendor doing their part can expect to take home at least $100 this weekend."

To be fair, some cons out there really overestimate themselves. The best way to make sure a price is fair is to talk to regular vendors at the event (in your medium, if possible) and see if it evens out. I'm describing to you how a scrupulous Artist Alley works — if something seems off, do your homework.

That said, there are some cons that know they are too small to bring the goods and will actually cut their prices or waive the table rental fee. If a table is extremely low-priced at an event, it's not because all tables should be that cheap — it's because the staff is aware of their attendance size and trying to be fair to artists. Artist Alley fees should be judged against their con, not against each other.
(13) THE X-PERSON FRANCHISE. The word from Vanity Fair — " Sophie Turner Is Now Officially the Future of the X-Men Franchise".
Fox today confirmed a number of suspicions that had been swirling around the next installment of the central X-Men franchise. For the foreseeable future, just like Cyclops, the mutants will be seeing red as Jessica Chastain joins Sophie Turner at the center of X-Men: Dark Phoenix.

Doubling down on the investment the studio made in Turner as head of the new class of mutants in X-Men: Apocalypse, the sequel is now, Deadline reports, officially subtitled Dark Phoenix–a reference to a famous comic storyline involving her powerful character, Jean Grey, breaking bad. It's the same storyline X-Men explored with Famke Janssen as Jean Grey in the weakest installment of the franchise: The Last Stand. To lean in on a storyline from the least-loved X-Men film and draft Turner, whose debut in the franchise certainly didn't make Apocalypse any better, is a risky choice. But Fox is full of gambles that pay off these days (see: Deadpool, Logan) and will shore up this foray into bold, new (yet familiar) territory with a trio of returning stars.
(14) SECURITY. China launches a quantum comsat.
The term "spy satellite" has taken on a new meaning with the successful test of a novel Chinese spacecraft.

The mission can provide unbreakable secret communications channels, in principle, using the laws of quantum science.

Called Micius, the satellite is the first of its kind and was launched from the Gobi desert last August.

It is all part of a push towards a new kind of internet that would be far more secure than the one we use now.

The experimental Micius, with its delicate optical equipment, continues to circle the Earth, transmitting to two mountain-top Earth bases separated by 1,200km.
(15) GLOWBOT. Swimming robot to investigate Fukushima: "'Little sunfish' robot to swim in to Fukushima reactor".
It'll be a tough journey – previous robots sent in to the ruined nuclear reactor didn't make it back.
(16) A PIXAR FRANCHISE KEEPS ROLLING. NPR likes Cars 3: "'Cars 3' Comes Roaring Back With A Swapped-Out (Story) Engine"
The multi-billion-dollar success of Pixar's Cars series can be chalked up to a great many things, but don't discount the little vroom-vroom frowns the cars make with their dashboard eyes when they want to go fast. When Lightning McQueen, the Owen Wilson-voiced stock car with the bright flames decal, guns for pole position, he squints so much that any human who might be driving him wouldn't be able to see the road. But of course there are no humans in this world, unless you count the invisible giant kids who must be steering the racers with their hands and making the motor sounds themselves.

That enduring childhood (typically but by no means exclusively boyhood) fascination with moving vehicles has propped up this franchise for the backseat set, seeing it through three feature-length films, a spin-off Planes series, and countless toy tie-ins.
(17) IAMBIC TWO-AND-A-HALF-METER. The Science Fiction Poetry Association is having a half-price sale on their t-shirts.
(18) FEWER NAUGHTY BITS. Row over cleaned-up movies: "Sony sanitising films row – the story so far".
If you've been on a long-haul flight recently, you might have noticed the films being shown were a bit different from their cinematic release.

They're usually a bit shorter as they've been made family-friendly for any young eyes who can see your screen.

Earlier this month Sony decided to make these sanitised versions available to download at home, choosing 24 titles including Ghostbusters and Easy A.

But now they've had to backtrack after filmmakers complained about the move.
(19) SUBCONTINENTAL SUBCREATOR. "India's Tolkien": "Amish Tripathi: 'India's Tolkien' of Hindu mythology". I wonder, has he been introduced to "America's Tolkien"?
Meet best-selling Indian author Amish Tripathi who has just released his much anticipated fifth book, Sita: Warrior of Mithila, that re-imagines the life of the Hindu goddess from the epic Ramayan.

With four million copies in print, the former banker, who has successfully turned centuries-old mythological tales into bestselling works of fiction, is one of the highest selling Indian authors writing in English.
Chip Hitchcock says "India has snobs just like the west: 'Although critics say his books lack any literary merit, they admire him for his ability to "create completely new stories from old ones".'"
(20) PIONEERING. Oregon breaks new legal ground in personal identification — "Male, female or X? Oregon adds third option to driver's licenses".
Oregon on Thursday became the first U.S. state to allow residents to identify as neither male nor female on state driver's licenses, a decision that transgender advocates called a victory for civil rights.

Under a policy unanimously adopted by the Oregon Transportation Commission, residents can choose to have an "X," for non-specified, displayed on their driver's license or identification cards rather than an "M" for male or "F" for female.

The policy change was cheered by supporters as a major step in expanding legal recognition and civil rights for people who do not identify as male or female. This includes individuals with both male and female anatomies, people without a gender identity and those who identify as a different gender than listed on their birth certificate.
(21) BRONZE AGE. Is this the style of armor Patroclus wore? "Dendra panoply, the oldest body Armour from the Mycenaean era".
The earliest sample of a full body armor in Greece was found at the Dendra archeological site, located in the Argolis area. Discovered in May 1960 by Swedish archaeologists, the discovered breastplate, and backplate made of bronze, date to the 15th century BC. These pieces are part of the Dendra full-body armor, composed of fifteen pieces, including leg protectors, arm-guards, helmet and the parts mentioned above. The pieces were held together with leather lacing, covering the entire body of the soldier.

The breastplate and backplate are linked on the left side by a hinge, and together with the large shoulder protectors, these pieces consisted the upper body armor. Two triangular-shaped plates are attached to the shoulder protectors, providing protection for the armpits. The armor also includes a neck protection plate. Three pairs of curved shields hang from the waist, giving protection to the groin and the thighs. This artifact is unique for its armguard, and as for the leg protectors, it is assumed that they were made of linen and are a standard piece of armor seen in illustrations from the Mycenaean age.
(22) EMISSION IMPOSSIBLE. Speaking of Homeric — what about Our Wombat!
ME: ohshit ohshit turtle in traffic
ANKLE: You do what you gotta do.
ME: Really?
ANKLE: I know what I signed up for.
ME: I love you, man

— The Wombat Resists (@UrsulaV) June 16, 2017
Turtle is safely on the other side of the highway, adrenaline wearing off, I am in a pretty damn fine amount of pain, but ankle did good.

— The Wombat Resists (@UrsulaV) June 16, 2017
Also I'm covered in turtle urine, but that probably goes without saying.

— The Wombat Resists (@UrsulaV) June 16, 2017
[Thanks to Joe H., Cat Eldridge, Chip Hitchcock, Rich Lynch, John King Tarpinian, Martin Morse Wooster, and rcade for some of these stories. Title credit goes to File 770 contributing editor of the day Jack Lint.]