(1) MARK HAMILL ZOOMS WITH UKRANIAN DEFENDERS. Mark Hamill answered Ukranians' questions about the Star Wars saga.
(2) A NICHE IN THE ECOLOGY. WIRED tells "How Bookshop.org Survives—and Thrives—in Amazon's World".
"DO YOU REMEMBER what kind of beer it was?"

Andy Hunter pauses for so long before answering my question, it's awkward. He's racking his brain. I've asked him to tell me about the night he came up with the idea that led to his improbably successful bookselling startup, Bookshop.org. As a former magazine editor, he wants to get the details right….

…THE PROBLEM FOR independent bookstores is that many of them don't have the bandwidth to run their own online stores. Their inventories and shipping capabilities are limited by their non-Amazonian budgets. Plus, sometimes they don't want to participate in ecommerce; the romance of stuffed shelves and reading nooks and thoughtfully selected staff picks are central to their existence. Removing those experiences seems antithetical—even though it might be necessary—to the bottom line.

Bookshop offers another option. Say you're a small bookstore owner. It takes only a few minutes to set up a digital storefront on Bookshop's website, list what books you want to sell, and, if you want, curate collections of titles to reflect your store's worldview. You don't have to actually stock any of the books yourself; Bookshop partners with the wholesaler Ingram to fulfill orders, so you're off the hook for inventory and shipping. You get a 30 percent cut of the cover price on any book sold through your storefront. (If you're a blogger, writer, influencer, or other bookish type, you can join Bookshop as an individual, even if you don't own a brick-and-mortar bookstore, and take home a 10 percent cut on whatever you sell.)…
(3) MARTIAN ILLUSTRATIONS. Open Culture shares "Horrifying 1906 Illustrations of H.G. Wells' War of the Worlds" from the public domain.
H.G. Wells' War of the Worlds has terrified and fascinated readers and writers for decades since its 1898 publication and has inspired numerous adaptations. The most notorious use of Wells' book was by Orson Welles, whom the author called "my little namesake," and whose 1938 War of the Worlds Halloween radio play caused public alarm (though not actually a national panic). After the occurrence, reports Phil Klass, the actor remarked, "I'm extremely surprised to learn that a story, which has become familiar to children through the medium of comic strips and many succeeding and adventure stories, should have had such an immediate and profound effect upon radio listeners."

… what contemporary circumstances eight years later, we might wonder, fueled the imagination of Henrique Alvim Corrêa, whose 1906 illustrations of the novel you can see here? Wells himself approved of these incredible drawings, praising them before their publication and saying, "Alvim Corrêa did more for my work with his brush than I with my pen."…
(4) EVERYONE WILL HAVE ONE OF THESE. CBR.com remembers how "Marvel Screwed Up the Final Marvel Value Stamp".
…In the early 1970s, a momentous change occurred at Marvel Comics, which had been sold off to a conglomerate in the late 1960s. After selling the company, Martin Goodman remained as the publisher until retiring in 1971. Stan Lee then took over as Publisher, with Roy Thomas moving up to become the Editor-in-Chief. As the Publisher, Lee devoted his time less to the day-to-day management of the comic books themselves and instead to new ideas to help make Marvel more money. One of those ideas was the Marvel Value Stamp, a reward system designed to get fans to collect as many Marvel comics as possible to collect all of the possible stamps.

Abrams has a new book out called Marvel Value Stamps: A Visual History, which includes Roy Thomas discussing the history of the Marvel Value Stamp (as far as he was privy to, of course), and in the discussion, he revealed an interesting secret about how the final stamp in the set didn't work out the way that Marvel intended it to, as instead of only being available in a single Marvel comic, it ended up in three! It wasn't even the rarest stamp in the collection!…
(5) WHITEHEAD Q&A. [Item by Steven French.] Colton Whitehead says he dug LeGuin's Earthsea series in this Guardian interview: "Colson Whitehead: 'When I read Invisible Man I thought maybe there's room for a Black weirdo like me'".
My favourite book growing up
I loved pop culture encyclopedias, with their entries and mini-essays about movies and shows that might one day pop up on broadcast TV. The Twilight Zone Companion by Marc Scott Zicree was one, and Michael Weldon's The Psychotronic Encyclopedia of Film was another, that last one offering tantalising summaries of movies like The Flesh Eaters and Satan's Sadists.
(6) MIKE FOSTER (1947-2023). Scholar and educator Mike Foster died April 12 "after twelve difficult days in ICU" his wife Jo announced on Facebook. He is survived by his wife, Jo, two daughters, two grandchildren, and his sister. The family obituary is here.
Foster had a 34-year career at Illinois Central College, teaching English, journalism, and literature, retiring in 2005.
[At ICC] he created a Literature of Fantasy and Imagination course and, in response to student requests, created a J.R.R. Tolkien, Special Studies course. He was instrumental in founding ICC's Honors Program. In 2004, he taught a term at Christ Church University College in Canterbury, England. Mike received ICC's Gallion Award for Excellence in Teaching in 1978-79.

Interest in the writings of J.R.R. Tolkien, C.S. Lewis, G.K. Chesterton, and J.M. Barrie gave him the opportunity for lifelong scholarly accomplishments and friendships. Since 1995 he was the North American Representative to the Tolkien Society. He also was active in the Mythopoeic Society and the American Chesterton Society. He delivered conference papers all over the United States and England. Mike appeared on television in the United States and Canada, including ABC's "World News Tonight" preceding the release of the first "Lord of the Rings" movie.
Mike and Jo were regulars at Mythcons for years, overlapping my active period in the Society. This excerpt from my 2007 conreport gives a taste of what Mike brought to every event.
…Mike Foster read his very well-written paper on the late George Sayer, Lewis friend and biographer (Jack), and Foster's friend as well. Foster summarized Sayer's interpretations of key relationships and events in Lewis's life, showing how they developed by adding Sayers's later comments on some points….

…Mythcon's Saturday night festivities opened with "Lord of the Ringos, the Tolkien musical that the Beatles would have written" (had they not ended up doing The Yellow Submarine) performed by guitarists Lynn Maudlin and Mike Foster, with back-up singers Anne Osborn and Jessica Burke. They recast "Help!" as Gandalf's plea for assistance in ridding Middle-Earth of the Ring, worked through several more Beatle parodies, and ended triumphantly with a version of "Twist and Shout" that implored Frodo to "twist off that Ring!"…
(7) MEMORY LANE.
1953 – [Compiled by Cat Eldridge.]
Seventy years ago, Wilmar Shiras' Children of the Atom was published by Gnome Press with cover art by Frank Kelly Freas. SFBC declared it one of "The Most Significant SF & Fantasy Books of the Last 50 Years, 1953–2002."
The book, like the novel last Scroll, A E Van Vogt's The Voyage of The Space Beagle, is a fix-up of existing material, in this case of three earlier stories, the most remembered of which is the "In Hiding" novella first published in Astounding Science Fiction, November 1948, which would later appear on several Best SF lists.
That novella became the basis of the first chapters of her novel with two sequels in the same magazine, "Opening Doors" and "New Foundations" becoming in slightly modified form the rest of this novel.
It is, with doubt, a most extraordinary novel. I asked the Suck Fairy what she thought of it and she actually got a tear in her eye.
So without spoiler just in case someone has not read this novel yet, here's the Beginning of Wilmar Shiras' Children of the Atom…
In Hiding Peter Welles, psychiatrist, eyed the boy thoughtfully. Why had Timothy Paul's teacher sent him for examination?
"I don't know, myself, that there's really anything wrong with Tim," Miss Page had told Dr. Welles. "He seems perfectly normal. He's rather quiet as a rule, doesn't volunteer answers in class or anything of that sort. He gets along well enough with other boys and seems reasonably popular, although he has no special friends. His grades are satisfactory—he gets B faithfully in all his work. But when you've been teaching as long as I have, Peter, you get a feeling about certain ones. There is a tension about him—a look in his eyes sometimes—and he is very absent-minded."
"What would your guess be?" Welles had asked. Sometimes these hunches were very valuable. Miss Page had taught school for thirty-odd years; she had been Peter's teacher in the past, and he thought highly of her opinion."
"What would your guess be?" Welles had asked. Sometimes these hunches were very valuable. Miss Page had taught school for thirty-odd years; she had been Peter's teacher in the past, and he thought highly of her opinion.
"I ought not to say," she answered. "There's nothing to go on—yet. But he might be starting something, and if it could be headed off—"
"Physicians are often called before the symptoms are sufficiently marked for the doctor to be able to see them," said Welles. "A patient, or the mother of a child, or any practiced observer, can often see that something is going to be wrong. But it's hard for the doctor in such cases. Tell me what you think I should look for."
"You won't pay too much attention to me? It's just what occurred to me, Peter; I know I'm not a trained psychiatrist. But it could be delusions of grandeur. Or it could be a withdrawing from the society of others. I always have to speak to him twice to get his attention in class—and he has no real chums."
Welles had agreed to see what he could find, and promised not to be too much influenced by what Miss Page herself called "an old woman's notions."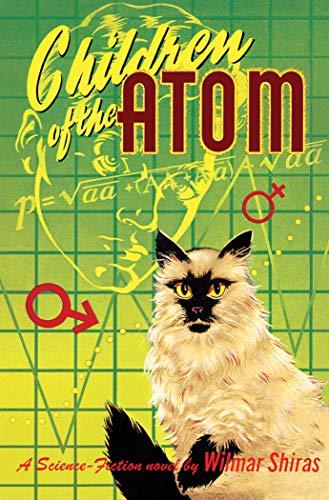 (8) TODAY'S BIRTHDAYS.
[Compiled by Cat Eldridge.]
Born April 16, 1917 — William "Billy" Benedict. Singled out for Birthday Honors as he was Whitey Murphy in Adventures of Captain Marvel. Yes, that Captain Marvel. Back in 1942, it was a 12-chapter black-and-white movie serial from Republic Pictures based off the Fawcett Comics strip. (Died 1999.)
Born April 16, 1913 — Lester Tremayne. Between 1953 and 1962, he appeared in these in these genre films: The War of the Worlds, Forbidden Planet, The Monolith Monsters, The Angry Red Planet and Kong vs. Godzilla. He'd later appear in Voyage to the Bottom of the Sea, My Favorite Martian, My Living Doll (yes, it's SF) and Shazam! (Died 2003.)
Born April 16, 1918 — Spike Milligan. Writer and principal star of The Goon Show which lampooned a number of genre works such as H. Rider Haggard's She, Orwell's Nineteen Eighty-Four, James Hilton's Lost Horizon and Quatermass and the Pit. You can find these scripts in The Goon Show Scripts and More Goon Show Scripts. (Died 2002.)
Born April 16, 1921 — Peter Ustinov. He had a number of genre appearances such as being in Blackbeard's Ghost as Captain Blackbeard, in the animated Robin Hood voicing both Prince John and King Richard, as simply The Old Man In Logan's Run, Truck Driver In The Great Muppet Caper, and in Alice in Wonderland as The Walrus. And let's finally note that In half a dozen films, he played Agatha Christie's Hercule Poirot, first in Death on the Nile and then in Evil Under the Sun, Thirteen at Dinner (which I do not recognize), Dead Man's Folly, Murder in Three Acts (nor this one either) and finally in Appointment with Death. (Died 2004.)
Born April 16, 1922 — Kingsley Amis. So have you read The Green Man? I'm still not convinced that anything actually happened, or that everything including the hauntings were in anything but Maurice Allington's alcohol stewed brain. I'm not seeing that he did much else for genre work but he did write Colonel Sun: a James Bond Adventure under thepseudonym of Robert Markham and his New Maps of Hell: A Survey of Science Fiction published in the late Fifties, he shares his views on the genre and makes some predictions as there'll never be a SF series on the boob tube. (Died 1995.)
Born April 16, 1922 — John Christopher. Author of The Tripods, an alien invasion series which was adapted into both a radio and television series. He wrote a lot of genre fiction including the Fireball series in which Rome never fell, and The Death of Grass which I mention because it was one of the many YA post-apocalyptic novels that he wrote in the Fifties and Sixties that sold extremely well in the U.K. (Died 2012.)
Born April 16, 1962 — Kathryn Cramer, 61. Writer, editor, and literary critic. She co-founded The New York Review of Science Fiction in 1988 with David G. Hartwell and others, and was its co-editor until 1991 and again since 1996. She edited with her husband David G. Hartwell Year's Best Fantasy, the first nine volumes, and Year's Best SF seven through thirteen with as well.
Born April 16, 1963 — Scott Nicolay, 60. Navajo writer whose "Do You Like to Look At Monsters?" was honored with the World Fantasy Award for Best Short Story. It's found in his Ana Kai Tangata: Tales of the Outer the Other the Damned and the Doomed collection. He hosts The Outer Dark, a weekly podcast about weird fiction.
(9) COMICS SECTION.
Broom Hilda has a "friend" who just invented a time machine and wants her to try it out.
(10) FUTURE PRESENT WAR. ScienceAlert's Mike Ryder says, "Science Fiction Is Influencing How We Conduct War And We Might Not Like The Results". The second of his four examples is —
2. Drones

Drone operations play an increasingly important role in modern warfare, with the US and its allies making use of Predator and Reaper drones to patrol the skies and kill terror suspects from afar. More recently, we have seen examples of naval drones being used in the war in Ukraine.

But, of course, science fiction has long predicted this type of warfare and if anything, it is simply a logical continuation of the computerization of daily life.

In Orson Scott Card's novel Ender's Game (1985), the child protagonist Ender Wiggin is taken into Battle School where he takes part in a series of elaborate military exercises using computers to simulate a war against a distant alien foe. Only after destroying the alien home world does Ender then discover that he wasn't playing a game at all, but rather commanding real-world forces fighting in outer space.

In a recent article, I argue that Ender's Game both pre-empts and engages with many of the key debates that we are having in this area today. This includes the way targets are selected and the moral and ethical questions around remote killing. As drones become more common in daily civilian life, these issues will only become more pressing.
(11) SJW CREDENTIALS AT SEA. "The forgotten history of cats in the navy" at National Geographic.
… Though cats are known for their aversion to water, they acclimated quite well to life on the sea. Unlike the "limeys" of the Royal Navy, who famously had to drink citrus juice to prevent scurvy, cats make their own vitamin C and can survive on a diet consisting of fish and mammals without needing to eat fruits and vegetables. And when rodents were in short supply, cats had different methods for catching fish for themselves. The easiest prey were the ones that simply washed up on the deck. Some cats overcame their dislike of water to become skilled divers that could snatch fish from the ocean. The cats that never got comfortable with swimming still managed to hunt by deftly knocking down fish leaping over the ship's bow. Because cats got most of the moisture they needed from eating the fish, they did not require a lot of potable water like human sailors. In addition, cats have an excellent internal filtration system that allows them to drink a bit of sea water if necessary….
(12) NOT AT ALL CREEPY, RIGHT? [Item by Mike Kennedy.] It's a bird! It's a plane! It's, um, both? "A team of US scientists is turning dead birds into drones to study flight techniques that may help the aviation industry" at Business Insider.
A research team in New Mexico is converting taxidermic birds into drones in order to study flight patterns, Reuters reported.

Mostafa Hassanalian, a mechanical engineering professor leading the project at the New Mexico Institute of Mining and Technology in Socorro, said the team started looking into deceased birds after mechanical bird drones weren't yielding good results.

"We came up with this idea that we can use … dead birds and make them (into) a drone," Hassanalian, who has extensively studied drones, told Reuters.

"Everything is there," he added. "We do reverse engineering."…

…. "If we learn how these birds manage energy between themselves, we can apply (that) into the future aviation industry to save more energy and save more fuel," Hassanalian said.

The bird drone prototype can only fly for a maximum of 20 minutes, Hassanalian told Reuters, so scientists will work to develop a drone that can spend more time in the air and perform tests among live birds….
(13) YOWCH. LiveScience says "Octopuses torture and eat themselves after mating. Science finally knows why".
…When she transitioned into graduate school in science, she kept that interest, and was struck by the dramatic deaths of octopus mothers after they laid their eggs. No one knows the purpose of the behavior. Theories include the idea that the dramatic death displays draw predators away from eggs, or that the mother's body releases nutrients into the water that nurture the eggs. Most likely, Wang said, the die-off protects the babies from the older generation. Octopuses are cannibals, she said, and if older octopuses stuck around, they might end up eating all of each other's young. …
(14) VIDEO OF THE DAY. Yahoo! introduces a Saturday Night Live segment about a disappointed figure left out of the box office hit in "'SNL': Funky Kong Explains Why 'Super Mario Bros' Movie Snubbed Him: 'Funky Kong Is Too Real'".
So the big news in Hollywood the last couple of week is that the "Super Mario Bros." movie is a gigantic hit. However, during the "Weekend Update" segment of this week's episode of NBC's "SNL," one particularly iconic Mario adjacent character dropped in to explain why he's barely in the film.

That would be Funky Kong, Donkey Kong's cousin and really good pal who first appeared in 1994's Donkey Kong country. And since it was played by reigning "SNL" MVP Kenan Thompson, the sketch was an absolute delight…
[Thanks to Mike Kennedy, SF Concatenation's Jonathan Cowie, Susan de Guardiola, Steven French, Andrew Porter, John King Tarpinian, Chris Barkley, Michael Toman, and Cat Eldridge for some of these stories. Title credit belongs to File 770 contributing editor of the day Cat Eldridge.]