(1) GET YOUR VIRTUAL SDCC HYPE HERE. The event starts July 23 but today San Diego Comic-Con started its day-by-day unveiling of the five-day schedule: "The Comic-Con@Home 2020 Programming Schedule". (The Wednesday, July 23 schedule released today is summarized by Variety here.)
We're two weeks away from the debut of Comic-Con@Home 2020! And even though this is a very different year, we're happy to announce we'll be sticking with the Comic-Con tradition of announcing our panel schedule two weeks in advance. Over the next five days, we'll reveal our daily online programming line-up for Wednesday, Thursday, Friday, Saturday, and Sunday, July 22–26, with complete programming descriptions. The panels themselves will not be available until those dates, but you'll be able to read all about them and build your own schedule of programs you want to watch during Comic-Con@Home 2020!

Comic-Con@Home 2020 will feature over 350 separate panels spread out over all five days of the event. There will be something for everyone! Here's how it works:

…All the panels will also be available on the Comic-Con YouTube channel, so you can also access them there. Subscribe to us on YouTube.com at https://www.youtube.com/user/ComicCon
An SDCC executive gave an interview to The Wrap about how it all came together.
"Everybody is committed to trying to make something the fans can enjoy and can interact with and have that community feeling, even though it will be not in person," Comic-Con International Chief Communications and Strategy Officer David Glanzer told TheWrap. That commitment extended to the con's studio and network partners, as the likes of AMC, Amazon, FX, Disney, Syfy, Hulu and at least one film studio, Orion Pictures (which is bringing "Bill & Ted Face the Music"), have all jumped on board to bring their panels into viewers' living rooms.
(2) WORLDBUILDERS FUNDRAISER. The annual Geeks Doing Good Showcase hosted by Worldbuilders, the nonprofit organization founded by Patrick Rothfuss of the Kingkiller Chronicle series, starts on July 13 and goes through July 20, 2020.
This week Worldbuilders will feature multiple live-streamed interviews, discussions, from authors, artists, and more. All of which will take place on the Worldbuilders Twitch Channel.
The first day's schedule is –

Schedule for Monday, July 13, 2020

Patrick Rothfuss Livestreams Twitch

When: 12pm – 2pm CDT

Patrick will be streaming on his Twitch channel at 12pm. Come hang out with Patrick and chat away!

Meet the new Worldbuilders!

When: 2pm – 3pm CDT

Come join us as we get to know the new members of the Worldbuilders team!
(3) IMAGINING WITHOUT VISUALS. "'I have no mind's eye': what is it like being an author with aphantasia?" – Mark Lawrence explains his experience to The Guardian.
'Picture this," someone says. "A juicy green apple. Can you see it?"

Of course I can't see it. My head is filled with all things apple; the central concept connects with myriad associated topics: orchards, trees, red apples, rotting apples, cider, blossom, an endless web that spreads along more and more tenuous connections. But of course I can't see it. I usually say yes, though, because I assume it's a figure of speech.

But 98% of people actually do see the thing they're imagining, like a picture in their head. The other 2%, like me, are aphantasic. There's a line I like in John Green's The Fault in Our Stars: "I fell in love the way you fall asleep: slowly, and then all at once." I found out I was aphantasic slowly, then all at once. Decades ago, my wife began visualisation for meditation. I couldn't do it. Not only could I not see an imaginary orange, I couldn't see a circle or the colour orange. But I understood visualisation to be a special skill that you worked on. Rather like juggling. And I was sure that with practice I could accomplish either one of those….
(4) THE BIG W. Camestros Felapton wraps up his advocacy series with "Hugo Fan Writer: Why you should vote for…Adam Whitehead".
… If any genre deserves and encourages the spawning of Big Enormous Labour of Love Projects it is epic fantasy and Adam has taken that genre's appendix-aesthetic into his own History of Epic Fantasy (https://thewertzone.blogspot.com/search/label/history%20of%20epic%20fantasy) and then went onto a major cartographic project mapping out the continents of George RR Martin's A Song of Fire and Ice (https://atlasoficeandfireblog.wordpress.com/). You don't need to be a fan of either epic fantasy in general or Game of Thrones in particular to appreciate the time and effort put into either of those projects over several years….
(5) IT STINKS. Lili Loofbourow delivered a kind of "state of the internet" message. Thread starts here.
(6) #SFFPLEDGE. The #SFFpledge is circulating – today The Association of Science Fiction and Fantasy Artists boosted the signal.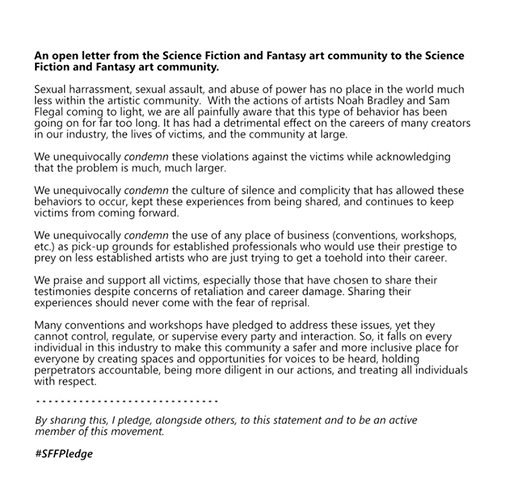 One of the figures named in the pledge, Noah Bradley, wrote this in June:
The other person named, Samuel Flegal, artist and co-founder of the art camp One Fantastic Week, issued an apology on Facebook for unspecified acts against women he had contact with. The Facebook post is no longer publicly available, but an analysis of his statement has been posted by M M Schill on her Patreon, here, and it contains a screencap of the post.
In public posts on the topic, this one links to the tweeted statement of Eunjoo Han who does not name the harasser being discussed, but he is alleged to be Flegal.
(7) BORDERLANDS FALLOUT CONTINUES. Quite a few writers have responded about the sexual assault charges leveled at Borderland Books owner Alan Beatts, including John Scalzi and Catherynne M. Valente.
… It's the store I've held all my San Francisco events at, basically for as long as I've been doing events at all. I've supported Borderlands annually as a patron, and I lent the store money to purchase a new building, which it's currently in the process of moving to.

It actually and genuinely hurt to read these accusations, which I believe. I wrote yesterday on Twitter that I was in shock about it, and I still am. This one stirs up emotions for me in a way I'm not prepared to publicly quantify or express. Suffice to say it hits close to home on a number of levels.
Catherynne M. Valente tweeted —
(8) SLC SHIFTS TO 2021. Now it's official – no FanX convention in Salt Lake City this year: "FanX 2020 Postponement".
…After discussions with community leaders, health officials, and the surge of COVID-19 cases in Utah the past few weeks, we feel it's in the best interest of our community to postpone.

During such a difficult and unprecedented time for everyone, we appreciate your support and the outpouring of love which has been shown to us. It's because of this love and continued support from the FanX community that we've been able to bring you 12 events over the past seven years and make Salt Lake City, Utah a premier pop culture event. It's also the reason we've already begun planning FanX 2021 and can take this opportunity to invite you to join us in celebrating together again on September 16-18, 2021!
(9) CURSES, FIELD AGAIN. A theory about a possible chain of influence linked to Lord of the Rings. J.R.R. Tolkien's 1932 article on "The name 'Nodens'" published as an appendix to Report on the Excavation of the Prehistoric, Roman, and Post-Roman Site in Lydney Park, Gloucestershire, is a discussion of three inscriptions found at the excavations which he concluded is the name of an unrecorded deity. Did one of those inscriptions reference another ancient find, a gold ring? Thread starts here.
(10) MEDIA BIRTHDAY.
July 10, 1981 — Time Bandits has its U.K. premiere. It was co-written (with Michael Palin), produced, and directed by Terry Gilliam. It starred Sean Connery, John Cleese, Shelley Duvall, Ralph Richardson, Kenny Baker, Jack Purvis, Katherine Helmond, Ian Holm, Michael Palin, Peter Vaughan, and David Warner. Gilliam has said that the film was the first in his Trilogy of Imagination, followed by Brazil and ending with The Adventures of Baron Munchausen. Criticsloved the film, the box office was excellent, and the audience reviewers at Rotten Tomatoes currently give it a 77% rating.
July 10, 1981 — John Carpenter's Escape from New York premiered. (That was how it was shown on-screen.) Starring Kurt Russell as Snake Plissken, this film was written by John Carpenter and Nick Castle. It was directed by John Carpenter, and produced by Larry Franco and Debra Hill. Supporting cast was Lee Van Cleef, Donald Pleasence, Ernest Borgnine, Isaac Hayes, Adrienne Barbeau, and Harry Dean Stanton. The film received generally positive reviews with Russell in particular finding favor with the critics; it did very well at the box office earning far more than it cost to produce; and audience reviewers at Rotten Tomatoes give it a 76% rating.
(11) TODAY'S BIRTHDAYS.
[Compiled by Cat Eldridge and John Hertz.]
Born July 10, 1875 – E.C. Bentley. Invented the clerihew.
Edmund Clerihew Bentley
Wrote "Exactly As It Happened". He
Did not quite manage science fiction.
But he had very good diction.
(Died 1956) [JH]
Born July 10, 1903 — John Wyndham. His best known works include The Day of the Triffids and The Midwich Cuckoos, both written in the Fifties. The latter novel was filmed twice as Village of the Damned. Both iBooks and Kindle have an impressive selection of his novels including these titles, though little of his short fiction is available alas. (Died 1969.) (CE)
Born July 10, 1908 – Carl Jacobi. Ten dozen short stories for us, in Amazing, Planet, Startling, Thrilling Wonder; also Weird Tales and Doc Savage; farther from our field, Maclean's, Railroad, Short Stories, Top-Notch. Known to have started a novel but if completed it has not appeared. Translated into Croatian, Dutch, French, German, Italian, Portuguese, Russian, Spanish, Swedish. "Mive" (1928) won a U. Minn. contest judged by Margaret Banning; Lovecraft bought it for Weird Tales, saying "I was glad to see at least one story whose weirdness of incident was made convincing by adequate emotional preparation and suitably developed atmosphere." Attended Torcon II the 31st Worldcon. (Died 1997) [JH]
Born July 10, 1911 – Jack Coggins. Thirty book & magazine covers, a few interiors, for us; a thousand paintings; oils mainly on marine subjects; art classes; four dozen books, some reprinted by Dover. With Fletcher Pratt, Rockets, Jets, Guided Missiles & Space Ships and By Space Ship to the Moon. Here is an early cover for Galaxy. Here is one for The Magazine of Fantasy & Science Fiction. Master Pastelist of Pastel Soc. America, Fellow of Am. Soc. Marine Artists. Int'l Ass'n of Astronomical Artists Hall of Fame. (Died 2006) [JH]
Born July 10, 1917 – Don Herbert. In World War II, Distinguished Flying Cross, Air Medal with three oak-leaf clusters. Invented and won a Peabody for Watch Mr. Wizard (television 1951-1965, 1971-1972; later Mr. Wizard's World 1983-1990, re-runs until 2000); he and a boy or girl did science experiments, many seeming impossible at first glance, most such as viewers could re-create. "Eight hundred thousand viewers per episode…. over five thousand Mr. Wizard Science Clubs … total membership over a hundred thousand," Science on the Air p. 227 (M. LaFollette, 2008). A good neighbor. (Died 2007) [JH]
Born July 10, 1931 — Julian May. She's best known for her Saga of Pliocene Exile (known as the Saga of the Exiles in the UK) and Galactic Milieu series: Jack the Bodiless, Diamond Mask and Magnificat. She was inducted into the First Fandom Hall of Fame at Sasquan. John has a very nice look at her here. (Died 2017.) (CE)
Born July 10, 1941 — David Hartwell. Encyclopedia of Science Fiction describes him as "perhaps the single most influential book editor of the past forty years in the American science fiction publishing world". I certainly fondly remember The Space Opera Renaissance he co-edited with Kathryn Cramer. Not to mention that his Year's Best Fantasy and Year's Best SF anthologies are still quite excellent reading to dip into on whim. (Died 2016.) (CE)
Born July 10, 1941 — Susan Seddon Boulet. If you've read the American edition of Terri Windling's The Wood Wife (which won the Mythopoeic Fantasy Award for Adult Literature), you've seen her amazing work. Or perhaps you've got a copy of Pomegranate's edition of Ursula Le Guin's Buffalo Gals, Won't You Come Out Tonight. If you're keen on knowing more about this amazing artist, see the Green Man review of Susan Seddon Boulet: A Retrospective. (Died 1997.) (CE)
Born July 10, 1945 — Ron Glass. Probably best genre wise as Shepherd Book in the Firefly series and its sequel Serenity. His first genre role was as Jerry Merris in Jerry Merris, a SF horror film and he'd later show up voicing Philo D. Grenman in Strange Frame: Love & Sax ("slated as the world's first animated lesbian-themed sci-fi film"; look it up as it as an impressive voice cast) and he showed up twice as J. Streiten, MD in Agents of S.H.I.E.L.D. Oh, and he was on Voyager playing a character named Loken in the "Nightingale" episode. (Died 2016.) (CE)
Born July 10, 1953 – Chôhei Kambayashi, 67. A dozen novels, thirty shorter stories. In "The Enemy Is the Pirate" a reluctant human hero is forced to co-operate with a wisecracking cat. "Full of Kindnesses" is set in a Japan so riddled with bureaucracy that even thieves and gangsters must obtain a license. In the world of "Prism" all human needs are met, but inhabitants are forbidden to ask why. Eight Seiun Awards, Nihon SF Taishô Award. [JH]
Born July 10, 1970 — John Simm, 50. The second of the modern Masters on Doctor Who. He appeared in the final three episodes of the Time of the Tenth Doctor: "Utopia", "The Sound of Drums", and "Last of the Time Lords". He also played Sam Tyler in Life on Mars. (CE)
Born July 10, 1981 – Karen Russell, 38. One novel, thirty shorter stories. A short version of Swamplandia! appeared in The New Yorker ("My older sister has entire kingdoms inside her, and some of them are only accessible at certain seasons, in certain kinds of weather"). Collections, St. Lucy's Home for Girls Raised by Wolves, two more. Interview in the May 2013 Lightspeed. [JH]
(12) COMICS SECTION.
R. E. Parrish finds family talking about their "accomplishments" boring.
(13) PIPERS AT THE GATES. [Item by Chip Hitchcock.] Filers may remember Miles Vorkosigan being trapped in the Thames Flood Barrier in Brothers in Arms. Now the story could move; the BBC reports "Venice test brings up floodgates for first time".
For the first time a system of 78 mobile floodgates has been tested in Venice, after years beset by delays and corruption.

The 1.5km (one-mile) Mose system of yellow dams was a "powerful project that has taken years to complete", said Prime Minister Giuseppe Conte.

Venice was hit by the worst floods in half a century in November 2019.

Environmental protesters took to the lagoon on Friday, saying the barriers would damage the area.

Critics argue the sluice-gate system is 10 years too late. Work on the Mose project started in 2003, even though it was designed in the 1980s. It has gone three times over its original budget and resulted in the arrest of dozens of officials, the BBC's Quentin Sommerville reports from Rome.
(14) WATCHING THE DARK. The Litle Red Reviewer catches us up with "Recent Reads, Watchings, Craftings, Cookings, etc.".
…Been binge re-watching the Netflix show Dark. The 3rd season just dropped, so hubby and I are rewatching the first two seasons as fast as we can. this IS the show of the summer! umm, how to explain? Think Twin Peaks meets Stranger Things, plus a metric ton of time travel. And the soundtrack! omg, so good!!

DO: watch the show and take your own notes for a family tree. Different story lines follow different generations, so you'll want to keep track of who is married to who, who is the parent and child of who, etc.

DON'T: use google to learn about this show. the less you know about the show and the plot going in, the better. the internet is solid spoilers.

not a spoiler: the first time I saw season one, I though Jonas was a cool but annoying character. Why is he so quiet? Why doesn't he seem to react to things? why does he seem so passive? Yeah, he's might be quiet, but he is NOT passive. the poor kid is a bundle of nerves and a total mess inside.
(15) HOLD THAT THOUGHT. "TikTok: Amazon says email asking staff to remove app 'sent in error'". (BBC's report of the first email is here: "TikTok: Amazon tells employees to remove app from phones".)
Amazon has said an email sent to employees asking them to remove the video-sharing app TikTok from any mobile device that can access their company email was sent in error.

An internal memo sent to staff earlier on Friday had said employees should delete the app over "security risks".

The app, owned by a Chinese company, has come under scrutiny because of fears it could share data with China.

TikTok said it did not understand Amazon's concerns.

"This morning's email to some of our employees was sent in error. There is no change to our policies right now with regard to TikTok", a company spokesperson told the BBC.

But earlier on Friday, a memo sent to staff seen by multiple news outlets stated that the app must be removed from mobile devices.
(16) ONE STEP FORWARD. "Instagram to block LGBT 'conversion therapy' services".
Instagram will block the promotion of "conversion therapy", which tries to change a person's sexuality or gender identity, the social media giant has told the BBC.

Campaigners are urging the government to act now on a two-year-old promise to make the practice illegal.

This year, 200,000 people have signed an online petition calling for action.

All major UK therapy professional bodies and the NHS oppose it on logical, ethical and moral grounds.
(17) SUNRISE. The reviewer "finally" gets around to "SOLARIS – Stanislaw Lem (1961)" at Weighing a pig doesn't fatten it.
At the beginnings of my forays into science fiction, it quickly became clear Solaris was one of the key texts, and so a physical copy of the book has been on my shelves for years. There were two reasons I didn't take it out sooner. The main thing was me having the wrong idea of what it was about. I'm not sure why, but I thought the story focused on a crew slowly growing mad, and I'd mentally labeled it something like 'psychological horror in space', a genre I'm not that interested in. The other reason was Steven Soderbergh's adaption: I'd seen it in a movie theater when it came out back in 2002, and while I don't remember any other thing about it, at the time my reaction was lukewarm at best.

It was only after a conversation in the comments to my review of Asimov's The Gods Themselves that I realized I had the wrong idea about the book. That conversation was with Polish native Ola G, and it turns out she wrote two excellent pointers about Stanislaw Lem, here and here – do click on those if you want an accessible yet fairly thorough overview of Lem. On the strength of Solaris and Ola's posts, I have added Fiasco, The Invincible and The Cyberiad to my TBR….
(18) CROSS-TRAINING. The BBC knows "Why Hollywood needs computer games tech more than ever".
Kim Libreri, an award-winning visual effects artist based in Northern California, has worked on movies including Artificial Intelligence and War of the Planet of the Apes.

For nine years he has been working with a piece of technology better known for computer games, in particular the smash-hit Fortnite.

The Unreal Engine, owned by Epic Games, provides the building blocks and tools that a computer game developer needs, but is increasingly an attractive technology for TV and film producers.

The latest version of technology, Unreal Engine 5, is coming out next year, and Epic has been heavily trailing its features.

It should allow visual effects artists like Mr Libreri to slot graphics and images straight into a scene, with little fuss.

"With traditional filmmaking, a director and cinematographer might shoot a scene on set -then down the line, hand footage and creative direction off to a team of virtual reality artists and designers, who enhance that material with visual effects and computer-generated imagery in a separate phase of production, says Mr Libreri, who is now chief technology officer at Epic Games.

With Unreal Engine collaboration between the director, cinematographer, production designer and virtual reality teams can occur simultaneously as an interactive process on set.

"Unreal Engine 5 promises to further free the artistic process by making it easier to take virtual worlds developed for feature film and television, and run them in the game engine in real time," says Mr Libreri.
(19) VIDEO OF THE DAY. This isn't part of the new Disney+ package despite featuring Lin-Manuel Miranda and another signer of the Declaration. From 2015:
"Button," Colbert's (3-minute) counterpoint/companion to Hamilton, about another of the Dec of Ind signers, "Button Gwinnett," here sung by Lin-Manuel and Stephen.
[Thanks to John King Tarpinian, John Hertz, JJ, Chip Hitchcock, Martin Morse Wooster, Daniel Dern, Michael Toman, Dann, Mike Kennedy, Lise Andreasen, Cat Eldridge, David Doering, StephenfromOttawa, and Andrew Porter for some of these stories. Title credit belongs to File 770 contributing editor of the day Anna Nimmhaus.]