(1) ALL THAT JAZZ. Elle M. has a fascinating commentary on the difference between worldbuilding and lore. Thread starts here. A few quotes follow —
They also use the author of Harry Potter as a compelling example of where lore gets injected at the expense of worldbuilding.
(2) TRENDY PLACES. Sarah Gailey's Stone Soup blog is hosting "Building Beyond," an "ongoing series about accessible worldbuilding. Building a world doesn't have to be hard or scary — or even purposeful. Anyone can do it. To prove that, let's talk to both a writer and a non-writer about a worldbuilding prompt." For "Building Beyond: Robot Dating", editor Brian J. White and writer Suzanne Walker imagine where they've gone on a date with a giant robot.
Gailey's dry synopsis should make you very curious to read the post:
…Brian's date is the foundation of a story about a robot who is learning to live in the world, and who just so happens to be inhabiting a city of decadences. Suzanne's date is the beginning of a world in which robots and humans regularly go out together, and frogs have learned to cater to the complicated ecosystem of needs that arise in such relationships.
(3) UNDER THE HARROW. Constance Grady and Vox's critic at large Emily VanDerWerff undertake a "Harrow the Ninth discussion: profound grief and terrible puns" at Vox.
Constance Grady: I have a hard time working out exactly how I feel about volume two of this trilogy. Harrow the Ninth is a trickier book than Gideon the Ninth, in the same way that bitchy, conniving Harrow is a trickier protagonist than sweet basic jock Gideon.

First of all, there's the problem of tone. Gideon mined enormous amounts of tension and humor out of the contrast between its lurid goth world and Gideon's straightforward "it looks like a sword, I want to fight it" worldview and her dirty jokes. That's part of what helps puncture the grandiosity of Muir's worldbuilding and keep everything feeling accessible and human-scale, no matter how complicated the mythology might be.

But Harrowhark worships all the lurid skeletal nonsense around her with a religious intensity, and she considers boning jokes prurient. So the easy laughter of the first volume fades away: The jokes are meaner in Harrow than they were in Gideon, and darker….
(4) MRS. PEEL, WE'RE NEEDED. [Item by Martin Morse Wooster.] In the January 23 Financial Times, Peter Aspden writes about the 60th anniversary of British TV series The Avengers, which was first broadcast in January 1960.
The plots (of The Avengers), in the meantime, got crazier. In 1967's 'Epic,' from the fifth season, Peel is kidnapped by a Teutonic film director named ZZ von Schnerk, who is filming a movie called The Destruction Of Emma Peel, for which he needs to kill her in real, or reel, life. The self-referntiality was off the scale, now. 'Gloat all you like, but I am the star of his picture, says captive Peel to the villiainous director, and anyone interested in meta-texts.

Like so many of the fashions of the 1960s, Rigg only lasted a couple of seasons. She left to star in her own Bond Film, On Her Majesty's Secret Service, in which she showed that her range extended further than understated self-mockery (in fairness, she had also already played Cordelia opposite Paul Scofield's Lear) by providing one of the franchise's few genuinely heartbreaking endings. Peel's farewell to Steed was itself a rare poignant moment, a peck on the cheek with a final piece of womanly advice: 'Always keep your bowler on it times of stress. And watch out for diabolical masterminds.'
(5) SPLATTERPUNK AWARDS. [Item by Dann.] Nominations are open for the 2021 Splatterpunk Awards through February 14. Brian Keene and Wrath James White have been experiencing….ummm…difficulties in getting valid nominations. Someone nominated HP Lovecraft who, being dead, is ineligible. Also, he hasn't published anything new in the last year. Also, also, he hasn't published anything that is close to being Splatterpunk.
Midnight Pals over on Twitter has the theoretic exchange where Brian and Wrath try to explain how this is supposed to work. (I'm pretty sure that Dean Koontz didn't nominate HP Lovecraft.)
The awards will be presented during a ceremony at the 2021 Killercon Convention, taking place in Austin, Texas.
In addition to the Splatterpunk Awards, author John Skipp will receive this year's J.F. Gonzalez Lifetime Achievement Award for his contributions to the field.
(6) FLOWER POWER. Galactic Journey's Vicki Lucas encounters a classic of the Sixties: "[January 28, 1966] The Book as Rorschach Test (Flowers for Algernon)".
…Try as I might, I have great difficulty thinking of this novel as a science-fiction story. It could be conceived of as a psychological thriller, but no one dies except a mouse. It is deeply psychological and delves as far into the brain as anyone can get right now, accepting Freudian analysis as routine, while it is Jung's "individuation" that the main character, Charlie Gordon, seeks without a guide except for his reading.

…I recommend this book, no matter its genre, and hope that anyone who reads it finds him- or herself touched by the plight of both those who are "exceptional" on the low end and those "exceptional" on the high end.

What will you see in it?

I see five stars.
(7) TAPPING INTO TED WHITE. Fanac.org posted a second installment of Ted White's livestreamed interview, conducted by John D. Berry.
Ted White has been a science fiction fan for over 70 years, as well as an artist, fanzine editor and publisher, professional writer, editor and jazz critic. Interviewer John D. Berry has known Ted for more than 50 years.

In part 2 of the January 23, 2021 interview, Ted talks about how he began writing professional science fiction, and the influence of Marion Zimmer Bradley, Terry Carr, Bob Tucker and others. There are anecdotes of the New York Fanoclasts and of how the bid for the 1967 NyCon3 came about.

Ted discusses "The Club House" column in Amazing Stories, responsible for bringing many into fandom in the early 1970s, and speaks of his many fanzine collaborations, along with challenges along the way. This Zoom interview was very well received by all the attendees, who clamored for more. Look for the next part of the interview.
(8) WATER UNDER THE BRIDGE. Camestros Felapton risked his eyeballs – will you? "I watched Star Trek – Lower Decks".
…Pitched as humorous, adult-orientated animated series in the Star Trek universe, the series creator is Mike McMahan, a lead writer from Rick and Morty. However, the show's humour is both less crude and less imaginative than that show, indeed overall it pitches itself at 'amusing' rather than 'funny'. The obvious comparison is with The Orville, rather than Galaxy Quest or John Scalzi's Redshirts….
(9) IMAGINARY PAPERS. ASU's Center for Science and the Imagination has published the fifth issue of Imaginary Papers, a quarterly newsletter on science fiction worldbuilding, futures thinking, and imagination. (Use this link to subscribe for future issues.)
Issue #5 features writing from games critic Emma Kostopolus, on the space opera game Mass Effect 3 (2012), and writer and educator Malik Toms, on John Sayles' The Brother from Another Planet (1984), as well as a piece from me about the collection Scotland in Space (2019).
(10) MEMORY LANE.
2000 — Twenty one years ago at Chicon 2000, Galaxy Quest, a DreamWorks film, would win the Hugo for Best Dramatic Presentation. It would edge out The Matrix (which lost by just three votes), The Sixth Sense, Being John Malkovich and The Iron Giant. It was directed by Dean Parisot. Screenwriters David Howard and Robert Gordon worked off the story by David Howard. It's considered by many Trekkies to the best Trek film ever made.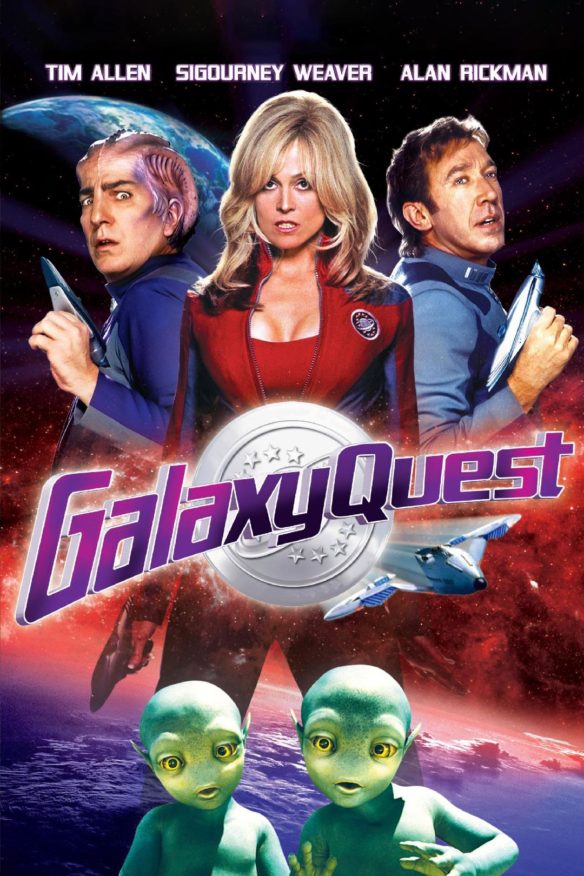 (11) TODAY'S BIRTHDAYS.
[Compiled by Cat Eldridge and John Hertz.]
Born January 28, 1820 – Vilhelm Pedersen. First illustrator of Hans Christian Andersen; a hundred twenty-five in the five-volume 1849 edition. Indispensable like Tenniel's for Lewis Carroll. Here is "The Top and Ball". Here is "The Flying Trunk". Here is "Hyldemor". Here is "Thumbelina". (Died 1859) [JH]
Born January 28, 1834 – Sabine Baring-Gould. Anglican priest, author of fiction, folklorist. Grandfather of the Holmes scholar. Wrote "Onward, Christian Soldiers" (music by Sir Arthur Sullivan). This edition including Curious Myths of the Middle Ages and Were-wolves appeared recently. (Died 1924) [JH]
Born January 28, 1929 — Parke Godwin. I've read a number of his novels and I fondly remember in particular Sherwood and Robin and the King. If you've not read his excellent Firelord series, I do recommend you do so. So who has read his Beowulf series? (Died 2013.) (CE)
Born January 28, 1931 – Komatsu Sakyô. (Personal name last, Japanese style.) Leading Japanese SF author. Most famous for Japan Sinks. Two shorter stories in this collection. Author Guest of Honor at Nippon2007 the 65th Worldcon – of which, incidentally, you can see my report here (PDF). (Died 2011) [JH]
Born January 28, 1957 – Joanne Findon, Ph.D., age 64. Assistant Professor of English at Trent Univ. (Peterborough, Ontario). Two novels for us. "I blame my two lifelong passions – writing fiction and studying the past – on … Lloyd Alexander." More here. [JH]
Born January 28, 1959 — Frank Darabont, 62. Early on, he was mostly a screenwriter for horror films such as A Nightmare on Elm Street 3: Dream Warriors, The Blob and The Fly II, allminor horror films. As a director, he's much better known as he's done, The Green Mile, The Shawshank Redemption and The Mist. He also developed and executive-produced the first season of The Walking Dead. He also wrote Mary Shelley's Frankenstein that I like a lot. (CE)
Born January 28, 1961 – Michael Paraskevas, age 60. Illustrator and animation producer. With his mother Betty, books and television Maggie and the Ferocious Beast, Marvin the Tap-Dancing Horse. MP encouraged BP, which I think is cool. A score of books, some with her, some not. Spaceships and many other things at MP's Website. [JH]
Born January 28, 1981 — Elijah Wood, 40. His first genre role is as Video-Game Boy #2 in Back to the Future Part II. He next shows up as Nat Cooper in Forever Young followed by playing Leo Biederman In Deep Impact. Up next was his performance as Frodo Baggins In The Lord of The Rings and The Hobbit films. Confession time: I watched the very first of these. Wasn't impressed. He's done some other genre work as well including playing Todd Brotzman in the Beeb's superb production of Dirk Gently's Holistic Detective Agency. (CE)
Born January 28, 1985 — Tom Hopper, 36. His principal genre role was on the BBC Merlin series as Sir Percival. He also shows up in Doctor Who playing Jeff during the "The Eleventh Hour" episode which would be during the time of the Eleventh Doctor. He's also Luther Hargreeves in The Umbrella Academy which is an adaptation of the comic book series of the same name, created by Gerard Way and Gabriel Bá. (CE)
Born January 28, 1986 – Dame Jessica Ennis-Hill, age 35. This historic champion track & field athlete has recently written half a dozen children's fantasies with Elen Caldecott, may the name be for a good omen. Here's the latest I know of. [JH]
Born January 28, 1998 — Ariel Winter, 23. Voice actress whose shown up in such productions as Mr. Peabody & Sherman as Penny Peterson, Horton Hears a Who!, DC Showcase: Green Arrow as Princess Perdita and Batman: The Dark Knight Returns as Carrie Kelly (Robin). She's got several one-off live performances on genre series, The Haunting Hour: The Series and Ghost Whisperer. (CE)
(12) COMICS SECTION.
At xkcd Randall Munroe has a couple more installments on his living in a scaled world series:
(13) SPACE UNICORNS SOUND OFF. You have until February 8 to make your voice heard: "Uncanny Celebrates Reader Favorites of 2020!"
We've set up a poll for Uncanny readers to vote for their top three favorite original short stories from 2020. (You can find links to all of the stories here.)

The poll will be open from January 11 to February 8, after which we'll announce the results. We're excited for you to share which Uncanny stories made you feel!

A snazzy certificate will be given to the creator whose work comes out on top of the poll!
(14) CON CALLS ON FANS FOR HELP. "Otakon Discusses Future, Asks for Donations" reports the Anime News Network. Their 2021 event is scheduled to be held at Walter E. Washington Convention Center in Washington, D.C. from August 6 to 8. Last year's Otakon was cancelled.
Otakorp president Brooke Zerrlaut announced in a newsletter on Thursday that the organization is requesting donations for the first time. The Otakon convention's staff are continuing to evaluate plans for 2021 and noted that the event may "potentially close" permanently.

The newsletter explained that Otakorp, a volunteer-run non-profit organization, runs the annual Otakon convention dedicated to Asian culture. Because of the cancelation of Otakon 2020 due to the effects of the COVID-19 pandemic, the organization is in a "precarious position."
(15) A WRITER'S BEGINNING AND END. Book and Film Globe in"The Tragedy of Karl Edward Wagner" reviews a documentary about the acclaimed fantasy writer and editor.
The makers of the new Vimeo documentary, The Last Wolf: Karl Edward Wagner, have trained their lens on an elusive horror and fantasy writer with a cult following. Besides the stories of supernatural and psychological terror collected in In a Lonely Place (1983) and Why Not You and I? (1987), Wagner spun tales about Kane, a hero sometimes compared to Robert E. Howard's Conan the Barbarian, who wanders and fights his way through a fantasy realm peopled with brigands, thieves, sorcerers, monks, and shapeshifters. This body of work exceeds the better-known Conan mythos in its sexuality and violence, tropes that Wagner used with uneven results.

Wagner was also a longtime editor of the Year's Best Horror Stories series, showcasing the work of Stephen King, Ramsey Campbell, Harlan Ellison, Robert Bloch, Brian Lumley, Elizabeth Hand, David J. Schow, T.E.D. Klein, Charles L. Grant, Dennis Etchison, and dozens of others in the field. A few of these scribes appear in The Last Wolf, with especially vivid remembrances coming from Campbell and Etchison. Peter Straub, who wrote a foreword to In a Lonely Place, also has a lot to say.

…The sources interviewed in The Last Wolf render a portrait of an ambitious youth who collected paperbacks, became well known to the staff of a used bookshop in Knoxville through constant visits, and liked to freak out his nephews with spooky tales as they lay in their beds by an open window. While still in high school, Wagner meets a charming young woman, Barbara Mott, on a double date. He later marries her. His career enters high gear in the 1970s as he churns out stories, but not novels, and he stays busy writing and editing through the 1980s and 1990s, almost right up to his death.

"The Fourth Seal" is about a scientist looking to cure cancer. Wagner became the victim of something comparable its destructiveness. The Last Wolf doesn't skirt around the plunge into alcoholism that drew growing concern on the part of Wagner's peers in the weird field and led to the end of his marriage. Some of the recollections are hard to take.
(16) BUY BUTLER. The London Review Bookshop's Author of the Month is Octavia E. Butler.
Our Author of the Month for February is the American Science Fiction writer Octavia E. Butler.

In her many sometimes interlocking works Butler asks questions about race, gender and, pre-eminently, hierarchy in startling ways, and to offer equally startling versions of possible futures, often dystopian, that are uncannily like the present. This is extraordinary writing, written against the grain of gender and race prejudice and against the grain of Butler's own persistent writer's block.

Start with her masterpiece Kindred. We're next to certain you won't stop there.
(17) A GLIMPSE OF SF HISTORY. Samuel R. Delany reminisced about Judith Merril in a Facebook post.
Judith Merrill [sic] (Boston, 21 Jan 1923—Toronto, 12 Sept 1997), was—for the last years of her life, one of my best friends in the science fiction world, and thus, like all of her friends, to me she was "Judy" and I—to her—was "Chip." We could never quite agree about where we met. During the time I was sharing a room with my friend, Bob Aarenberg, at the St. Marks Arms, on West 113th St., in NYC, and in our upstairs neighbor Randy Garrett took me to a party in Greenwich Village, where I met her and talked with her quite a while. But a few years later, she had no memory of that meeting. But as a kid I'd read her collaborations with C. M. [K]ornbluth (the Gunner Cade books), and thoroughly enjoyed them; I'd read a handful full of her stories—"Only a Mother," which I felt was okay, but also "Dead Center" which I felt was much stronger (and still do after several rereadings of both and others)—but the writings of hers that meant most to me was her critical work….
(18) BUT THEY DID. James Davis Nicoll remembers "Five SF Empires That Seemed Too Big to Fail", by authors Andre Norton, Phyillis Eisenstein, John Scalzi, Walter Jon Williams, and H. Beam Piper.
(19) FOR THE EAR AND THE EYE. Cora Buhlert's spotlight series detours to visit with the creator of a semiprozine: "Not-a-Fanzine Spotlight: Simultaneous Times".
Why did you decide to start your site or zine?

…The Simultaneous Times Newsletter started when the pandemic lockdowns started. Usually I'm at my bookstore six days a week, and since we specialize in science fiction, most of my conversations center around the genre. Immediately I began to miss the conversations and my customers, so I started the newsletter as a way to stay connected with science fiction fans. Since then it has just grown. But we still give free subscriptions. I thought people would prefer to get a letter in the mail over receiving an email.

What format do you use for your site or zine (blog, e-mail newsletter, PDF zine, paper zine) and why did you choose this format?

Several members of my team, including myself, have a background in radio. When we all started talking about starting a podcast we decided that we wanted to produce the program the way that radio shows were produced in the past. Really take the radio arts approach instead of going with modern trends in podcasting. Since then we've even teamed up with the radio station KZZH 96.7 in Northern California, so our program did end up on the air.

The Newsletter is print because I wanted to put something physical in people's hands, especially during this time of not being able to see each other. That being said, I have started to put the back issues on our website, so the archive is available to everyone
(20) IT'S PEOPLE! Shiv Ramdas comments on a trending topic. Thread starts here.
(21) THE SINS OF STARSHIP TROOPERS. [Item by Dann.] The guys at Cinema Sins have "Everything Wrong With Starship Troopers in 19 Minutes or Less". (Parenthetically, I'm not looking for the 5,681st iteration of "The book is better than the movie" or the 12,259th iteration of "Verhoeven never read the book!". I like 'em both for different reasons. And the Cinema Sins guys are great.)
(22) TINGLE REVIEWED IN THE GUARDIAN. [Item by PhilRM.] Here are words I never expected to read in the Guardian: "'My Antifa Lover': I read the weirdest Trump-era erotica so you don't have to" by J. Oliver Cromwell.
…In recent years, Amazon's e-books market has nurtured a flourishing cottage industry of self-published romance and erotic literature – and the Trump years have inspired many to put pen to paper. The most successful authors (most write under pseudonyms) are known for their prolific publication, thesaurus-aided descriptions of the human anatomy, and responsiveness to current events.
The surreality of the past four years was particularly generative of their creative juices. With the Trump era now drawn to a chaotic close, we decided to review four of the most memorable entries in this niche literary genre.
I'm strangely drawn to the title "My Antifa Lover", although slightly disappointed that Conroy opted to review Chuck Tingle's Pounded In The Butt By The Handsome Physical Manifestation Of Tromp's [sic] Twitter Ban That Should've Come Years Sooner But Fine Now That It's Here High Five rather than the frankly superior Domald Tromp [sic] Pounded In The Butt By The Handsome Russian T-Rex Who Also Peed On His Butt And Then Blackmailed Him With The Videos Of His Butt Getting Peed On. No, I have no idea how the internet got us here either, really.
I feel compelled to note that the reviewer gave Tingle's work 5/5.
(23) VIDEO OF THE DAY. In the 1780s, a charismatic healer caused a stir in Paris. An amusing video about the history of Mesmer's methods and how he influenced medicine in the late 18th Century. Vox recalls The phony health craze that inspired hypnotism".
Scientific progress in the 18th century in Europe, a period known as the "Age of Enlightenment," was demystifying the universe with breakthroughs in chemistry, physics, and philosophy. But medical practices were still relying on centuries-old treatments, like leeching and bloodletting, which were painful and often ineffective. So when Franz Anton Mesmer, a charismatic physician from Vienna, began "healing" people in Paris using an alternative therapeutic practice he called "animal magnetism," it got a lot of attention. Mesmer claimed that an invisible magnetic fluid was the life force that connected all things and that he had the power to regulate it to restore health in his patients. He was a celebrity figure until the King of France, Louis XVI, commissioned a group of leading scientists to investigate his methods in 1784. Benjamin Franklin headed the commission, and they debunked the existence of the magnetic fluid in the first-known blind experiment. Mesmer was ruined, but "mesmerism" didn't end there. The report also acknowledged that Mesmer's methods were making his patients feel better, which they attributed to the power of the human imagination. This experiment ultimately laid the groundwork for our understanding of the placebo effect and inspired an evolution of Mesmer's practice into something more recognizable today: hypnotism.
[Thanks to JJ, Martin Morse Wooster, Dann, Andrew Porter, Cora Buhlert, Cat Eldridge, Michael Toman, John Hertz, Mike Kennedy, Mlex, Joey Eschrich, Rob Thornton, Michael J. Walsh, PhilRM, and John King Tarpinian for some of these stories. Title credit goes to File 770 contributing editor of the day Peer, who has ridden the fourth horse once before.]