(1) AFRICAN STORY FORMS. Clarion West is offering an online workshop "African Story Forms: Ngano & Black Fabulism" with Yvette Lisa Ndlovu on February 26 at 4:00 p.m. Pacific. Register here. Cost: $75.
This craft talk & generative workshop will explore the form & structure of ngano, a Zimbabwean storytelling form that blends fables, folktales, and the surreal. We will examine how some of the structures and techniques of this traditional narrative can be used for plotting and structuring in the short form. In a ngano strange things happen: animals talk, people fly, time collapses, & nature eschews the laws of physics. These fantastic tales have social justice elements at their core: they call out social evils and speak truth to power. In this session, I'm specifically interested in interrogating Ngano as political fantasy that holds a mirror to our world. What can writers borrow from this traditional African storytelling form to reflect our bizarre & impossible realities across the globe? 

We will engage with the work of Zimbabwean Sarunganos, like Ignatius Mabasa, who are keeping this form alive, as well as Black fabulists like Lesley Nneka Arimah, Irenosen Okojie, Helen Oyeyemi, Nana Nkweti, and others. All writers are welcome.
(2) CAT IN A VACUUM. James Davis Nicoll has been "Revisiting The Amazing Adventures of Space Cat!" at Tor.com.
… Flyball is a cat. Who—and this is the complicated part—lives in space. His career is documented in four illustrated volumes: Space Cat (1952), Space Cat Visits Venus (1955), Space Cat Meets Mars (1957), Space Cat and the Kittens (1958). All four are illustrated by Paul Galdone (June 2, 1907–November 7, 1986).

I have not read these since 1969. How did they stand up? I am glad you asked….
(3) STOP WATCHING THE SKIES. [Item by Michael Toman.] Has anyone heard anything from Liiliput, Brobdingnag, The Floating Island (with its associated Grand Academy-of Lagadu-at-Balnibarbi,) Japan, Houyhnhnm-land, and "Other Remote Nations of the World" lately? Or, like my sister, residing in the Still-Improbable-Sounding-to-the-Undersigned, Red State of "North Carolina, USA," has already seen the movie? MSN.com shares what happens when "Physicists consider real-life 'Don't Look Up' scenarios".
… "Effective mitigation strategies are imperative to ensure humanity's continuity and future advancement," Lubin and Cohen write. "Existential threats to humanity are very low recurrence, but are known to have happened multiple times in the past."

NASA takes the threat seriously, scanning the heavens in search of potentially threatening bodies that cross Earth's orbit. Last November, the agency used a SpaceX Falcon 9 rocket to launch a probe at a 525-foot-wide moon, Dimorphos, orbiting a a half-mile-wide asteroid named Didymos.

The 1,210-pound DART spacecraft is expected to slam into Dimorphos at a blistering 15,000 mph in September, disintegrating on impact as it gouges out a fresh crater and, in the process, slows the moonlet by a minuscule fraction of an inch per second.

The test will not move the targeted asteroid off its trajectory any appreciable amount. But it will allow scientists to assess their ability to one day deflect a threatening body by nudging it off course to ensure it misses Earth entirely.

Deflection works best at great distances, where a small nudge can have a major effect over many months. That requires early detection…
(4) A LANDMARK IN HORROR. [Item by SF Concatenation's Jonathan Cowie.] BBC Radio 4's series 1922: The Birth of Now, has devoted a short 15-minute program to Nosferatu. Available for download as mp3 from BBC Sounds (simple registration required). Details here — "1922: The Birth of Now, Nosferatu and Modernist Horror".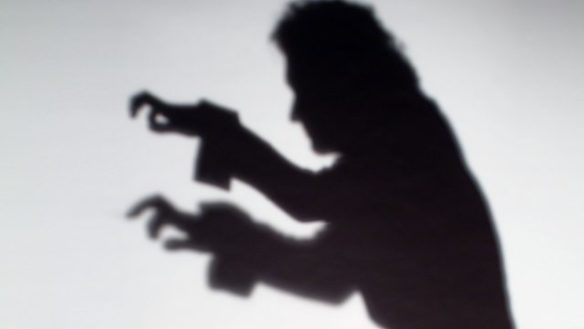 1922: The Birth of Now – Ten programmes in which Matthew Sweet investigates objects and events from 1922, the crucial year for modernism, that have an impact today.

 Nosferatu: A Symphony of Horror.

 F. W. Murnau's 1922 gothic masterpiece is the first vampire movie. It is German Expressionism in cinematic form and still influences contemporary film-makers. It's also a film about disease: Count Orlok – a rip-off of Dracula that got Bram Stoker's family lawyers on the case – brings plague to Mittel Europe. What does this disease mean, in a Europe that has just survived war and pandemic? Matthew Sweet and guests including Dana Gioia, the award-winning poet and critic who wrote the libretto to composer Alva Henderson's Nosferatu: The Opera, first produced in 2004, and the literary scholars Roger Luckhurst and Lisa Mullen.
(5) IRISH STUDIES. The American Conference for Irish Studies has put out a call for papers for ACIS National 2022 with the theme "Irish Studies: Pasts, Presents, and Futures". It will be held online April 29-30, 2022.
Another year disrupted. Another unforeseen turning in the widening gyre. As in so many elements of our lives, the most recent wave of the pandemic means we must ask questions about our past, our present, and our future: How long has it been since we felt normal? What can we do right now? What will tomorrow bring? This moment allows us to reconsider the purpose and future of Irish Studies, and its related, interconnected, peripheral, and unrecognized fields. For the online 2022 American Conference for Irish Studies, we invite individual papers, panels, and roundtables that reassess the pasts, presents, and futures of our field. Intentionally open, speculative, and abstract, it is our hope that these papers, panels, and roundtables seek "collisions and encounters" that help, in the words of Gayatri Gopinath, to explore "our imbricated pasts and futures."

For this year's conference, which will be fully online, we seek papers, panels, and roundtables on the following, as well as any or all other topics in Irish Studies:
Imagined and real Irish pasts
Speculative and potential Irish futures
Irish encounters with other fields of study
Imbricated Irish experiences
Teaching Irish Studies in new contexts
(6) A PEEK INTO A FUTURE THAT NEVER WAS. Steve Haffner unveils a discovery that will be included in Volume 2 of The Complete John the Balladeer.
INFORMED READERS of Manly Wade Wellman, and followers of John the Balladeer in particular, know that prior to his death, the "Old Captain" was planning a sixth novel in Doubleday's "Silver John" series to be called THE VALLEY SO LOW. FYI, Wellman detested the "Silver John" appellation and we almost never use it; it's "John the Balladeer," "John the Wanderer," or just "John."
     Following Wellman's passing, Karl Edward Wagner edited a posthumous collection of Wellman's recent short stories titled The Valley So Low: Southern Mountain Stories in 1987.
     Haffner Press is pleased as pinecones to share that we are including Wellman's 4-page outline for the unwritten novel, THE VALLEY SO LOW, in Vol. Two of THE COMPLETE JOHN THE BALLADEER. So now all of you have the opportunity to learn what Manly Wade Wellman planned for John's final song. Of course, artist Tim Kirk will be contributing a brand new interior illustration for Wellman's proposal for THE VALLEY SO LOW.
(7) TRUNK SCRIPT. Radio Times says he already had a Doctor Who project in the pipeline before his return as showrunner came about: "Russell T Davies teases Doctor Who return in Mind of the Hodiac".
If you've paid any attention to popular culture over the last few months, you may have heard the shock news that former Doctor Who boss Russell T Davies is returning to take charge once more for Who's 60th anniversary year – but you might not know that this isn't his only Doctor Who project in the offing.

In fact, before we had any idea he was returning to the main TV series fans were already excited at the news of a very different Who return for the acclaimed screenwriter –an audio drama. It all started when Davies dug out an old script he'd written as a young fan in the 1980s, and eventually Doctor Who audio producers Big Finish came on board to bring the story to life for real.

Now, Davies' unfinished Mind of the Hodiac – completed by Scott Handcock and starring Colin Baker and Bonnie Langford – is coming soon, the first Who script we've seen from Davies for over 12 years. And with a load more scripts on the horizon, it's fair to say that it's a moment of odd synchronicity for the It's A Sin creator.
(8) WHAT HAS SPACE DONE FOR ME LATELY? The UC San Diego Office of Innovation and Commercialization and the Clarke Center hope to answer that question in a free Zoom webinar about the benefits of space research today and what to expect tomorrow! Takes place February 10 at 4:00 p.m. Pacific. Register here.
The vast majority of people are unaware of all the ways space technologies affect us on a daily basis. Everything from bioengineering to communications to manufacturing and more, technology cultivated in humanity's pursuit to conquer the last frontier, has had, and will continue to have, a profound impact on our everyday lives. So join us, as we explore what space has done for us lately.
The panelists are: Anjali Gupta, PhD, Business Development at Axiom Space; Karl Stedman, Co-Founder of Aurvandil; Robert Jacobson, Partner with Space Advisors®, LLC & Author of Space is Open for Business; and Dr. Erik Viirre, Director at Arthur C Clarke Center For Human Imagination.
(9) MEMORY LANE.
1983 — [Item by Cat Eldridge] Thirty-nine years ago on this date, The Greatest American Hero ended its three year run on ABC. It was created by producer Stephen J. Cannell, more known for series like Magnum P.I. and Castle (in which he appeared in a poker game with Castle as himself until his death) than SF series like this.
The series features William Katt as teacher turned superhero Ralph Hinkley after getting a suit from aliens, Robert Culp as FBI agent Bill Maxwell, and Connie Sellecca as lawyer Pam Davidson.
Though it ran for three seasons, it had an unusually low number of episodes for a show of that duration racking up only forty-five in total of which of five went unaired during the original broadcast.
The powers of the red suit would appear to be quite generic, but that apparently didn't appear so to Warner Bros., the owners of DC Comics, who filed a lawsuit against ABC, Warner Bros. Inc. v. American Broadcasting Companies, Inc. It was ultimately dismissed by the Court where it was filed who said it had no grounds. A wise decision given how common red suits with extraordinary powers were.
Five years later, the cast came back together for a pilot movie for a new NBC series which was named The Greatest American Heroine which was never picked up. The movie was later added in syndication to this series.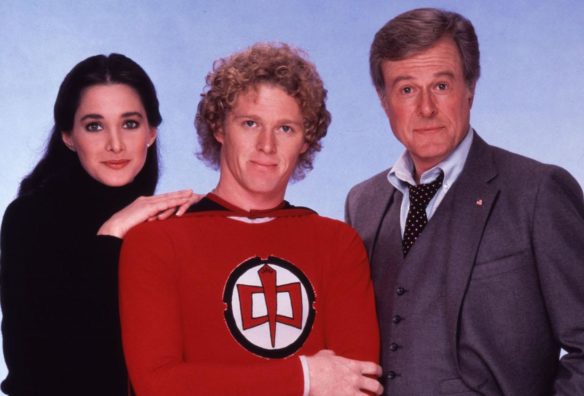 (10) TODAY'S BIRTHDAYS.
[Compiled by Cat Eldridge.]
Born February 3, 1924 — Leslie Stevens. Here because he was the creator of first version of The Outer Limits and Buck Rogers in the 25th Century. Oh, and a neat little pulp film called Sheena starring Tanya Roberts for which he wrote the story. He wrote a handful of scripts for The Invisible Man as well. (Died 1998.)
Born February 3, 1925 — John Fiedler. He's solely here as he played the ever so bland bureaucrat who gets possessed by the spirit of Jack the Ripper on the Trek episode "Wolf in the Fold". I'm less interested in him than who wrote that screenplay. It was written by Robert Bloch, a master of horror who would write two other Trek episodes, "What Are Little Girls Made Of?" and "Catspaw". (Died 2005.)
Born February 3, 1930 — Carolyn Serling. Widow of Rod Serling. She was the associate publisher and consulting editor of Rod Serling's The Twilight Zone, a monthly magazine published in the Eighties. She was a consultant to "Twilight Zone: The Movie" and had a cameo in there as Passenger in the "Nightmare at 20,000 Feet" segment. In 1994, Ms. Serling found two unproduced stories by her husband in a trunk at her home and sold them to CBS which produced them as Twilight Zone: Rod Serling's Lost Classics. In total, she edited six anthologies of stories inspired by the series. (Died 2020.)
Born February 3, 1953 — Randy Lofficier, 69. Editor, translator and author who I am including here for French Science Fiction, Fantasy, Horror and Pulp Fiction: A Guide to Cinema, Television, Radio, Animation, Comic Books and Literature from the Middle Ages to the Present with her husband Jean-Marc Lofficier. Though published twenty years ago, it is still well worth picking up. 
Born February 3, 1970 — Warwick Davis, 52. Nearly fifty live and voice appearances since first appearing in the Return of the Jedi in in place of Kenny Baker who was going to be a Ewok before he fell ill. Did you know he's in Labyrinth as a member of the Goblin Corps? I certainly didn't. Or that he did a series of humorous horror films centered around him as a Leprechaun? They did well enough that there was at least six of them. He even shows up in Doctor Who during the time of the Eleventh Doctor. 
Born February 3, 1979 — Ransom Riggs, 43. He's best known for Miss Peregrine's Home for Peculiar Children which I'll confess I know absolutely nothing about, so educate me. I know it was turned into a film by Tim Burton which could a Very Good Thing and later into a series. His first book btw was The Sherlock Holmes Handbook: The Methods and Mysteries of the World's Greatest Detective which sounds way cool. He won a Neffy for Best SSF YA Author. 
(11) COMICS SECTION.
Blondie – how often does this comic do a genre joke?
(12) EIGHT PROOF. Octothorpe 50 is up! John Coxon is exchanging, Alison Scott is rekindling her sensawunda, and Liz Batty is watching the builders. We discuss what beers we like, listen to the Caribbean Science Fiction Podcast, talk about self-promotion and talk about TAFF. Listen here: "This is How Boxing Championships Work".
(13) THE FUTURE IS NOW. Are you ready for "carcopter" races? "MACA S11 Flying Carcopter Formula Racer: Competition Is in the Air" at Motor Trend.
Drone-like vertical takeoff and landing (VTOL) flying car air taxis have been showing up at CES shows for years—Cadillac even showed one in 2021. But most experts don't expect the first air taxi to be certified for use until 2024 at the earliest. At CES 2022, French startup MACA announced plans to get its hydrogen fuel-cell-powered electric VTOL "carcopter," as they call it, off the ground before then. How do they hope to jump the government certification line? By flying low and restricting themselves to the airspace immediately above Formula 1 racetracks.
(14) THE MASKALORIAN. No, that was not a typo. "'The Maskalorian' gives out free masks in a 'Star Wars' costume" – the Washington Post has the story.
Even in these strange times, the sight is unusual enough to turn heads: a helmeted figure in a jumpsuit and cape with a tiny green creature strapped to his chest. Both appear to come from a galaxy far, far away. Both wear disposable masks over their mouths.

Masks, it turns out, are the entire point of their mission."I am the Maskalorian, giver of masks," the figure says in his first public appearance, in the summer of 2020. "Whether you're a human or a droid, it doesn't matter. We must be vigilant and do what we can to keep each other protected."

The character — inspired by the hit Star Wars show "The Mandalorian" on Disney Plus — is the brainchild of Matt Adams, a 43-year-old filmmaker and improv performer. And that little green guy wearing a GoPro on his chest might look a lot like Grogu, a.k.a. the Child, a.k.a. Baby Yoda. But his name is Masku. Together, they have given away roughly 1,000 masks.
(15) ASIMOV NEWS. [Item by Martin Morse Wooster.] This is the lede of an article by Anjuna Ahuja about space-based solar power, behind a paywall in the Financial Times.
It was Isaac Asimov who first envisioned that light from our nearest star could be captured, converted into microwave radiation and then beamed down to Earth.  More than 80 years after his short story, "Reason," was published, the idea of space-based solar power–where the panels are in orbit rather than on earth–is having a moment in the sun.
(16) PRE-WASHED GENES. James Davis Nicoll tells Tor.com readers there's one thing you can count on finding in science fiction. That's bad science. As in these "Five SF Stories Involving Selective Breeding".
It might be comforting to tell oneself that eugenics—the conviction that one can breed one's way to better humans by encouraging the fitter ones to have more children and those considered to be less fit to have fewer—was a horrible fad that went out of fashion after the unpleasantness in the mid-20th century. Of course, that's not true. State sanctioned sterilization of those deemed inferior continues to the modern day.

It's not surprising that science fiction authors have not always resisted the lure of eugenics as a plot starter. Why not apply to humans the same techniques that transformed the humble wolf into the majestic chihuahua? Here are five stories that engage with the notion in different ways….
(17) VIDEO OF THE DAY. [Item by Martin Morse Wooster.] This is a video where over two dozen animators each did three seconds of animating a red ball then "passed" it on to another animator. "Pass the Ball".
[Thanks to Michael Toman, Cat Eldridge, Mike Kennedy, Daniel Dern, Nancy Sauer, SF Concatenation's Jonathan Cowie, Martin Morse Wooster, JJ, John King Tarpinian, and Andrew Porter for some of these stories. Title credit belongs to File 770 contributing editor of the day Bruce D. Arthurs (it's the line following one previously used as a title).]