Next year fans will choose the site of the 2021 con, for which Washington, DC is currently running unopposed. Beyond that?
This list matches the list of bids on the Worldcon.org page.
2021
DC in 2021
Proposed Site: Washington, DC
Proposed Dates: August 25-29, 2021
Bid Chairs: Bill Lawhorn and Colette H. Fozard
Website: DC in 2021
Facebook: DC in 2021
Twitter: DC in 2021
Code of Conduct: DC in 2021 Code of Conduct
Worldcon 76 questionnaire: DC in 2021 questionnaire for Worldcon 76
2022
Chicago in 2022
Proposed Site: Chicago, IL
Proposed Dates: Mid-August – Labor Day Weekend, depending on venue availability.
Bid Chairs: Helen Montgomery and Dave McCarty.
Website: Chicago in 2022 Worldcon Bid
Facebook: Chicago Worldcon
Worldcon 76 questionnaire: Chicago in 2022 questionnaire for Worldcon 76
2023
Chengdu in 2023
Proposed Site: Chengdu, China
Twitter: Chengduworldcon
The bid was announced at Worldcon 76. See the File 770 post "China Bids for 2023 Worldcon"
France in 2023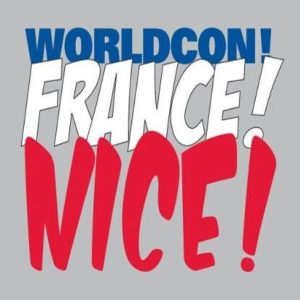 Proposed Site: Nice, in the south of France
Proposed Dates: August 2-6, 2023
Bid Leadership: (From a Smofcon questionnaire)
At the moment, our team is led by a group of seven individuals who have been active in the French fandom for several decades. Some are editors, writers, translators, many with past or current experience running local conventions and festivals.  These seven persons are: Alex S. Garcia, Alain Jardy, Sybille Marchetto, Arnaud Koëbel, Albert Aribaud, Thomas Menanteau and Patrick Moreau.
Website: Nice in 2023
Twitter: Worldcon in France
Facebook: Worldcon in France (English)
Worldcon 76 questionnaire: Nice in 2023 questionnaire for Worldcon 76
New Orleans in 2023
Proposed Site: New Orleans, LA
Proposed Dates: August 23-27, 2023
Facebook: New Orleans Worldcon Bid Year 2023
Worldcon 76 questionnaire: New Orleans in 2023 questionnaire for Worldcon 76
2024
UK in 2024
Proposed Sites: Two cities are being considered — Glasgow, Scotland; London, England.
Proposed Dates: August 2024
Bid Leadership: Esther MacCallum-Stewart and Vanessa May
Website: UK in 2024
Facebook: UK in 2024
Worldcon 76 questionnaire: UK in 2024 questionnaire for Worldcon 76
2025
Seattle in 2025
Proposed Site: Seattle, WA
Proposed Date: Mid-August 2025
Bid chair: Kathy Bond
Worldcon 76 questionnaire: Seattle in 2025 questionnaire for Worldcon 76
Perth in 2025
Twitter: Perth in 2025
Dates: August 2025
Committee: Jack Bridges, Dave Cake, P R Khangure, Sarah Parker (per questionnaire for Worldcon 75)
Worldcon 76 questionnaire: Perth in 2025 questionnaire for Worldcon 76
DISCUSSION POINTS. There is a drumbeat of opinion in favor of denying the U.S. all future Worldcons, energized by each new instance of an sff fan or writer being put through the wringer by TSA, or denied entry upon arrival in US due to visa rules enforcement. Here are several examples of what has appeared in social media. Apart from Adam Roberts, the rest live in the U.S.
No Worldcons should be scheduled in the USA until this ban is lifted. Simple. https://t.co/tGI1SRLe9Y

— Adam Roberts (@arrroberts) June 26, 2018
And I would urge all U.S.-based SFF writers to strongly support Worldcon bids outside the U.S. Community solidarity with all our international colleagues who deserve to participate without risking their safety. https://t.co/0dPBH0XFNN

— Desirina Boskovich (@thedesirina) June 26, 2018
Agree wholeheartedly. I will not support future US based Worldcon bids unless this ends. If I had known during the 2016 site selection what kind of cesspit we were going to fall into, I would not have supported the San Jose bid, and this is my home.

— Cynthia Gonsalves (@cynthia1960) September 28, 2018
There are currently no bids outside the US for WorldCon in 2021 or 2022. I desperately hope that changes. Nothing personally against the American bids, but I cannot in good conscience support having the convention in the US when our shitty government is treating people like this. https://t.co/Fk7HWlMF7h

— Alex Acks/Wells (@katsudonburi) September 28, 2018
Happily, the next two World Science Fiction Conventions are outside the US.

Do not support the bid to hold the 2021 Worldcon in Washington, DC. There is no possible future in which the unaccountable iniquity of our border police will be fixed by then. https://t.co/uJKE1zinW3

— P Nielsen Hayden (@pnh) September 28, 2018
Then, in a comment on File 770, Olav Rokne opened a discussion about whether the choice of Worldcon sites should be influenced by a nation's human rights record —
One might base it on a simple "Does the World Freedom Index list the country as Free?" or "Does it rank highly on Amnesty International's list"?
Update 09/30/18: Picked up some data from questionnaires submitted to Worldcon 76.