The first of two widely-reported assaults on cosplayers attending the San Diego Comic-Con resulted in an arrest. The other ended with street justice being meted out by a professional model dressed as Catwoman.
In the first case a cosplayer [name redacted] came to Comic-Con with friends but separated from them after a disagreement. She later was discovered on the side of a road, unconscious and bloody, her ID gone. When she awoke, she had no recollection of the event that caused her injuries.
Her mother's appeal on Tumblr for help in finding out what had happened was widely copied online.
The next day (July 27) the San Diego Harbor Police arrested a suspect, a 29-year-old man, and charged him with sexual contact with a minor and contributing to the delinquency of a minor. [The victim's identifying information has been redacted because the girl is a teen and she is the victim of a sexual crime.]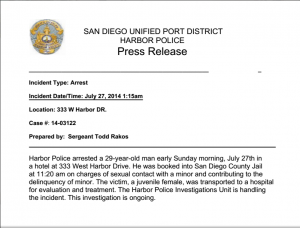 In the second case, tv personality Alicia Marie ("Cardio World") was in the Comic-Con Gaslamp area dressed as Tigra and taking photos when a man came up behind her and yanked her tail and pants down. Adrianne Curry, the first winner of the reality television series America's Next Top Model, was on hand — attired as Catwoman — and sprang into action. Alicia Marie told her Facebook followers:
I just freaked out, screamed trying to keep my bottoms up — but Adrianne Curry literally took off after dude WITH her Catwoman whip and chased him down, beat his ass. Punched him across the face with the butt of her whip — he had zombie blood on his face – got on her costume. Katrina got in his face, Todd shoved him, the guy ran off – huge ruckus and yep some people got their cell phones out of course.
Earlier MSN ran a photo of Curry as Catwoman and two other cosplayers with a story on at-con harassment and Geeks for CONsent's petition. However, Curry thought her answer was more practical:
People signing forms about violating girls isn't helping.Try beating the shit out of em. I doubt the guy who's ass I kicked will do it again.
Updated 07/30/2014: Redacted first victim's identifying information.