By Steve Vertlieb: Traditionally, the start of a new year is a time when film critics begin assembling their lists of the best films, actors, writers, composers, and directors of the past year. What follows, then, while honoring that long-held tradition, is a comprehensive compilation and deeply personal look at the finest film scores of the past nearly one hundred years.
Editor and composer Roger Hall celebrated the twentieth anniversary of his acclaimed Film Music Review website several years ago with this special tribute to the glorious art of Music For The Movies. Roger compiled a list of twenty favorite film scores of the past two decades, and asked film music critic Steven Kennedy and myself to do the same.
As the third component in this loving trilogy of film score adoration, I put together a collection of my own twenty ALL TIME FAVORITE FILM SCORES, together with commentary on their historical value, as well as the reasons for my personal affection for each of them.
Roger's work as a music preservationist and composer is both admired and respected across the waves, and so it was both an honor and a privilege to share in this anniversary tribute to the screen music and composers who have so gloriously elevated our souls, and to a respected web home having then celebrated its twentieth year.
20 Classic Scores for the 20th Anniversary
1.
THE GHOST AND MRS. MUIR (1947)
My all time favorite film score has always been this beautiful romantic ghost story in which a lonely widow falls in love with the ghost of a sea captain who haunts the house that he built prior to his accidental demise. Bernard Herrmann's rapturous themes and exquisite melodies capture their ethereal journey together, through mortality and death, as Mrs. Muir sets sail upon her perilous travels and life adventures within Gull Cottage, together with the man with whom she'll ultimately share eternity. Herrmann's eloquent master work paints the fragile portrait of a woman's tender yearning for happiness and love through a bittersweet canvas of joyous expectation, and emotional desolation. There has never been a more sensitive or passionate musical score in the long history of cinema. Its value and incomparable beauty have been preserved by conductor Elmer Bernstein in his Film Music Collection recording of the score, available through Robert Townson's Varese Sarabande Records, as well as by the original soundtrack CD.
2.
BEN-HUR (1959)
Miklos Rozsa's iconic Oscar winning music for William's Wyler's spiritual masterpiece has often been called the greatest score ever composed for a motion picture. This would be hard to argue. Rozsa's artistry reached its triumphant peak with this opulent historical epic concerning the struggle for freedom amidst Roman tyranny, and the beginnings of Christianity. Raised as boyhood friends, a Jewish prince of the House of Hur confronts betrayal by the Roman conqueror he'd once proudly called his brother. Struggling for his family's lives and salvation, Judah endures a trans-formative journey of pain and redemption, through the beauty and majesty of Miklos Rozsa's monumental music, during the time of Christ. The incomparable grandeur and magnificence of this inspired symphonic master work reflects the zenith of this brilliant composer's artistry, and creative expression. Producer James Fitzpatrick and conductor Nic Raine, with The City of Prague Philharmonic Orchestra and Chorus, have recently released a consummate recording of the cherished score for Tadlow Records, while the complete five CD release of the original soundtrack conducted by the composer, and released through Lukas Kendall's Film Score Monthly label, is an essential component of any serious film music collection.
3.
LOST HORIZON (1937)
Frank Capra's version of James Hilton's classic story has long been one of my very favorite films of all time, and its ethereal score by Dimitri Tiomkin sweetly carries me away on breathless wings of desire to the cavernous peaks and valleys of Shangri La, and its precious Valley of the Blue Moon. This timeless tale of ageless wisdom and infinite serenity, hidden from exposure by the winds of the Himalayan mountains, is both lovingly and passionately expressed by Tiomkin in his consummately exquisite themes and rapturous melodies. Capra was in tears when he first heard the loving strains of what would become the musical stairway ascending to his celestial vision. Both Hilton and Capra imagined a world of compassion and love, hidden from time and corrosion, in which the healing power of love might uplift and inspire humanity to the attainment of lasting goodness and, in this solemn fantasy world, Tiomkin's cherished musical score joyfully aspires to the infinite. Charles Gerhardt's wonderful suite from the motion picture on RCA Red Seal remains available on compact disc, but its definite recording would have to be the original soundtrack, stunningly preserved by Ray Faiola and Brigham Young University film music archives.
4.
VERTIGO (1958)
Bernard Herrmann's rapturous score for Alfred Hitchcock's masterpiece is, perhaps, his most remarkable achievement. Lushly textured, and miraculously conceived, Herrmann's work is a musical cornerstone of motion picture music. A contemporary "Tristen And Isolde," Herrmann's passionate scoring for Hitchcock's Wagnerian tragedy is hauntingly poetic in its reflective eloquence, while deeply sensitive at its core. His symphonic melancholia perfectly captures James Stewart's nearly psychotic yearning for Kim Novak, as Scotty Ferguson reaches tenderly into the grave of Madeline Elster to recapture the spirit of his lost love. Obsessively lost in a singular fantasy in which he has been given a second chance, both Ferguson and Herrmann create an inspired romantic tapestry that ultimately conspires to consume them. Hitchcock's torturous "Long Day's Journey Into Night" is a painful descent into madness and redemption, exquisitely scored by a sensitive artist whose own conflicted personality laid bare the agonized torment of romantic loss and sensual deprivation. Both the film and its music reached collaborative perfection, as Hitchcock and Herrmann each attained the zenith, and creative summits of their respective careers with this cinematic masterpiece. The original soundtrack recording, conducted by Muir Matheson in London (a musicians strike prevented Herrmann from conducting his own score in Los Angeles), is marvelous, of course, but the re-recording by Joel McNeely with The Royal Scottish Orchestra is also highly recommended.
5.
LUST FOR LIFE (1956)
Miklos Rozsa's score for this superb Vincente Minnelli motion picture is among the finest, most deeply felt works of his career. Vincent van Gogh was, of course a deeply sensitive, yet emotionally troubled soul, whose personal pain and traumatic psychological anguish produced some of the most timeless masterpieces ever created by a painter. His is a tortured legacy of brilliance and despair. Kirk Douglas as the anguished artist delivers the most powerful performance of his impeccable career. Remarkable for its yearning passion, and often understated intensity, Miklos Rozsa's score musically explodes upon the soundtrack. It is a living, breathing component of a glorious work of artistic integrity and passion, pulsating in profoundly moving tonalities. Consumed in aching reverence to both Minnelli's direction, and Douglas's searing performance, Rozsa's score is itself a haunting portrayal of a soul in torment. It is for this reason, perhaps, that some of the most affecting, deeply sensitive music in the score reflects Theo's love for, and tragic devotion to, his beloved Vincent. Rozsa's themes for their "brotherly love" are among the most tenderly exquisite of the composer's long career. This is an impassioned work by a singular composer, a rapturous musical self portrait of a tormented genius that, like the artist himself, has stood the critical test of time. The two definitive recordings of Rozsa's masterwork are the Lust For Life suite, conducted by the composer with the Frankenland State Symphony Orchestra for Decca Records (reissued by Varese Sarabande), and the original soundtrack recording conducted by the composer on Lukas Kendall's Film Score Monthly label.
6.
EL CID (1961)
Samuel Bronston's epic film concerning Spain's legendary hero is an intelligent spectacle of admirable proportion. Charlton Heston, in one of his signature roles and performances, is a noble champion, fighting valiantly for the rights of his people. He is a martyred warrior who sacrifices everything and everyone he loves for the honor and principles that he alone must ultimately defend. Miklos Rozsa's thrillingly expansive music gloriously captures the sublime romanticism of heroic splendor with one of his most exhilarating, captivating scores. His exquisite music for the Cid and his bride is among the most sumptuous, ravishing love themes ever written. This is Rozsa at his finest, impassioned and deeply passionate, in an unforgettable tribute to historic heroism and sacrifice. Cinematic spectacle has never been better, or more majestically served. Its definitive recordings would be, of course, the original album conducted by Miklos Rozsa, and the spectacular three CD re-recording by conductor Nic Raine and producer James Fitzpatrick for Tadlow Records.
7.
THE BEST YEARS OF OUR LIVES (1946)
William Wyler's touching tribute to the returning veterans of the Second World War is simply one of the finest films ever produced. The film is unflinching in its searing portrayal of scarred, vulnerable, psychologically wounded service men and women returning to the superficial normality of America, immediately following the cessation of hostilities. Wyler courageously addresses the emotional pain and insecurities of those who endured the atrocities of war, only to find themselves displaced and out of step with a country that no longer needs them. A new world had arisen from the ashes for those with the vision to embrace it. For the film, Hugo Friedfhofer created a vast plateau of limitless vistas and vanishing boundaries in an America that had emerged anew, and revitalized from the storm of world conflict. Much as Dorothy had yearned to return to her farm in Kansas where the comfort of familiarity safely awaited her, a small band of brothers sits in the belly of a transport plane, catching their first glimpse of home in a seeming eternity. Friedhofer's ebullient themes recall simpler, more innocent days before the war as the returning G.I.'s struggle to erase the divisions that tore them from their roots. His soaring, nearly ethereal main title elevates the heart on Wings of Eagles, winning this remarkable composer a richly deserved Oscar for Best Score of the Year. As maturity was beginning its return to the silver screen at the close of the 1940's, these truly were The Best Years of Our Lives. The score's only significant recording was conducted by Franco Collura with The London Symphony Orchestra for John Steven Lasher's Australian label, and it is a fairly accurate, wonder filled representation of Friedhofer's sublime musical score.

8.
ON THE WATERFRONT (1954)
When Elia Kazan gave up names of accused left leaning Hollywood writers, directors, and actors to The House Un-American Activities Committee he was accused of selling out his friends and associates in order to preserve his film making career. Kazan disagreed. He had seen the effects of totalitarian regimes and, in his mind, was defending American ideals from the threat of Communism. It is largely believed that On The Waterfront was filmed as an answer and personal defense of his actions to his detractors. A story of corruption and mob dominance over the unions along the New York waterfront, the provocative screenplay by Bud Schulberg told the story of a former boxer who informs on the mob bosses to a federal committee. Kazan's story, as portrayed by Marlon Brando as Terry Malloy, is a powerful indictment of dictatorship in America, as well as Kazan's own perceived vindication of his controversial actions. Whatever its roots, this Columbia Pictures release remains one of American cinema's greatest achievements. Leonard Bernstein, a classical and Broadway composer, was commissioned to write his one and only dramatic motion picture score. It is among the most potent, powerful, and electrifying film scores in the history of film. Filling the violent soundtrack with a torrent of symphonic notes and motifs, the score's most memorable theme, however, was the poignant musical interlude in which brother nearly betrays brother, until Brando gently caresses the gun pointing at his chest in a moving taxi cab, and tells his beloved older sibling (Rod Steiger) "It was you, Charley. You should have taken better care of me. You should have looked out for me. It was you." Bernstein's tender, heartbreaking melody, accompanying Kazan's iconic direction, define this classic sequence and motion picture as a perfect marriage of both sound and imagery. The scorching original soundtrack recording, conducted by Morris Stoloff with The Columbia Pictures Orchestra, was released on compact disc by Intrada Records.
9.
THINGS TO COME (1936)
Alexander Korda's spectacle was the first major science fiction film of the sound era. If Fritz Lang's Metropolis was the defining science fiction masterpiece of the silent era, then H.G. Wells' stunning epic would remain the definitive "talking pictures" science fiction classic for the next two decades, until the advent of MGM's fabulous Forbidden Planet twenty years later in 1956. For the massive production from London Films, Korda chose distinguished British composer (Sir) Arthur Bliss to compose the diverse musical score for the futuristic spectacle, spanning one hundred years. Bliss wrote joyful Christmas-themed music for the early pre-war sequences of the epic production, then descending thematically into the ravages and brutality of war. His poetic eloquence reached its fulfillment and finale in the gloriously prophetic conclusion of the film as man reaches out to the stars for his future and destiny in 2036. "It is that or this…all the universe, or nothingness. Which Shall It Be???…" The score for the picture became the first commercially issued film music recording ever released. The most reverent recording of the score was released as a suite on an RCA Red Seal LP release entitled "Welcome To The Queen/Things To Come," composed and conducted by Sir Arthur Bliss. However, there is a rather obscure CD recording of the original, commercially released set of albums, as originally conducted by the composer in 1935.
10.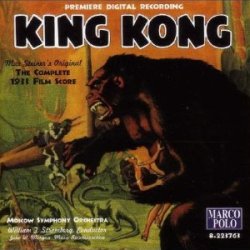 KING KONG (1933)
Max Steiner's thunderous accompaniment for King Kong was among the very first full length original film scores written during the early years of the sound era. Most films in those first years either had no music whatsoever, or minimal original music at best. Steiner virtually invented the traditional symphonic motion score with his electrifying themes for one of the most beloved monster movies of all time. Creator Merian C. Cooper paid the composer out of his own pocket to write the music for the picture, and never regretted his decision to do so. Steiner created multiple themes, animating his characters with diverse levels of personality and feeling. Full length film scoring was a virtually new art form in 1933, and Steiner met the challenge with symphonic ferocity. From the classic three notes that introduce the opening title through his fall from the Empire State tower, Kong's impassioned battle for survival is nuanced with clarity and purpose. Once the ship's crew sets foot on Skull Island, there's rarely a moment in which Steiner doesn't own the sequence. What follows is a raging torrent of expressive notes and themes. The intoxicating ritualistic dance of sacrificial frenzy, by the island's population, explodes onto the soundtrack with frenzied intensity, as Ann Darrow is prepared for her horrific fate. Steiner's breathless score follows the intrepid adventurers through the savage jungle to their final rescue of "the golden woman" atop the tallest skyscraper in New York. "He was a King, and a God in the world he knew." The same might be said of Max Steiner who shall always be remembered as the founding "Father of Film Music." Tribute Film Classics released a stunning re-recording of Steiner's behemoth score conducted by William Stromberg, Jr., and orchestrated by John W. Morgan.
11.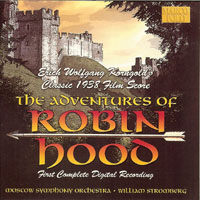 THE ADVENTURES OF ROBIN HOOD (1938)
Eric Wolfgang Korngold's mighty score for this epic motion picture is quintessential film music at its very best. Korngold set the gold standard for swashbuckling themes with his brilliant score for the Michael Curtiz classic. Matching the spectacular action in Sherwood Forest, the music aids immeasurably in bringing Robin's heroism to thrilling vitality and to life. Having written the commanding themes for both The Sea Hawk, and The Private Lives of Elizabeth and Essex, Korngold set about fabricating an exhilarating world of medieval knights and maidens in which right and justice ultimately prevail against primal villainy. Highlighting this vital landscape of symphonic brilliance is the lyrical romantic backdrop in which Robin and Marian share their enduring love for one another. Scoring their affection and innocence provided Korngold with an opportunity to write one of the most endearing love themes of his memorable career. If a composer's job is to illustrate a story, and to bring it to life with music, then no finer motion picture score than Adventures Of Robin Hood has ever been written. Marco Polo Records released a marvelous re-recording of the score conducted by William Stromberg, Jr., produced by Anna Bonn, and orchestrated by John W. Morgan. An earlier collection of music from Korngold's score was memorably conducted years earlier by Lionel Newman, and revered for decades by young soundtrack enthusiasts.
12.
MOBY DICK (1956)
John Huston's highly literate film version of Herman Melville's Moby Dick was notable for a variety of reasons, not the least of which was its utterly magnificent music score. French composer Philip Sainton had dabbled in film work periodically, but had not yet composed a score as richly vital and exhilarating as his masterful work for John Huston. Certainly, Huston's direction, and Gregory Peck's dedicated performance, elevated the film to artistic levels worthy of Melville's classic novel. That Peck's performance is so intense is all the more astonishing when one considers that the actor loathed his characterization of Captain Ahab, and wanted desperately, instead, to play the part of Starbuck, Ahab's conscience ridden subordinate aboard the Pequod. Adding yet another finely textured layer to the components of the film was renowned author Ray Bradbury's stunningly effective screenplay. However, it was Philip Sainton's remarkable score that truly elevated the motion picture's indescribable artistry. From the very outset of the stirring main title sequence, Sainton's music crucially weaves a complex tapestry of grim determination and shattering complexity, sailing tragically into a raging storm of obsession and hatred in pursuit of the great white whale. Sainton paints a brutal canvas with breath defying resolve, and electrifying tonality. His music brings Huston's cinematic vision to stunning, unforgettable fruition, and perfect symmetry, as both sight and sound conjoin to create a modern film masterpiece. The long out of print original soundtrack recording, conducted by Sainton for RCA records is worth owning, but has never been released legitimately on compact disc. However, the brilliant recreation of the score by conductor William Stromberg, Jr., and orchestrated by his perennial associate John Morgan, is absolutely superb.
13.
THE RAZOR'S EDGE (1946)
With his Hollywood counterparts, Miklos Rozsa and Bernard Herrmann, Alfred Newman was among the most versatile, gifted composers in film history. From biblical spectacle, to westerns, to highly romanticized melodramas, few composers ever attained the sublime mastery of the art form as successfully as Alfred Newman. His majestic fanfare to the Twentieth Century Fox Cinemascope logo can still be heard today in theaters across the continents. Perhaps his most exquisite score, however, was for the 1942 adaptation of W. Somerset Maugham's novel, The Razor's Edge. A work of sweeping idealism and spiritual introspection, the story follows the journey of a simple man searching for truth and meaning in a seemingly shallow existence. Larry Darrow (Tyrone Power) abandons a life of relative ease and reassurance, traveling across the globe, while working in the lowliest of positions, in order to discover the infinite simplicity and innate goodness of his common man. He finds his answers in a monastery located at the top of the world, where he is advised to live alone in a humble hut at the summit of the Earth's highest peak. As he emerges from his seclusion months later, his facial features have significantly altered, for he has found peace at last. When queried about his transformation, he explains that it was in the moments just between sunset and dawn, when the sun begins to rise, that he felt just for a moment as though "God and I…were one." Alfred Newman's musical ascension from humility to divinity is one of the most majestic, exquisite musical interludes ever written for a film. His rapturous melodies lift the soul, while his haunting main title theme (first used by the composer in his score for Samuel Goldwyn's production of These Three in 1935) is one of the most unforgettably beautiful in screen history. Like his earlier religious drama for Fox, The Song of Bernadette, this sublimely spiritual passage is a road less traveled, but a journey worth taken. There is only a single definitive representation of the score available on compact disc, and that is the original soundtrack, as conducted by Alfred Newman, and restored by producer Craig Spaulding and his dedicated team at Screen Archives Entertainment. It is magnificent.
14.
THE MAGNIFICENT SEVEN (1960)
Among the greatest of the post war composers for film was Elmer Bernstein, whose groundbreaking jazz score for Otto Preminger's The Man With The Golden Arm established the young composer as a force to be reckoned with in Hollywood. Bernstein's particular forte would seem to have been searing psychological dramas, and westerns. His most celebrated Western score was written for the classic American remake of Akira Kurasawa's The Seven Samurai. For the film, Bernstein set about writing the most joyfully exuberant, unabashedly exhilarating music that he could possibly imagine. It is an impossibility to sit still during a performance of his incomparable, signature score. His Western themes bristle with excitement and, quite literally, pulse pounding enthusiasm. So familiar was the picture's title theme that Marlboro Cigarettes adopted it for their testosterone-filled, Western-themed television commercials for years, featuring their iconic "Marlboro Man," astride his horse, smoking a pack of Marlboro's, all to the joyous accompaniment of Elmer Bernstein's popular theme. The original Bernstein theme provided the single bright interlude in the wholly unnecessary remake of the classic story, providing a solitary hint of "magnificence" in the recent thrice told tale. There are countless versions and varieties of Bernstein's score in the marketplace, yet nothing compares to the original soundtrack conducted by Bernstein himself which appeared on the sequel album, Return Of The Seven.
15.
THE BIG COUNTRY (1958)
Sharing this glorious Western cultural heritage with Elmer Bernstein is composer Jerome Moross whose stunning work for William Wyler on The Big Country provided listeners with the second of the two greatest Western film scores ever written. From the wondrous moment in which a thrilling panorama of limitless vistas first appears on the screen, accompanied by the incomparable main title theme by this marvelous composer, the hair in the back of your neck begins to wave in wondrous anticipation. Its sweeping symphonic horizons cascading across an ever enfolding soundtrack, this massive "symphony" by Moross explodes with sheer grandeur, and poetic ferocity. The entire landscape of a burgeoning young country is expansively drawn upon a musical palette by the inspired genius of a truly great composer and artist. Only Alfred Newman's brilliant scoring of MGM's Cinerama epic, How The West Was Won, and Dimitri Tiomkin's orgasmic main title for Duel In The Sun, can begin to compare with these two Western classic film scores. As usual in these cases, while a wide variety of score representations have appeared over the ensuing decades, few will ever compare to the beauty and panoramic grandeur of the original soundtrack recording conducted by the composer.
16.
THE TEN COMMANDMENTS (1956)
Cecil B. DeMille's epic remake of his own 1923 silent classic is not only his last film but, perhaps, his best. This roadshow spectacle is often criticized for its occasionally laughable dialogue but, at its heart, is a deeply reverential film version of the famous Bible story. Charlton Heston and Yul Brynner both deliver earnest performances but, at its heart and core, the film spectacle owes it soul both to DeMille, and to its magnificent musical score by Elmer Bernstein. Victor Young had scored most of DeMille's films throughout his years at Paramount, and was set to score this big budget remake of the biblical epic, but Young's unexpected death caused DeMille to search for another composer. Bernstein's jazz background on The Man With The Golden Arm would not immediately suggest that he was qualified to write the dramatic score for DeMille's final film triumph and, indeed, the director had considered bringing in a "score" of composers to create the soundtrack. He finally settled on Bernstein, however, and the rest is motion picture history. From its dramatic fanfare with Mt. Sinai, cascaded in reddish Paramount hues in the foreground, Bernstein's score heralds the religious sobriety of this massive melodrama. Lush orchestral themes dominate the story as a young composer mines his Hebraic roots in an incomparable story of betrayal and ultimate redemption. Bernstein's themes are deeply inspirational, but the musical highlight of the massive score is his triumphant accompaniment to the "Exodus" of the Jews from bondage in Egypt. As Moses delivers his people to the Promised Land, he ventures alone to the holy mountain where God shall bring him home once more. His spiritual ascension, movingly scored by Elmer Bernstein, finds exultant, poetic resolution in the wilderness, as a great composer discovers his musical voice. Unquestionably the definitive representation of this magnificent score is the complete soundtrack recording, conducted by Elmer Bernstein, along with its re-recordings and subsequent interpretations, as stunningly released at last by Intrada Records for their spectacular sixtieth anniversary release.
17.
ODD MAN OUT (1947)
Carol Reed's superb tale of the Irish revolution is a relentlessly tragic depiction of a man left alone to die in the streets of Belfast after plotting a robbery to fund "the organization." James Mason, an astonishingly brilliant actor, delivers one of his most touching performances as Johnny, the "chief" of the conspirators, whose last hours are spent in mournful despair and consummate loneliness, as desperation consumes his soul. British composer William Alwyn wrote the devastatingly haunting score as a funeral dirge for a characterization without hope or redemption, wandering the desolate cobblestoned streets in search of melancholy respite and warmth. Alwyn's brooding score is the most powerful of his career. The final heartbreaking sequence, in which Johnny is reunited once more with the girl who has given him her heart, is a shattering testament to the power of film, the beauty of music, and to the value and significance of a single human life. The definitive recording of Alwyn's unforgettable score is available on Chandos Records in a superb extended suite conducted by Richard Hickox with The London Symphony Orchestra.
18.
E.T.: THE EXTRA-TERRESTRIAL (1982)
Steven Spielberg's timeless fantasy about a boy and his alien lit the fires of imagination in theaters around the world during the Summer of 1982. Coming five years after his earlier science fiction extravaganza, Close Encounters Of The Third Kind, it was expected that the director might deliver another treatise on co-existence between the species. His follow up science fiction adventure was prepared on a far more personal level of sweet communication between two "children" whose lives and futures gently intersect in a planetary love sonnet. This gentle relationship between an American boy and an "immigrant" visitor, displaced and seeking asylum from the storm until his rescue, has become a childhood fantasy classic. Spielberg's intergalactic Lassie Come Home inspired its composer, John Williams, to write the loveliest music of his sublime career. A sweet, charming fable about boyhood friendship, and the purity of innocence and love, Williams' music for E.T. is deceptively simplistic in its thematic structure. Perhaps its most affecting sequence begins with the ringing of a bell attached to the arms of a small bicycle, as Elliott and his neighborhood chums ascend, both physically and musically to the heavens, in rapturous synchronicity. Williams scoring of this integral scene is as sweet, and melodious as the tender aspirations of its children, soaring astride the clouds in joyous excitation. It is a magical moment from an enchanting cinematic masterpiece that shall endure for as long as we continue to dream. Its definitive release is the 35th anniversary edition CD conducted by Maestro Williams, and released by La La Land compact discs.
19.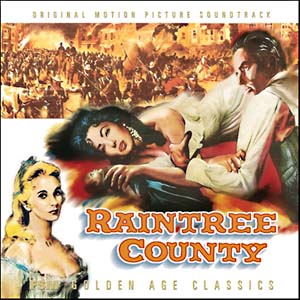 RAINTREE COUNTY (1957)
Edward Dmytryk's filming of the popular novel by Ross Lockridge was released by MGM in 1957 in the hope that it might become another Gone With The Wind. While a dream project of its producer, Dore Schary, the film was a huge disappointment both critically and financially. Its sprawling length and artistic pretensions resulted in a visually attractive, but ultimately ponderous and bloated epic without clarity, or much of a point. However, its single significant attribute was the rapturous immensity of its score by composer and song writer John (Johnny) Green. Sweeping, and lushly romantic, the score for this conflicted melodrama has survived the movie, taking on a successful life of its own as an enormously popular, immediately recognizable symphonic suite in concert venues throughout the world. Its ravishing themes, and romantic melodies remain an often exhilarating testament to the power and lasting significance of Music For The Movies. The single representation of the score in its entirety remains the original soundtrack, conducted by John Green, released originally by RCA records, and lovingly restored by producer Lukas Kendall for his prestigious Film Score Monthly compact disc label.
20.
THE HIGH AND THE MIGHTY (1954)
William Wellman's film version of writer Ernest K. Gann's memorable novel is classic Hollywood soap opera at its most refined level of glossy sophistication. With a screenplay by its author, this flamboyant precursor to Airport and Airplane is the grandfather of countless disaster movies. Spencer Tracy was originally intended to play the lead as co-pilot Dan Roman in the beloved film classic, but was replaced by producer John Wayne at the last moment when Tracy's personal difficulties prevented him from enacting the role. An airborne remake of both Grand Hotel and Dinner At Eight, the aviation disaster epic focuses on the personal lives of passengers aboard a troubled airliner bound from Hawaii to San Francisco. The soaring, ethereal score by composer Dimitri Tiomkin, however, remains the film's greatest asset and strength. Its wonderful main title theme, whistled by John Wayne throughout the picture, became a popular hit and is remembered lovingly to this day. Filled with exuberant themes, and choral majesty, Tiomkin's music deservedly won an Oscar for the "Best Score of the Year," and became as valued a characterization and component of the story as its cast. The grandeur and scope of Tiomkin's musical contribution to the picture cannot be underestimated. The score breathes life and meaning into the lives of ordinary people on a voyage of both mortality and redemption. It is a musical voyage brought vividly to life by a legendary composer, whose inspiration aspired to the Heavens, and gracefully transported the high and the mighty, aboard a troubled aircraft, both joyfully, and lovingly home. While there has never been a significant attempt at restoring and re-recording Tiomkin's score, there are probably hundreds of representations of the theme song available on records and CDs's. Les Baxter produced a hit single of the theme, while singer Johnny Desmond recorded a vocal version. A limited, unauthorized bootleg release of the complete original soundtrack, including the unused choral version, complete with lyrics, appeared and then quickly disappeared some years ago, and so this cherished Tiomkin film score haunts the soul, only in repeated viewings of the film on cable, DVD, and in whispered performances within the poetic echoes of my mind.