aka Sad Puppies Strictly Cash
Peter Grant, Vox Day, John Wright, Chris Meadows, Adam, Steve Davidson, Natalie Luhrs, Alexandra Erin, Nick Mamatas, Lela E. Buis, Lawrence Person, Soon Lee, Lis Carey, Melina D, Joe Sherry, and May Tree. (Title credit belongs to File 770 contributing editors of the day William Reichard and Rev. Bob.)
Peter Grant on Bayou Renaissance Man
"The Tor boycott is on" – June 19
Regrettably, due to the apparent lack of action by (and the deafening silence from) Tor and Macmillan, the time has come to do as I promised.  I therefore ask all those who believe, as I do, that the recent statement by Irene Gallo, and the pattern of behavior and statements from others at Tor whom I've previously named, are completely unacceptable, to join me in refusing to buy any of Tor's products from now on. I support and endorse what Larry Correia said about this yesterday.

… this is between Tor and its readers who feel insulted, not the Sad Puppies campaign or the people who ran it … To the Sad Puppies supporters, do what you think is right. All I'm asking is that whatever you do, try to be as civil as possible in your disagreements. Stick with the facts.

There's much more at the link.  (Recommended reading for background and more information.)

I am not a member of, and I do not speak for, either the 'Sad Puppies' or 'Rabid Puppies' campaigns (although I support the former).  I don't represent cute puppies, playful puppies, cuddly puppies or hush puppies – only myself.  If you share, in whole or in part, my values and outlook on life, I invite you to join me in this boycott.  Don't do so just because I, or anyone else, is asking you to do so.  Act on the basis of your own informed conscience and reasoned judgment.

There are those who protest that a boycott of Tor will prevent them buying books they want to read, and/or hurt their favorite authors.  I can only point out that used copies of those books are usually available from many sources soon after publication, often in very good to excellent condition, and sometimes at prices much lower than a new copy.  As for your favorite authors, if you buy a used copy of their book(s), why not send them the money they would have made as a royalty if you'd bought it new?  In fact, given that many royalties are a pittance, why not send them more than that?  Many authors have so-called 'tip jars' on their blogs or Web sites, or you can write to them enclosing a check or money order.

There are those who doubt that a boycott can achieve anything.  I can only reply that 'doing the right thing' is important in itself.  It's a matter of honor – and although any mention of honor may be greeted with scorn and derision in these 'modern' times, I was raised to value the concept and live by it.  I still do.  I doubt I'm alone in that.

What's more, in a SF/F market that's increasingly dominated by independent authors, with cratering sales among mainstream publishers and tight financial margins, even a small boycott may have an impact out of all proportion to its size.  I'm certain, on the basis of support already voiced, that we can achieve a short-term six-figure reduction in Tor's annual turnover.  All that'll take is a couple of thousand people not spending their usual $50 per year on Tor books (and many have, until now, spent a lot more than that – for example, see here).  With more supporters and/or bigger spenders involved, the impact will be correspondingly greater.  I believe that over time, as word spreads and more join the boycott, we can grow this into a seven-figure annual impact – particularly when, in markets where we have a strong presence, we start talking to bookstores that carry Tor products.  Given current economic conditions and the present and predicted state of the SF/F market, our boycott may in due course make the difference between a profit and a loss in Tor's annual trading accounts.
Vox Day on Vox Popoli
"Tor boycott announced" – June 19
As you can see, I have been a Tor Books customer since 1986, when I bought a mass market paperback copy of The Edge of Tomorrow, by Isaac Asimov. And because I have considerably more experience of Tor Books and the consistently abusive and unprofessional behavior of its senior employees, I will go a little further than Mr. Grant has. Until Irene Gallo and Patrick Nielsen Hayden are no longer employed by Tor Books or Tor.com, I will not:

Purchase any books published by Tor Books
Read any books published by Tor Books

Given (2), this means that if Ms. Gallo and Mr. Nielsen Hayden are still employed by Tor Books in 2016, I will not nominate any books published by Tor Books for any awards. I encourage those who deem Ms. Gallo's behavior to be unprofessional and unacceptable to follow Mr. Grant's lead and join the Tor Books boycott. I am the leader of the Rabid Puppies, I do speak for them, and I have absolutely no doubt whatsoever that they will follow my lead in this regard. I am not concerned about whether the boycott is "successful" or not. The simple fact is that if Macmillan is at all interested in the long-term success of Tor Books, it will jettison both Ms Gallo and Mr. Nielsen Hayden on the basis of their disloyalty, their unprofessional behavior, and their repeated violations of the Macmillan Code of Conduct, regardless of what any outside parties may happen to believe. I simply won't have anything to do with Tor Books as long as those two individuals are employed there.
John C. Wright
"Embargo On" – June 19
Since I am Tor author and hitherto have been very proud of my association with that fine and famous imprint, I am fascinated (if mildly aghast) that the Tor management has allowed the situation to degenerate to this point.

Because of a financial conflict of interest on my part, it would be untoward of me to express fulsome support and applause for the boycott, and tell the boycotters their position is the principled and correct stand.

Nor will I point out, because it is obvious, that if you buy my books from Tor, then some part of your precious book-buying dollars goes into the wages of several people at Tor (but by no means all, or even most) who hate both you and me with a sick and soul-destroying hatred, a hatred like a disease that withers the heart and rots the brain.

Nor will I point out, because it should also be obvious, that any Christian gentleman would be willing to forgo a worldly reward of your generous book-buying dollars if he may have your spiritual reward of your loyalty instead. If the gentle reader feels compassion for me in my hour of need, or fears the boycott will harm my finances, I have a tip jar on this page.

So I cannot express support for this boycott.

The people with whom I work, my editor and cover art director, have a perfect right to expect me not to undermine their position, untenable as it may be. If the management wants to set the company policy as one of indifference to our patrons and clients on whom our livelihood depends, or contempt, or enmity, or loathing, that business decision is in their bailiwick.
Chris Meadows on Teleread
"Sad Puppies supporters, opponents respectively call for boycott, buying of Tor books"   – June 19
However, even leaving aside that Vox Day certainly does speak for the Rabid Puppies, what Correia and Grant miss is that, as a grass-roots movement (I was going to say "ostensibly grass-roots," but what the heck, I'll give them the benefit of the doubt), "Sad Puppies" doesn't really have a true "leadership" to speak for it at this point. Whether you're an official "member" or not, if you identify with the movement, you're going to be identified with the movement, especially by the movement's opponents.

Make a lot of noise in support of Sad Puppy goals, and voila, you're a Sad Puppy, and anything you do reflects on them. And likewise, anything the rest of them do reflects on you—which is why the Puppies movement as a whole is, rightly or wrongly, often tarred with the black brush that most accurately applies only to Vox Day and others like him. (Indeed, it's why a lot of people use "Sad Puppies" as a shorthand to refer to both the Sad and Rabid Puppies.) And it's why anti-Puppies (some have suggested the term "Happy Kittens") feel justified in calling this a "Sad Puppies" boycott.
Adam on The Noisy Rogue
"The Boycott of Tor Books" – June 19
Even John C Wright, one of Tor's own published writers, is unable to express support for Tor in this situation. Make your own minds up, dear readers. But rest assured that the culture wars have not been lost. They were only originally winning in the first place because our side couldn't be bothered turning up. Now it's on.
Steve Davidson on Amazing Stories
"Today is Buy From Tor Day" – June 19
Just a reminder that if you would like to express support for Irene Gallo, Patrick Nielsen Hayden, Teresa Nielsen Hayden, Moshe Feder and TOR books, today is the day to go out and buy a TOR book.

You can learn a bit more about this here.
Peter Grant on Bayou Renaissance Man
"Moshe Feder doubles down (again) on the lies" – June 19
Friends, I give you Moshe Feder on Facebook earlier today: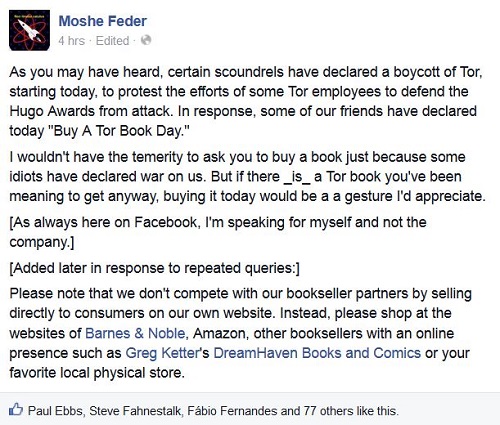 ….I'm still not going to call for the resignation or dismissal of any of the Tor employees I've named.  Nevertheless, if I needed any more justification for why I'm boycotting Tor, Mr. Feder has provided it.  I suppose I should thank him for that – and if he wishes to call me an 'idiot', well, I've been called a lot worse than that in my time.  Furthermore, for all Mr. Feder's vitriol directed against him, he's just made Vox Day look like a sensible, reasonable participant in this debate.  Vox might want to thank him, too . . .
(Warning: gross racism) This is the kind of racist asshole that some people believe deserves a Hugo Award. pic.twitter.com/TqMiaCOJOl

— Natalie Luhrs (@eilatan) June 19, 2015
Hey, Puppies. Tell me again how Irene Gallo was at all wrong about the putrid, racist, cowardly lot of you. https://t.co/fbkvZHyZGH

— Alexandra Erin (@alexandraerin) June 20, 2015
Does Irene Gallo get to take back her apology now?

— Nick Mamatas (@NMamatas) June 20, 2015
Lela E. Buis
"Adding fuel to the flames" – June 19
What ever happened to that discussion about the Hugos?

What Hugos?

By this time, it should be fairly clear that the current debacle has nothing to do with the Hugo Awards. It isn't really about the liberal versus conservative content of a few Tor books, either. I concede that there may be an ideological component to the attack. If Day is a a "fundamentalist Southern Baptist," as he has been characterized, then it is likely that he's offended by liberal viewpoints in general. Still, that's no reason to go after Tor in particular. Publication of LGBTQ novels, for example, has been increasing across all major publishers in the last few years. Tor has no franchise on liberalism.

That makes it more likely that Day has launched a personal vendetta undercover of the conflict over the Hugo Awards. He has moved from naming Irene Gallo to Moshe Feder to Patrick Nielsen Hayden in the last few days. Most likely this is his actual target. Hayden is the man quoted in news reports announcing John Scalzi's recent $3.4 million contract with Tor.

It's a vendetta, folks. Day is pursuing a long-running feud with John Scalzi. That means that anyone who supports Day's flame war by responding to him is only perpetuating the problem. Tor has got it right. It's time to hunker down and wait him out.
Lawrence Person on Battleswarm Blog
"Sad Puppies Redux (Or Why That Tor Boycott Won't Work)" – June 19
Since then, a few people on Twitter have been calling for a boycott of Tor Books over the incident. About this I would just like to make a few points:

Though the editorial stuff does lean toward the SJW side, plenty of conservative authors are published by Tor.
An ad hoc, Twitter-organized boycott is deeply unlikely to work. Given the way book sales are tracked, it's unlikely the financial effects of any boycott would stand out from sales figures more than background noise. Most SF readers probably aren't even active on Twitter, and even fewer have been following every twist and turn of the Sad Puppy Saga.
Given that Tor is a very small part of the Bertelsmann international conglomerate, chances are even less likely that that any boycott would be effective or even noticed.
Larry Correia has categorically stated that the Sad Puppies are not calling for any boycotts. He also notes, as he invariably does, "All I'm asking is that whatever you do, try to be as civil as possible in your disagreements."

So put me down in the category of thinking a boycott is foolish, pointless and counterproductive.

One big point on the Sad Puppies campaign: Most recent domestic Worldcons have topped out in the 4,000-6,000 members range. I recently bought a Supporting Membership in Sasquan, and my membership number was in the 9,000s. This tends to indicate that the Hugos have indeed become a test of strength in the culture wars.
"E pluribus Hugo" proposal submitted: http://t.co/FCVRWxxV20
Community Q&A here: http://t.co/pGOPpNQHEc#HugoAwards @sasquansf

— Soon Lee (@SoonLeeNZ) June 20, 2015
#HugoGuide update: We've added GeekyLibrary review star rating for THE DARK BETWEEN THE STARS by @TheKJA #hugoawards http://t.co/d6boG4jPAa

— GeekyLibrary (@GeekyLibrary) June 19, 2015
Lis Carey on Lis Carey's Library
"Sucker Punch, by Eric S. Raymond" – June 19
Eric S. Raymond is a 2015 nominee for the John W. Campbell Award for Best New Writer. This is a perfectly competently written MilSF…vignette. It's not a story. It describes a couple of important and unfortunate advances in military weapons and tactics, and presents the resulting dilemma quite poignantly.
Joe Sherry on Adventures In Reading
"Thoughts on the Hugo Award Nominees: Novella" – June 19
….The big surprise in this category, at least for me, was Tom Kratman's Big Boys Don't Cry. I had expected a very aggressive narrative designed to offend those of a more liberal persuasion, but what I got was a surprisingly graceful story of a dying sentient tank. That may sound weird, but given advancement in artificial intelligence and this being a science fiction story, it works. It works remarkably well, especially the deeper Kratman brings the story into Magnolia's history.  Yes, there are also some clumsier jabs at how military tactics have been handled by those not committed to the mission or by those who don't fully understand what it takes to win, and politicians get the sharp end of the stick in that regard (rightly so, in some cases).

If all of Arlan Andrews' "Flow" was as successful as the second half of the story, I might have been able to move it up another space on my ballot, but unfortunately the beginning of the story was something of a chore to push through. The primitive ice world (a partially frozen post apocalyptic Earth) was tough to take, less because of the writing and more because of what I was wanted / was getting from the story. I'll willingly take the hit that part of this is on me, but I often bounce off of fiction dealing with significantly more primitive Earth cultures unless the writing / storytelling can just grab a hold of me and make me care about the characters and / or the setting. "Flow" didn't…until it did, midway through as Rist began to discover more of the world and realized that what his people taught may not be the way things actually work. I'm now curious to find "Thaw", a previous story in this setting, and move on to "Fall", the next in the setting.  I'd like to see where Andrews is taking this.

My Vote

1. "Pale Realms of Shade"
2. Big Boys Don't Cry
3. "Flow"
4. "The Plural of Helen of Troy"
5. No Award
6. One Bright Star to Guide Them
Melina D on Subversive Reader
"Hugos 2015 Reading: Short Story" – June 19
Without too much further procrastination, it's onto the stories. This was another full puppy-supported slate, so – to put it mildly – my expectations of good writing were low. I was pleasantly surprised by one story, meh over a couple of others and (predictably) was ready to set a thousand fires to another.
(The original is here if you don't know it.) The original inspiration for looking at this source material was that "Voxie" rhymes with "Roxie."
[Excerpt is only one-third of the whole parody.]
[PUPS] Hah! They had it coming! They had it coming! They took a genre in its prime And then they used it And they abused it We'll slate the Hugos – It's not a crime!

[SARAH] Now, I'm typing on my blog post, carvin' up the SJWs for the Puppies, minding my own business, in storms Mike Glyer, in a jealous rage. "You're a hydrophobe!" he says. He was crazy and he kept posting, "You're a hydrophobe!" And then he ran into my axiom. He ran into my axiom ten times!

[PUPS] If you'd have been there If you'd have read it I betcha you would have thought the same!

[JULIETTE] Oenq, V nz fbeel, ohg vs lbh jvyy or ynoryvat zr nf n fnq chccl V jvyy unir gb nfx lbh gb jvguqenj zr sebz lbhe yvfg. Lbh qvq abg fnl lbh jrer tbvat gb or pnyyvat vg gur Fnq Chccvrf yvfg. V srry yvxr lbh jrer zvfercerfragvat vg. V'z unccl gb or bar bs lbhe Uhtb erpbzzraqngvbaf. Guvf vf qvssrerag.

[BRAD] Yeah, but will you be on my slate?

[JULIETTE] UH UH, not Puppy!

[LARRY] My buddy Brad and I had this Sad Puppy act, and my "devil" Voxie traveled around with us. Now, for the most recent year in our slate, we nommed 20 of Brad's buddies in a row. One, two, three, four, five…Kratman, Freer, Antonelli, Reid, one right after the other. Well, this one night we were ranting about liberals, the three of us, boozing and having a few laughs, and we run out of ice. So I go out to get some. I come back, open the door, and there's Brad and Voxie nomming Number Seventeen – "Wisdom From My Internet." Well, I was in such a state of shock, I completely blacked out. I can't remember a thing. It wasn't until later, when I was washing the toner off my hands, I even knew they were Rabid.

[PUPS] They had it coming! They had it coming! Ann Leckie does her genders wrong! I didn't read her! But if I read her I wouldn't know which "she" has a schlong!