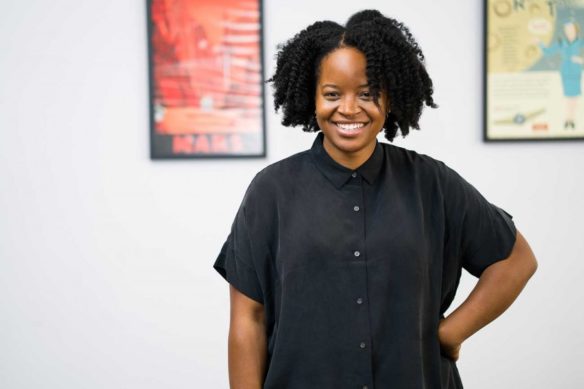 Alyssa Collins, assistant professor of English Language and Literature and African American Studies at the University of South Carolina, has been awarded The Huntington's year-long Octavia E. Butler Fellowship worth $50,000 for the study of the renowned science fiction writer. Butler (1947–2006) was the first science fiction writer to receive a MacArthur "genius" award and the first African American woman to win widespread recognition writing in that genre. The Huntington holds Butler's archives.
The research grant provides support for a scholar to spend a full academic year working with Butler's literary archive, which, over the past seven years, has become the most frequently requested collection at The Huntington.
Collins' project is titled "Cellular Blackness: Octavia E. Butler's Posthuman Ontologies." Her project treats Butler's Xenogenesis trilogy of novels as a central touchstone and explores Butler's interest in genetics, evolution, and cellularity. Collins uses "cellularity" to refer to Butler's engagement with the story of Henrietta Lacks, a Black woman whose cancer cells were harvested without consent in 1951 for medical research and became known as the HeLa immortal cell line, and Butler's representation of cellular replication as a mode of Black feminist survival.
"There are four areas in the Butler archive that are fundamental to my research: subject files and research materials, commonplace notebooks and notecards, drafts, and correspondence," said Collins. "Each category offers a different, discrete moment of development for Butler's frameworks on cellularity and evolution. Given the ambivalent presentation and voice of some of Butler's novels and characters, Butler's notations—information stowed in newspaper margins, on notecards, and as floating ideas on commonplace notebook pages—offer keys to how we might think about the intersections of her work and that of the scientific discourse of the period in which she wrote."
Collins will join a cohort of 14 long-term fellows who will be coming into residence at The Huntington for the full 2021–22 academic year. Five of the incoming research fellows are trained in history, another five in literature, two in art history, one in philosophy, and one in Chicano studies. Ten of the fellows are either postdoctoral students or assistant professors; 11 are female; and six are people of color.
[Based on a press release.]