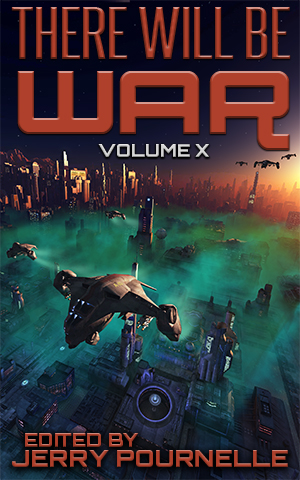 There Will Be War X, the first new anthology in Jerry Pournelle's military sf series in 25 years, will be released on Amazon next Monday.
"It's pretty good," Jerry promises, with a mix of fresh names and favorites. "Several new writers I didn't know before, and some old standbys like Bova and Anderson with stories that hold up despite their age."
Here is the complete roster of contributors:
Gregory Benford, Charles W. Shao, William S. Lind, Lt. Col. Gregory A. Thiele, USMC, Ben Bova, Allen M. Steele, Michael Flynn, Martin van Creveld, Matthew Joseph Harrington, Cheah Kai Wai, Col. Douglas Beason, USAF, ret., John DeChancie, CDR Phillip E. Pournelle, USN, Russell Newquist, Brian Noggle, David van Dyke, Lt. Col. Guy R. Hooper, USAF, ret., Michael L. McDaniel, Poul Anderson, and Larry Niven.
The Castalia House book, says publisher Vox Day, initially will come out as an ebook, then in audiobook early next year, and finally in a hardcover omnibus edition with Volume IX sometime in Spring 2016.