On September 19, 1961 while heading home from Canada through the mountains of New Hampshire, Betty and Barney Hill claimed they were abducted by a UFO.
Did it really happen? Well, remember how a lawyer got Kris Kringle out of the loony bin with the connivance of postal employees in Miracle on 34th Street? You could make a similar case here. The Hills are the only alien abductees with an official state road sign marking the spot where the UFO picked them up.
Yes, the New Hampshire Division of Historical Resources erected marker number 224 on the site in 2011.
"To tell you the truth, we were very excited about the prospect," Elizabeth Muzzey, director of the agency, informed a HuffPost writer.
"We thought about the 1950s and '60s in our country when there was such widespread interest in things such as space travel and space exploration. And in all the years since, there have been a great number of people who have asked whether other forms of life may exist out there in the solar system and beyond," she said.

"Certainly, the experience of the Hills falls right at the center of that cultural and scientific experience," Muzzey added. "So that's what we are presenting in the marker — that this was the first widely reported UFO abduction report in the U.S., and a ton have since followed."
The text on the marker reads: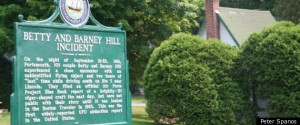 Betty and Barney Hill Incident

On the night of September 19-20, 1961, Portsmouth, NH couple Betty and Barney Hill experienced a close encounter with an unidentified flying object and two hours of "lost" time while driving north on Rte 1 near Lincoln. They filed an official Air Force Project Blue Book report of a brightly-lit cigar-shaped craft the next day, but were not public with their story until it was leaked in the Boston Traveler in 1965. This was the first widely-reported UFO abduction report in the United States.
This happened in the psychedelic Sixties, which may explain why the Hills had no trouble remaining politically active after their alleged abduction. Betty and Barney — who once was appointed by the governor of New Hampshire to serve on the state advisory committee to the U.S. Civil Rights Commission — campaigned for Lyndon Johnson in 1964. President Johnson won by a landslide and the couple was invited to his 1965 inauguration.