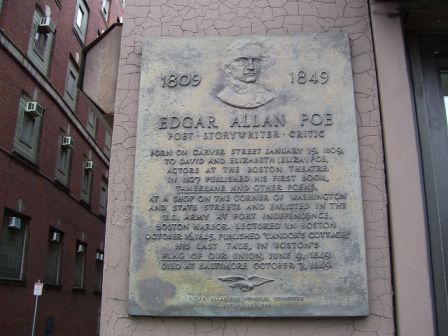 Born 1809: Edgar Allen Poe
There are 206 candles on the famed writer's cake today.
Especially this week, Bradbury fans will marvel that there are three Poe residences preserved — in Baltimore, Philadelphia, and New York.
The Edgar Allan Poe House and Museum in Baltimore retains much of its original woodwork, floors, plaster walls and hardware. Poe lived in the house from 1833 to 1835.
The Edgar Allan Poe National Historic Site in Philadelphia, one of many places he lived in the city, was his home in 1843.
Poe Cottage in the Bronx was his home from 1846-1847.
(A brick from another Poe residence, in Manhattan, was one of Ray Bradbury's prized possessions and sold for $4,320 in the estate auction last September.)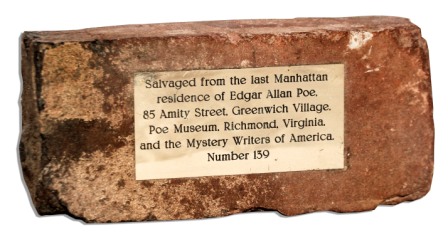 Richmond even maintains the Old Stone House, its oldest standing residence, as the Edgar Allan Poe Museum. (Poe lived in the city, but never in that building.)
When you look at these places, none prized for its architectural design but only for its association with the writer, it makes you wonder – why not a site devoted to Ray Bradbury?
Returning to Poe, the Wikipedia calls him the "first well-known American to try to live by writing alone". He also vowed to make his fortune as a self-published writer in an 1848 letter:
I am resolved to be my own publisher. To be controlled is to be ruined. My ambition is great. If I succeed, I put myself (within 2 years) in possession of a fortune & infinitely more.
Unfortunately, that dream died with Poe the following year.