By Hampus Eckerman: Bloemfontein, South Africa. I'm staying at the newly renovated Hobbit Hotel (http://www.hobbit.co.za) in the Bilbo-room.
It is a nice little hotel with a total of thirteen rooms, all named after characters from Lord of The Rings or The Hobbit (there's even a Gollum room). The hotel has new owners since 10 months ago, and they have made extensive renovations, restoring the doors to their original wooden colours, added artwork to the walls, repainted the walls, and the result makes for a nice old-fashioned feel where paintings from The Hobbit and LOTR blend seamlessly in with the fireplace, bookshelves and sofas.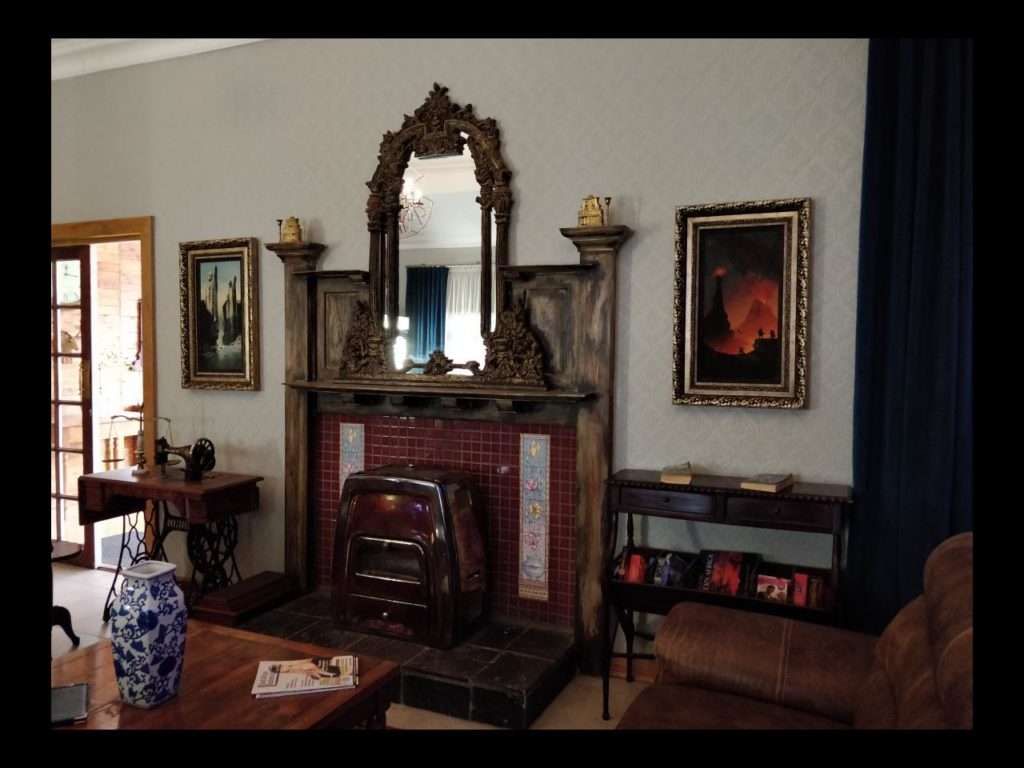 I was a bit surprised by how well the paintings blended in and asked about them. Turned out that the owner's daughter had an arts education and that the illustrations from different versions of the Tolkien books had been printed on canvas which is how they got a more antique look.
On the wall by the reception there is a sign proclaiming that this is the birthplace of JRR Tolkien, in the third of January, 1892. That is not true. The real birth house of Tolkien, just a few streets away, was destroyed in floods in the 1920s. The plaque was originally placed at Bank of Africa, where Tolkien's father worked (the building no longer exists), but were later stolen and then idled for a while in the municipal archives.
The original owner of the Hobbit Hotel was also president of the South African Tolkien Society. He bought first one house, created for sub-economical housing, and renovated it to create the hotel. Later he bought another house next door, merged them together to create the current hotel with a total of twelve rooms. The current owners have added five self-catering cottages.
While Tolkien himself only lived in Bloemfontein a total of three years, his father lived here until his death in 1896. He is buried in the President Brand Cemetery, a mere two kilometers away.
There are no statues of Tolkien in Bloemfontein. No busts, no monuments, no museums, no guided tours. The taxi drivers I spoke to had all seen the Lord of the Rings movies, but had no idea that the author was born in their own town. Bloemfontein is a place with no tourist industry.
So the only thing left to remember JRR Tolkien is a quaint little hotel with tasteful, but toned down decorations and an old-fashioned feel. Which I guess he himself would have been satisfied with.