AbeBooks, an online listing service for dealers in vintage books, publishes an annual list of the volumes it sold for the highest prices.
The most expensive item sold through AbeBooks in 2015 was Storia naturale degli uccelli trattata con metodo e adornata di figure intagliate in rame e miniate al naturale. Ornithologia methodice digesta atque iconibus aeneis ad vivum illuminatis by Saverio Manetti, a famous Italian ornithology book from 1765 that went for $191,000.
That sale also set a new mark as AbeBooks' most expensive ever. The firm's dual record holders before that were two books which each sold for $65,000 in 2003 — a 1937 first edition of The Hobbit and a 1644 copy of Areopagitica, John Milton's defense of press freedom.
Works of genre interest AbeBooks sold for top dollar last year were —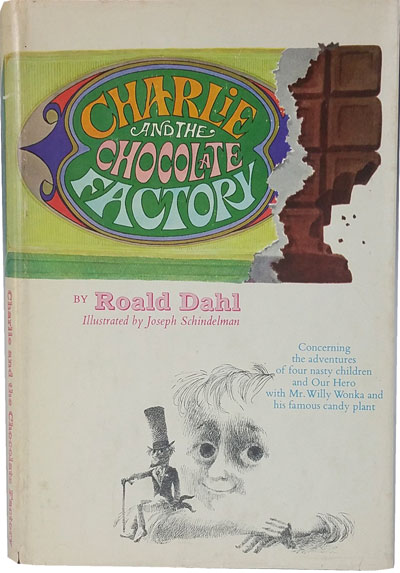 Charlie and the Chocolate Factory by Roald Dahl – $25,000 A first edition from 1964 that had been signed and inscribed by the author with the words "For Jane and Alex with much love Roald Dahl October 1964." The bookseller was Raptis Rare Books located in Brattleboro, Vermont. Published in September 1964 by Knopf, just 10,000 copies of Charlie and the Chocolate Factory were published and they sold out within a few weeks. This copy is by far the most expensive Roald Dahl book to sell via AbeBooks and probably the most expensive Dahl book to ever be sold.
Lord of the Rings trilogy by J.R.R. Tolkien – $19,492 Three volumes comprising The Fellowship of the Ring (signed by the author), The Two Towers, and The Return of the King, published in 1954, 1954, and 1955 respectively. All first editions.
The Astronauts: The Story of Project Mercury, America's Man-in-Space Program by Martin Caidin – $18,500 Project Mercury was America's first mission to put men into space. First edition published in 1960 and signed by all seven of the project's astronauts – Scott Carpenter, Leroy Cooper, Alan Shepard, Deke Slayton, John Glenn, Wally Schirra, and Gus Grissom. The project ran from 1958 and culminated in 1962 when Glenn made three orbits of the Earth.
(tie) Do Androids Dream of Electric Sheep? by Philip K. Dick – $15,000 1968 first edition signed and inscribed by Dick. The book served as the basis for the Blade Runner movie. The plot is set in a post-apocalyptic world where a bounty hunter is tasked with destroying six escaped androids.
A couple of other genre works outside the top 15 that were mention in AbeBooks' roundup —
The Colour of Magic by Terry Pratchett – $9,633 A 1983 first edition of the first book in the Discworld series that had a print run of just 506 copies, most of which disappeared into the library system. Sadly, Pratchett died in March 2015.
A Hitchhiker's Guide to the Galaxy by Douglas Adams – $2,480 A signed 1979 first edition of one of the funniest books ever written.
Here are links to File 770's coverage of AbeBooks' sales roundups from the past couple of years.
Alice's Adventures in Wonderland by Lewis Carroll & illustrated by Salvador Dali – $20,000 The 1969 Maecenas Press/Random House edition, signed by the artist. The seller described the book 'as new' and its leather Solander box as 'fine'. Only 2,500 copies were produced, containing 12 memorable illustrations from the surrealist.
AbeBooks Most Expensive Sales of 2013
Harry Potter and the Philosopher's Stone by J.K. Rowling – $20,000 First edition from June 1997 – one of the 500 copies printed.
[Thanks to Michael J. Walsh for the story.]