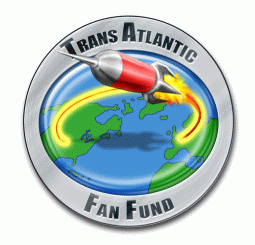 Anna Raftery or Wolf von Witting – one will be voted the 2016 Trans-Atlanta Fan Fund delegate.
Their prize — a trip across the Atlantic to MidAmeriCon II, and the opportunity to meet lots of fine fannish folk and strengthen the bonds of friendship between Europe and North America.
The ballot form has been posted, and online voting is also available here.
Below are the candidates' platforms and the names of their nominators.
Anna Raftery

What's with all these whippersnappers running for TAFF?! Well, going to cons for more than half my life has to count for something, right? I've been an active fan, filker and con-goer since 13; at this point the community is quite literally my family. My love for being involved extends to being on con committees (including as filk programme head for Loncon 3) and setting up new cons from the ground up. I am so excited to run this race to represent Europe at MidAmeriCon2, meet fans across North America, and share that experience in my trip report.

Nominated by: Claire Brialey, John Coxon, Gareth Kavanagh, David Weingart, Christina O'Halloran

Wolf von Witting

Gentlefen who desired to vote for both candidates in the previous race get their wish.

Now, my friends in Swedish and German fandom, I really need your votes too. But regardless of the outcome of this race, I hope to prove myself useful to TAFF for the following three years in relating the fund to continental sf-fandoms. I dislike talking about myself, but I can see the necessity in it. People ask. So I decided once and for all to answer all questions in CLOCKWISE #2016 end of January.

All I wish for is an interesting race. May TAFF win!

Nominated by: Mihaela Marija Perkovic, Dave Lally, John Henri Holmberg, Teddy Harvia, Mike Glyer
Voting remains open until March 29, 2016 at 23:59 British Summer Time (aka UTC+1).