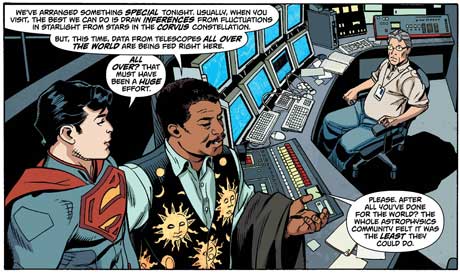 I gather that the starry vest is astrophysicist Neil deGrasse Tyson's signature outfit. I wasn't aware of that when I first saw this panel from Action Comics. My reflexive response was to wonder, "Why is Tyson wearing a Friend of the Boston in 2001 Worldcon Bid vest?"
The history of those vests was explained in an an ad for Boston's next (2004) bid:
Our "Ladies Sewing Circle…" got together their sewing machines, scissors, pin cushions, and a couple of hundred yards of starry fabric and began to make vests (for the SurRealEstate brokers, of course). Eventually, they custom-made about 300 vests for committee, friends of the bid, and potential guests of honor of the 2001 Worldcon.