By James Bacon: The Invasion of Ukraine by Russia, the horror of a modern mechanized war in Europe, viewable instantaneously, the destruction and merciless death rained down on civilians, is utterly appalling.

From this though, art fights back. Art is a form of expression and many are horrified at what is occurring, and demonstrate this through their personal ability to portray a message, be it resistance, revulsion or rebellion.

The focus has also brought works to the attention of readers. I found some amazing war comic images online, and hunted them down and soon found that there was an exciting Ukrainian Comic enterprise, with established comics which was pivoting to share work by artists that reflects the war.

"WAR" is a comic book Patreon from The Will (https://www.patreon.com/TheWillProduction). The project supports Ukrainian artists and the Ukranian defense forces. The production team is creating a comic book compilation of short stories in various genres about the 'War', being created right now during this tumultuous time. Artists are waiving their fees and The Will are using these to buy supplies for the defense forces.
Artists who are already working on the project include: Kateryna Kosheleva (https://twitter.com/tokkamakart), Igor Kurilin (https://twitter.com/gentik72), Nazar Ponik (https://www.artstation.com/misterrook), Maxim Bogdanovsky and Alexander Koreškov (https://www.artstation.com/digitalfly). 

Kateryna Kosheleva's story is in the style of a fantasy about the area of Ukraine known as KONOTOP, where many witches have lived since ancient times and the images speak for themselves.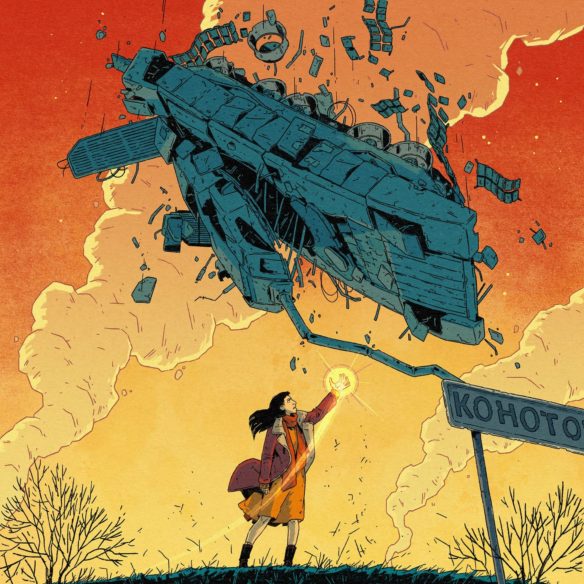 Igor Kurilin is working on a story depicting the action at Snake Island.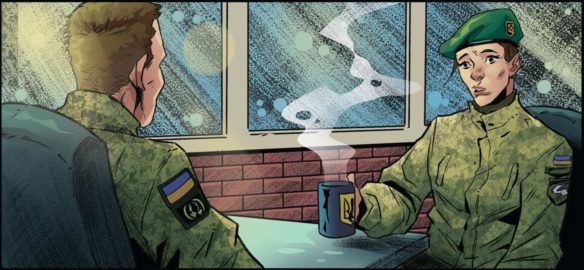 And the cover is by Nazar Ponik.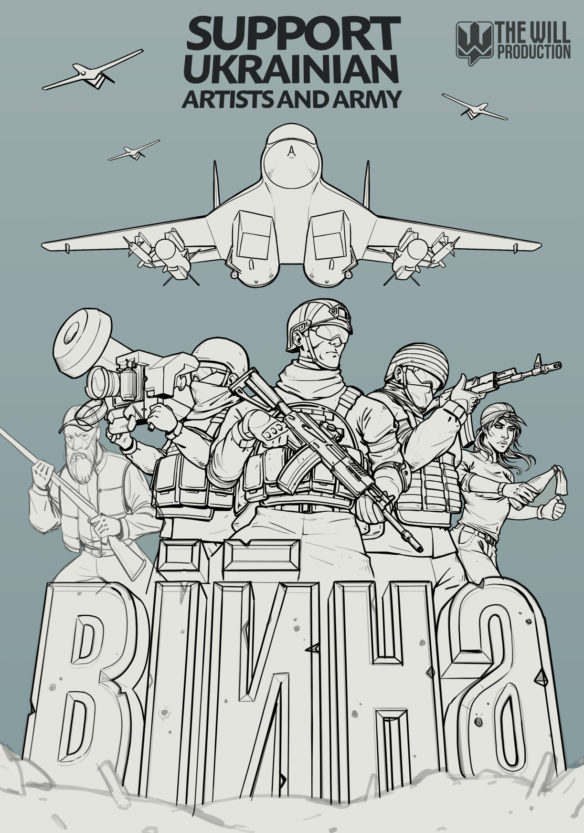 War Comics have a long and varied history, but such direct support is new, yet laudable given the horrendous circumstances faced by these creatives. 

"The Will" is a Ukrainian alternative history fantasy comic, with a strong steampunk theme, looking at events during 1917-1920, presenting a struggle for truth and freedom. There is also "The Prince's Will", a different series featuring anthropomorphic hamsters. 

While these comics are in Ukrainian, the Will is also a publishing house, and as can be seen from their website, they are working to license and help their stories reach a further audience: The Will Production.
Fans will be personally challenged. War Comics are often anti-war, the arts, literature, culture lean towards civil resolutions, protest for sure. There is a known history of fans fighting in wars, and also abstaining. We are often able to dissociate ourselves from the tax we pay being used for god knows what, yet personal choices can and will be made. A country is fighting for its survival, a people have been brutally attacked, and while here on File 770 we know that there are Russians who hate Putin and this War equally, there is an actual existential fight that has been taking place in Ukraine now over a month since the invasion.

I cannot imagine how it is for a fan, comic artist or writer to wake to shelling, to curfews, to whatever is left of a city like Mariupol, to know an invading force of aggressors control parts of one's country, to have seen millions have to leave their home, displaced, refugees, fleeing. How hard and devastating that must be.

Yet here we have some art, that captures the moment, that is really good to look at, that is accurate and well-drawn during adversity, and we see artists supporting their national defense forces, doing what they feel is best under dreadful circumstances, brave and admirable.
[We have permission from The Will to use these Facebook and Patreon Images.]