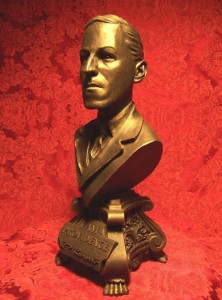 A Kickstarter project to fund a bust of H.P. Lovecraft for the Providence Athenaeum Library by sculptor Bryan Moore has hit its stretch funding goal of $45,000. The H.P. Lovecraft Bronze Bust Project will place Moore's bust of Lovecraft in the library on August 22, 2013.
The Athenaeum was a favorite reading spot of H.P. Lovecraft as well as another local writer, Edgar Allan Poe. 
Lovecraft told Frank Belknap Long in a 1924 letter —
Providence, which spurn'd Eddie living, now reveres him dead, and treasures every memory connected with him. The hotel where he stopt, the churchyard where he wander'd, the house and garden where he courted his inamorata, the Athenaeum where he us'd to dream and ramble thro' the corridors—all are still with us, and as by a miracle absolutely unchang'd even to the least detail.
Achieving the stretch goal is going to allow the sculptor to make the memorial plaque of solid bronze instead of bronze alloy planned in the original budget.
Bryan Moore has been sculpting for the film, toy and private collector industry for nearly three decades. His film credits include Gods and Monsters, the Nightmare on Elm St. film series and the Tales from the Darkside TV show. He's sculpted many of Lovecraft's characters such as Abdul al Hazred, Brown Jenkin, C'thulhu, Herbert West: Re-Animator.
[Thanks to John King Tarpinian and Andrew Porter for the story.]