By David Doering: LTUE—affectionately pronounced "lootee" despite the spelling, is a great hybrid of con, symposium, and workshop. Author Dan Wells calls it "the learning con" to differentiate it from the "spectator cons" like the Comic Con-type.
Here's the logo—notice the ingenious design combining SF, Fantasy, and the fannish feline "Luna" in the negative space. Neat, huh?
This year set new records:
Up to 10 events in each hour
Over 220 hours of programming (not including gaming, filking, film festival or the autograph party)
Over 1700 in attendance
LTUE continues to be the largest writers and creators conference in the Intermountain West.
Attendees from around the globe—as far as Saudi Arabia and Australia.
Guests of honor were Kevin J Anderson, Rebecca Moesta, and Shannon Hale. Other notables were the Writing Excuses team: Brandon Sanderson, Dan Wells, Howard Tayler, and Mary Robinette Kowal (our Toastmaster); L.E. Modesitt, Dave Farland, Larry Correia, editors Stacy Whitman and Lisa Mangum, artist Brian Hailes, Eric James Stone, and Michaelbrent Collins.
United Airlines needed 3 planes to get GoHs Kevin J Anderson and Rebecca Moesta to Salt Lake from Denver…Not only does United break guitars but it also breaks planes. Two had mechanical issues half way and had to turn back. (Wait. If you're half way and have to turn around, wouldn't it just be easier to fly the rest of the way to Salt Lake than turn around?? It's only 400 air miles.)
(Despite this, KJA had a kind word to summarize his visit to LTUE:
Kevin J Anderson also introduced a new measurement for writer productivity: the "Sanderson". Based on Brandon's 10K average word count of writing a week, Kevin jocularly says he only does about .1 Sanderson a week. (Which makes me feel like I only do like .005 sandersons.)
[Another term I heard for the first time, but likely is common amongst fantasy writers, was "horse dragon"—a dragon you can ride. Dd]
KJA's main address was his life story on becoming a writer. Afterwards, Kevin complimented the LTUE audience as attentive and appreciative. "I give this talk at comic cons and the audience does politely laugh at the right parts. Here it was like I was speaking to a roomful of people like me 30 years ago eager to become writers."
Todd Gallowglass, probably the finest professional live storyteller in fandom, gave a wonderful 15 tale of Scottish bravery to the LTUE banquet on Saturday night. (Yes, we still do a banquet to meet the hotel's request for a food function.) After Todd's storytelling with active audience participation, he thanked everyone because everyone really _wanted_ to participate when he signed to have them do cheers, oohs and aahs.
A real highlight was Shannon Hale's main address on diversity. Shannon, though, didn't stand up and be a firebrand to castigate. Instead, she noted how few boys come to her autograph sessions and, if they do, they say "well, my sister really likes your books". She says she writes her books for human beings, so why does her being female or the title have "princess" in it make boys uncomfortable? Even young boys. Where does this start? This should be something we can fix today.
The most egregious example was of one school (of the 100 or so she visits each year) which said that boys didn't need to attend her assembly—overtly indicating that either her books or her as an author would not be of interest to boys.
Mary Robinette Kowal's toastmaster speech at the banquet was a sidesplitting recounting of her working with a malfunctioning marionette during a live performance of Sleeping Beauty(?) with recorded dialog. The ambiguous dialog suggested a whole different meaning to the scene when the maiden encounters the witch where the witch could only perform one action: a stroking movement with her hand.
Programming at LTUE primarily focuses on creators—writers, screenwriters, or artists—but there's plenty of serious academic content. I loved the last presentation on Saturday "Time Travel" presented by surprisingly enough Salt Lake Comic Con's own Bryan Brandenburg (who serves as their head of marketing). This was an intense, Einsteinian discussion with lots of "meat":
Okay, yes, that was one of his slides, but the rest of the content was in fact very scientific:
Einstein's well accepted relativity physics states that time travel is possible, when one object is traveling faster than another object, especially as one object approaches the speed of light, relative to the other.
The earth and all of its inhabitants are traveling near the speed of light relative to a number of other objects in the universe. So has our future already happened, relative to some other observer in the universe?
HIGHLIGHTS (And Lowlights)
Here's a dreadful picture of me during setup. Looks like the baby's due in about three months. Egads. Smile's pretty good. And the t-shirt with the Steve Keele-designed logo for Westercon 67 looks great! (Some are still available!)
Here's Shannon Hale, author of fantasy series like the Princess Academy books, doing her main address. Note one of our mascot "Douglas" the dragon on the podium. (Wonder why LTUE would choose the name "Douglas"?)
Here's some of the main guests discussing writing natural dialog. Notice how Brandon doesn't need to have a nameplate. (Yes, we did record some events with permission to share on our Youtube channel.)
Here's the Writing Excuses podcast recording six sessions live at LTUE. Another super great event, and sadly one I didn't get to hear or see. So I don't know what the headbands are all about.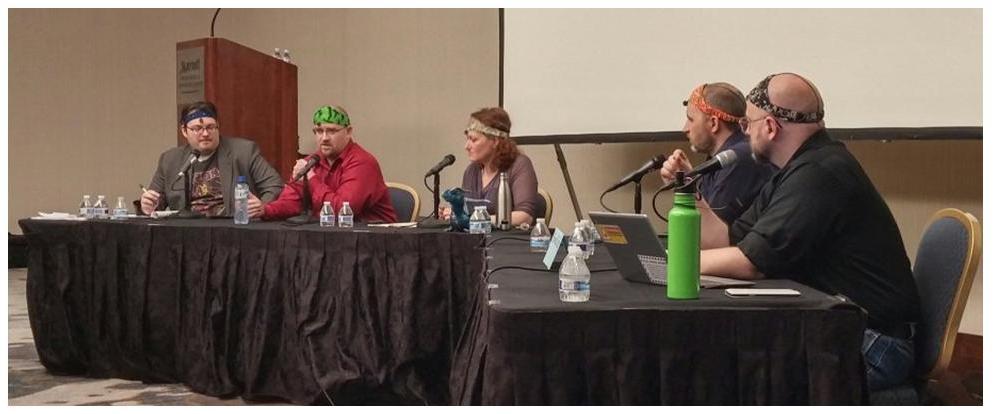 Yes, there's gaming at LTUE. And with Brandon Sanderson involved, it's quite a tournament!
Expanded dealers room—like most cons, its books with some jewelry and a massage parlor. More unusual is that Barnes and Noble has four tables full of hardcovers and paperbacks and do a brisk business. Great support from our local B&N.
Even our libation station got kudos!
I missed this one. Dang, our first "official" after party too. (Keeping with fannish tradition, it was held the first night of the con.)
New this year is a full Professional Development track. LOTS of great feedback on this!
Something very unique to Utah cons:
Another unique aspect at LTUE? Actual full rooms for 9AM panels:
9am panel, first day of LTUE, and there's a great turnout. pic.twitter.com/Mag8VeTiMq

— Eric James Stone (@EricJamesStone) February 11, 2016
Other good wrap-ups:
I was able to hang out my dearest friends for three days and talk the craft of writing – what else does a boy need? If you get the opportunity to go next year, please do so – you will not regret it.
LTUE 2016 was, as each LTUE before it, well worth attending. Over the years I've started to see it as the writing convention to attend, and I have no reservations in saying that if you want to attend a convention to help with your writing, this one should be it. Dozens of high-profile, A-list authors, all offering as much advice as they can while still having fun.
Me? I'm definitely signing up for next year. I learned a lot, met a lot of great people, and had an absolute blast.

Kevin J. Anderson offered a really great analogy with respect to writing…there are a couple of ways to make popcorn: you can take a clean pan, put it on the oven burner, add exactly 1 tablespoon of oil and evenly spread the oil across the entire surface of the pan. You then turn the burner up to get the pan to exactly the right temperature – no more, no less. Then you select the perfect kernel of popcorn from your container of popcorn, and place it in the exact center of the pan where the heat is perfect. Then wait as the ripples form, and then (hopefully) when the kernel pops you immediately remove it to a paper towel to soak up the excess oil. Then you turn off the burner, let the pan cool, and then wash it and clean it so the pan is in pristine condition. Then you repeat the entire process all over again.

Or, of course, you can just dump all the popcorn in, not really be able to predict in advance which kernel will pop or which direction it will pop. In the end, you'll have a whole bowl full of popcorn either way, but in the first case you may starve to death before you get there.