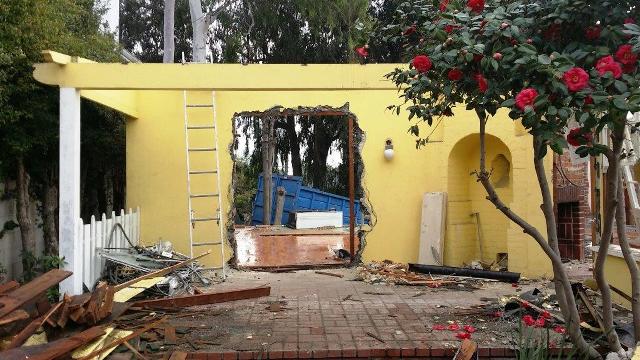 By John King Tarpinian: They tore down paradise and put up a parking lot.
Last Friday I got a panic call from one of Ray Bradbury's old family friends, an English professor, back East. He learned that Ray's sunny yellow house was being razed. Once the security fence went up we knew. In Los Angeles a home that cost $1,765,000 is considered a tear down. Very quickly I received emails from others begging me for photos of the sad event. In only one day half of the house was gone.
One friend wanted a rose, a music professor, from Maggie's (Ray's wife's) garden. Others wanted a piece of anything as a souvenir. I've had many requests for the street numbers over the garage. Of course, this is no longer Ray's home but owned by an "investor." So I need permission to take a pebble from the property, I'm going to get permission…wink.
As I was taking pictures locals were walking their dogs. They'd stop to observe and we'd converse. One lady had no idea who had owned the house; she was new to the neighborhood. She walked away in tears. Another long time neighbor knew it was Ray's home and we mutually agreed things like this are just wrong but money wins out. Another young couple had no idea who Ray was…the saddest encounter of all.
Ed O'Neill's character's home in Modern Family is a few blocks away. It was a former quaint home that was a rebuild. That home was a tear down by the same person who bought Ray's house. The house to the left of Ray's is being remodeled for the second time in five years. The house across the street from that home is undergoing a complete facelift, adding a second story. The One-Percenters are doing just fine, thank you very much.
I met the contractor and learned that the house was not bought on spec with a profit-motive: the new owner is going to build a home for his family. If I understood the contractor correctly the house will go below ground three levels (with the bottom level being a pool, which is perfect for our chilly L.A. winters.) and it will go above ground two stories.
The people in La Jolla fought the tear down of Raymond Chandler's house across from the ocean but in the end they lost. They tore down Rudolph Valentino's home, Falcon Lair, just a few years ago, and I don't think anybody knew about it until after it was gone. PickFair was torn down by Pia Zadora (thank you Golden Globes.)