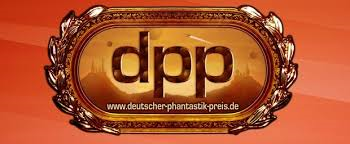 The Deutscher Phantastik Preis 2019 longlist has been posted. Voting is open through August 31 to determine the five finalists in each category.
The award honors speculative fiction published for the first time in German language during the previous year. The longlist is created by an independent jury. In the first round write-in votes are also allowed.
Once the shortlist is determined, winners will be picked by a public vote. Voting on the shortlist begins September 15.
The winners of the DPP 2019 will be honored at BuchBerlin on November 23.
Deutscher Phantastik Preis Longlist
Bester deutscher Roman / Best German Novel
Die Klinge des Schicksals — Markus Heitz — Droemer Knaur
NSA – Nationales Sicherheits-Amt — Andreas Eschbach — Bastei Lübbe
Die Tyrannei des Schmetterlings — Frank Schätzing — Kiepenheuer&Witsch
Die Chroniken von Azuhr: Die weiße Königin — Bernhard Hennen — Fischer Tor
Sturm — Uwe Laub — Heyne
Der Riss — Brandon Q. Morris (alias Matthias Matting) — Belle Epoque Verlag
Das schwarze Schiff — Phillip P. Peterson — BoD
Die Flammen von Enyador — Mira Valentin — BoD
Das Imago Projekt — Robert Corvus — Piper
Terra — T. S. Orgel — Heyne
Sturmtochter: Für immer verboten — Bianca Iosivoni — Ravensburger
Houston Hall: Schatten der Vergangenheit — Mary Cronos — Feelings
Bestes deutschsprachiges Romandebüt / Best debut novel in German
Bloody Mary Me: Blut ist dicker als Whiskey — M. D. Hirt — Carlsen Dark Diamonds
Der Welten-Express — Anca Sturm — Carlsen Verlag
Ein Königreich aus Feuer und Eis — Leni Wembach — Carlsen Impress
Das Schicksal des Winters — Lilly London — BoD
Die Prinzessin der Elfen: Bedrohliche Liebe — Nicole Alfa — Carlsen Impress
Aura: Die Gabe — Clara Benedict — Thienemann Esslinger
Mentira: Stadt der Lügen — Christina Hiemer — Hawkify Books
The Shelter — Kris Brynn — beBeyond
Don Sullivan — Kathrin Schobel — Talawah Verlag
Gem Nation: Herz aus Diamant — Emma K. Sterling — BoD
Der fünfte Magier: Schneeweiß — Christine Weber — Selfpublishing
Bestes deutschsprachiges Jugendbuch / Best German language youth book
Die Krone der Dunkelheit — Laura Kneidl — Piper
Loa – Die weiße Mambo — Petra Reneé Meineke — Sad Wolf Verlag
Das dunkle Herz — Lukas Hainer — iVi
Pheromon — Rainer Wekwerth und Thariot — Planet!
Emily Bones — Gesa Schwarz — Planet!
Adriana zwischen den Welten — Katharina Seck — Drachenmond
Thalamus — Ursula Poznanski — Loewe Verlag
Nation Alpha — Christin Thomas — Zeilengold
Das Flüstern des Waldes — Mira Valentin und Kathrin Wandres — Carlsen Impress
Bestias: Die Bestien Chroniken 1 — Greg Walters — BoD
Diamantkäfig: Der Fluch der sechs Prinzessinen — Regina Meissner — Sternensand Verlag
Wasteland – Tag der Entscheidung — Emily Bähr — Carlsen Impress
Xara – Prinzessin der verschollenen Stadt — Aurelia L. Night — Carlsen Dark Diamonds
Die Seelenchroniken: Yven und Dajana — Katrin Gindele — Tagträumer Verlag
Bester internationaler Roman / Best international novel
Der Sommerdrache — Todd Lockwood — Fischer Tor
Starfire – Imperium — Spencer Ellsworth — Heyne
Der Outsider — Stephen King — Heyne
Legendary: Ein Caraval Roman — Stephanie Garber — iVi
Elfenkrone — Holly Black — cbj Verlag
Renegades – Gefährlicher Freund — Marissa Meyer — Heyne fliegt
Monsters of Verity — Victoria Schwab — Loewe
Nevernight – Das Spiel — Jay Kristoff — Fischer Tor
Warcross: Das Spiel ist eröffnet — Marie Lu — Loewe
Scythe: Der Zorn der Gerechten — Neal Shustermann — Sauerländer
Die Rabenringe – Odinskind — Siri Petterson — Arctis Verlag
Gemina. Die Illuminea Akten_02 — Amis Kaufmann und Jay Kristoff — dtv Verlag
Children of Blood and Bone: Goldener Zorn — Tomi Adeyemi — FJB
Beste deutschsprachige Kurzgeschichte / Best German short story
Die Seelen — Michel K. Iwoleit — p.machinery
Confinement — Thorsten Küper — p.machinery
Totenpfade — Jenny Wood — Art Skript Phantastik
Houston hat Probleme — Markus Heitkamp — Talawah Verlag
Inspiration — Marianne Labisch — p.machinery
Magische Kurzgeschichten. Winter Romanze — Sandra Schwarzer — Schwarzer Drache Verlag
Schnapp sie alle! — Tino Falke — Heise Verlag
Schicht im Schacht — T. S. Orgel — Amrun Verlag
Unter der Erde — Janna Ruth — pako Verlag
Das letzte Erwachen — Swantje Oppermann — pako Verlag
Der Elter — Jens Gehres — Edition Roter Drache
Keine Asche — Nele Sickel — p.machinery
Beste Deutsche Anthologie / Best German anthology
Maschinen — Hrsg: Martin Witzgall und Felix Woltkowsky — Verlag Torsten Low
Das einsame Haus am grünen See — Marie Grunenberg u. a. — Verlag ohneohren
Entzünde den Funke — Siiri Saunders & Adrian Stiller — TWENTYSIX
Noir Anthologie (1) — Mica Baram u. a. — Sadwolf Verlag
The P-Files — Hrsg: Sascha Eichelberg — Talawah Verlag
Weltentor Science Fiction 2018 — Noel Verlag
Kemet – Die Götter Ägyptens — Katharina Fiona Bode & Grit Richter — Art Skript Phantastik
Nova 26 — Iwoleit Haitel — p.machinery
Schnittergarn: Die Anthologie des Todes — Marc Hamacher — Leseratten Verlag
Phantastische Sportler — Markus Heitkamp & Wolfgang Schroeder — Verlag Torsten Low
Geschichten aus den Herbstlanden — Fabienne Siegmund u. a. — Verlag Torsten Low
Bestes deutschsprachiges Hörspiel/Hörbuch / Best German Language Radio Play / Audiobook
Bestias — Greg Walters — Marco Sven Reinbold — Ronin Hörverlag
Die Chroniken von Azuhr – Die Weiße Königin — Bernhard Hennen — Wolfgang Wagner — Argon Verlag
Des Nachts im finstren Walde — Jana Oltersdorff — Lisa Boos, Till Hagen, Katja Sallay, Marco Sven Reinbold — Hörbuchmanufaktur Berlin
Spiegelsplitter — Ava Reed — Hanna Baus, Frank Stieren — Carlsen Audio
Die Legende von Enyador (Teil 1) — Mira Valentin — Robert Frank — Audible Studios
Das schwarze Schiff — Phillip P. Peterson — Heiko Grauel — Audible Studios
Der Totengräbersohn (3) — Sam Feuerbach — Robert Frank — Audible Studios
Aurafeuer – Das Erbe der Macht (1) — Andreas Suchanek — Clemens Benke — SAGA Egmond
Funke des Erwachens: Geheimnis der Götter — Saskia Louis — Carolin-Therese Wolff — SAGA Egmond
Beste deutschsprachige Serie / Best German Language Series
Perry Rhodan — Chefredakteur Klaus N. Frick — Pabel Moewig
Die Phileasson-Saga — Bernhard Hennen & Robert Corvus — Heyne
Nebular — Thomas Rabenstein — Sci-Fi-World Medien
Beyond Berlin — Björn Sülter — Verlag in Farbe und Bunt
Das Erbe der Macht — Andreas Suchanek — Greenlight Press
Professor Zamorra — various — Bastei
Die Chroniken von Chaos und Ordnung — J. H. Prassl — Acabus Verlag
Hunting Hope — Jacqueline Mayerhofer — Verlag in Farbe und Bunt
Die Grimm-Chroniken — Maya Shepard — Sternensand Verlag
Königreich der Träume — I. Reen Bow — Greenlight Press
Maddrax — Michael Schönenbröcher — Bastei Lübbe
Heliosphere 2265 — Andreas Suchanek — Greenlight Press
Bester deutschsprachiger Grafiker /Best German-speaking Graphic Artist
Die letzten Zeilen der Nacht — Alexander Kopainski — Drachenmond Verlag
Die Duftapotheke- Ein Zauber liegt in der Luft — Claudia Carls — Arena Verlag
Der Weltenexpress — Bente Schlick & Formlabor — Carlsen
Die Krone der Dunkelheit — Guter Punkt — Piper
Sturmtochter- Für immer verboten — Carolin Liepins — Ravensburger
Das Flüstern des Waldes — Coverandbooks–Rica Aitzetmueller & Formlabor — Carlsen Impress
Götterherz — Jaqueline Kropmanns — Sternensand Verlag
Timeless Uncertainty- Im Bann des Feindes — Tociljdesign by Michelle Tocilj — Sadwolf
Geheimnis der Götter – Asche des Krieges — Antonia Sanker — Digital Publishers
Pro und Contra- Mein Licht in der Dunkelheit — Vivien Summer & Formlabor — Carlsen Impress
Das Netz des Seelenfresser — Marie Graßhoff — Talawah
Anderswelt — Casandra Krammer — Neobooks
Bestes deutschsprachiges Sekundärwerk / Best German Language Secondary Work (i.e., Related Work)
Es lebe Star Trek – Ein Phänomen, zwei Leben — Björn Sülter — Verlag in Farbe und Bunt
Die Überschreitung der Gegenwart: Science Fiction als evolutionäre Spekulation — Wolfgang Neuhaus — Golkonda
Geek! Magazin — various — Panini
James Tiptree jr. — Hans Frey — Memoranda bei Golkonda
Das komplette Marvel-Universum: Der verrückte Reiseführer durch alle Welten, Dimensionen und Galaxien — various — Heel
Fortschritt und Fiaskos — Hans Frey — Memoranda bei Golkonda
Das Science-Fiction-Jahr 2018 — Herausgeber Michael Görden — Golkonda
Die Hugo Awards 2001-2017 — Hardy Kettlitz — Memoranda bei Golkonda
Bester deutschsprachiger Comic / Manga / Best German Language Comic / Manga
Myre-Die Chroniken von Yria (Buch 2) — Text und Zeichnungen Claudya Schmidt — Splitter
Robotormärchen, Ein seltsamer Tag (1) — Text Olaf Brill, Zeichnung Michael Vogt — Atlantis
Captain Berlin — Text Jörg Buttgereit, Zeichnung Fufu Frauenwahl — Weissblech Comics
BL is Magic (Band 1) — Oroken — Carlsen Maga
Das Liberi Projekt (2) — Tamabasuro — Carlsen Manga
Fokus 10 (Band 3) — Martina Peters — Carlsen
Sterne sehen — Asja Wiegand — Zwerchfell Verlag
Capacitas — Marika Herzog — Eigenproduktion
Sonderpreis 2019: Beste Übersetzung / Special Award 2019: Best Translation
James-Bond-Romane (Neuübersetzung) – tr. Anika Klüver & Stephanie Pannen — Cross Clut
Das Gold der Krähen — Leigh Bardugo – tr. Michelle Gyo — Dromer Knaur
Spinnenglut — Jennifer Estep – tr. Vanessa Lamatsch — Piper
ta'puq mach – Der kleine Prinz auf Klingonisch & Deutsch — Antoine de Saint-Exupéry – tr. Lieven L. Litaer — Der Verlag in Farbe und Bunt
Queen of Blood: Die Bestimmung — Jill Myles – tr. Frauke Meier — Bastei Lübbe
Wütender Sturm (Farbe des Blutes 4) — Victoria Aveyard – tr. Birgit Schmitz — Carlsen
Das Labyrinth von London — Benedict Jacka – tr. Michelle Gyo — Blanvalet T
hrone of Glass – Die Stumbezwingerin — Sarah J. Maas – tr. Michaela Link — DTV
Nevernight-Reihe — Jay Kristoff – tr. Kirsten Borchardt — Fischer Tor
Scythe-Reihe — Neal Shusterman – tr. Pauline Kurbasik & Kristian Lutze — Sauerländer
Children of Blood and Bone-Reihe — Tomi Adeyemi – tr. Andreas Fischer — Fischer
Star Trek-Prey-Trilogie – tr. Katrin Aust — Cross Cult