By Steve Vertlieb: As I remember what would have been his 100th birthday on August 22nd, my memories drift back to a time not that long ago when I was proud to think of one of the greatest writers of the twentieth century as my treasured pal.
Here is my affectionate tribute to cherished friend Ray Bradbury, whose loving presence occupied my world and my heart for nearly four decades. Ray was one of the most distinguished writers of the twentieth century and, with H.G. Wells, perhaps …the most influential, legendary science fiction writer of the past one hundred years.
More importantly, however, Ray was a gentle little boy whose love of imagination, fantasy, and stories of other worlds influenced thousands of writers and millions of admirers all over the world. His monumental presence upon this planet warmed and inspired all who knew him, and I was honored to call him my friend for thirty-eight years.
Here, once more, you're invited to read my loving remembrance of the life and world of Ray Bradbury, "I SING BRADBURY ELECTRIC" at the American Music Preservation site.
Our historic first meeting with the immortal Ray Bradbury in his West Los Angeles living room during the joyous Summer of 1974.
When I was preparing for major open heart surgery in March, 2010, I received an e-mail from Ray's daughter, Alexandra (Zee). She wrote "My Dad told me to tell you that "you're not allowed to die."
I took Mr. Bradbury at his word, and didn't. Who was I, after all, to argue with Ray Bradbury?
Sharing a few special moments with cherished pal Ray Bradbury at Forry Ackerman's spectacular 1993 "Famous Monsters" reunion celebration in Crystal City, Virginia.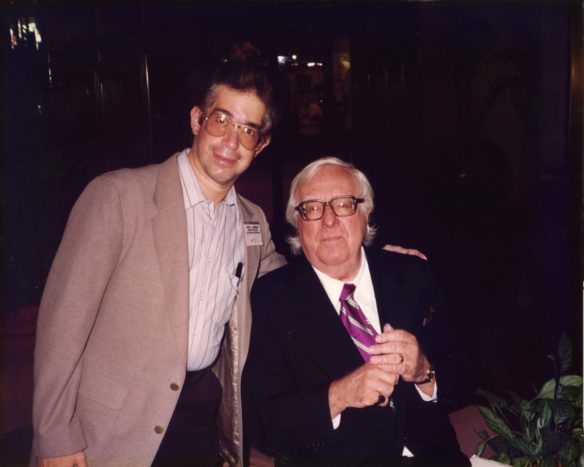 A cheery note from pal Ray Bradbury concerning my appearance in the Conor Timmis documentary, Kreating Karloff, wishing "you guys and mummies" an enthusiastic "Bravo."