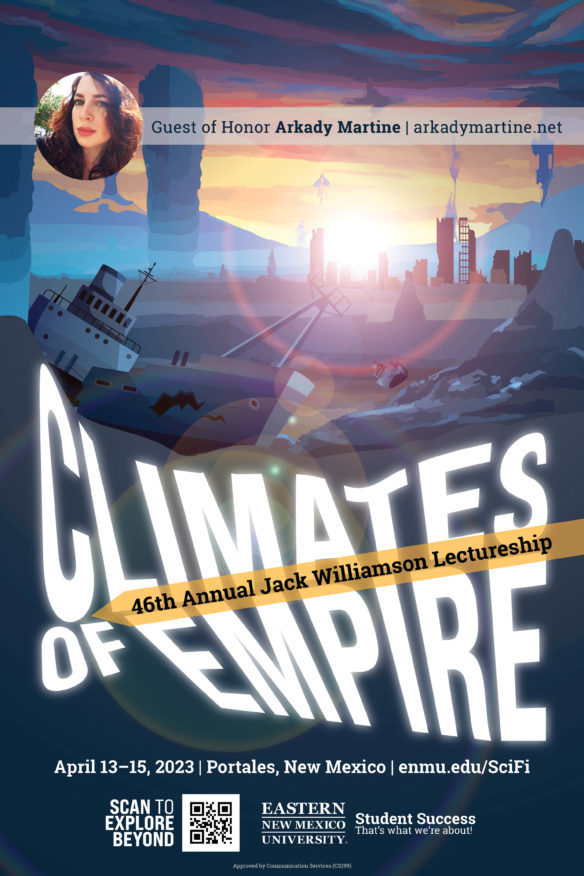 The 46th Annual Jack Williamson Lectureship, hosted by Eastern New Mexico University, will be held April 13-15 in Portales, NM with guest of honor Arkady Martine and emcee Connie Willis.
Williamson Lectureship Chair David Sweeten hits the high points in the schedule:
For Thursday April 13th, we are having opening comments on the Lectureship, and we will have a screening of student short sci-fi films alongside a display of student sci-fi art. On Friday April 14th, we'll have our Guest of Honor reading, a lunchtime event with sci-fi trivia, comments from Connie, and a Keynote from Arkady Martine; panels (including a panel on scholars studying sci-fi and fantasy); and a gaming event. On Saturday morning April 15th, we're planning on having Connie's Creative Writing Workshop, accompanied by however many baked goods I can get through my oven in time.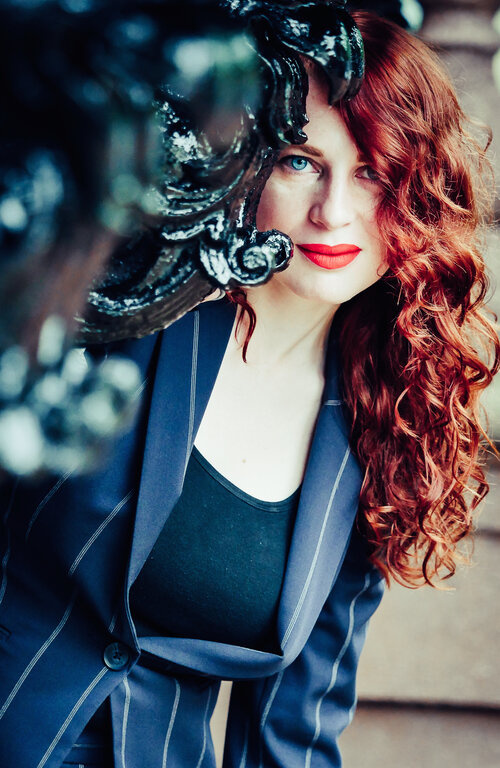 Arkady Martine is a speculative fiction writer and, as Dr. AnnaLinden Weller, a historian of the Byzantine Empire and a city planner. Under both names she writes about border politics, narrative and rhetoric, risk communication, and the edges of the world. She is currently a policy advisor for the New Mexico Energy, Minerals, and Natural Resources Department, where she works on climate change mitigation, energy grid modernization, and resiliency planning. Her debut novel, A Memory Called Empire, won the 2020 Hugo Award for Best Novel, and its sequel, A Desolation Called Peace, won the 2022 Hugo Award in the same category. Arkady grew up in New York City, and after some time in Turkey, Canada, Sweden, and Baltimore, lives in New Mexico with her wife, the author Vivian Shaw. Find Arkady online at www.arkadymartine.net or on Twitter as @ArkadyMartine. 
Connie Willis has been publishing science fiction and fantasy works for more than 50 years.  After her first novel was published in 1982, she was able to quit her teaching job and become a full-time writer.  She's won multiple Hugo, Nebula, and Locus awards, been inducted into the Science Fiction Hall of Fame, and named a Science Fiction and Fantasy Writers of America Grand Master.  Themes in her works include time travel, romantic comedy, history, and Christmas – to name a few.  Her 2016 novel Crosstalk was named one of the Best Books of the Year by NPR. Her most recent novel was Take a Look at the Five and Ten from Subterranean Press in 2020; The Road to Roswell will be coming out in July 2023 from Del Rey.
The annual Jack Williamson Lectureship includes a luncheon with presentations by the guest of honor and toastmaster, readings by guest authors, time for book sales and signing, and panel discussions on a variety of science fiction and fantasy topics.
The lectureship, named for the prolific sff author and academic, was established by the university when Dr. Jack Williamson retired from his position as professor of English at Eastern New Mexico University in 1977. Ever since then writers, editors, artists and other speakers have gathered at ENMU every spring to share ideas, insights and their work with students, readers, viewers, creators, collectors and fans.
All events are open to the public and the luncheon is the only event that requires advance reservations and a fee. See the full agenda here.