Every quarter collectibles bookseller AbeBooks posts its top 10 high ticket sales. While there wasn't a notable genre sale in the first three months of the year, John Wyndham and Aldous Huxley have been making the cash registers ring since then.
The top 10 sales for April-June included:
Chocky by John Wyndham – $11,443
A science fiction story about an alien, first published as a novella in 1963 in Amazing Stories. This copy was a scarce 1968 signed first edition of the book format published by Michael Joseph, and in near fine condition. The BBC adapted Wyndham's story for radio in 1967. Chocky was Wyndham's last published story during his lifetime – he died in March 1969. British author Wyndham is best known for his novels, The Day of the Triffids and The Chrysalids.
An exchange of letters between Huxley and Lieberson, president of Columbia Records from 1956 to 1971. Thirteen of the letters are either typed or autograph letters, signed, from Huxley, and the last two are autograph letters from Huxley's second wife, Laura. Sixteen carbon copies of Lieberson's typed letters to Huxley are also included. The letters span a significant portion of the end of Huxley's life, from 1952 to 1963. Lieberson initially wrote to Huxley asking if he would like to be part of a series of recordings of authors reading their work, which already included Truman Capote. Huxley invited Lieberson to his house, in order to listen to some previous recordings, and the two became friends.
= Brave New World by Aldous Huxley – $7,500
A first edition, first printing of Huxley's most famous book in its dustjacket, published in 1932. Huxley's New World was set in London in 2540 and predicts a variety of technologies concerning reproduction, learning, psychology, and conditioning. The author does not offer a positive view of the future.
And "AbeBooks' Most Expensive Sales of July, August & September 2017" featured these sff works:
The Day of the Triffids by John Wyndham – $13,844
A 1951 UK first edition of this classic science fiction novel featuring killer plants wreaking havoc, published by Michael Joseph and in near fine condition complete with its dust jacket. Inscribed by Wyndham. The book belonged to Jim Burch was a science fiction fan and co-organizer of the 1951 Science Fiction Convention in London.
Note: An article about the London convention and a photo of Burch can be found at Rob Hansen's website.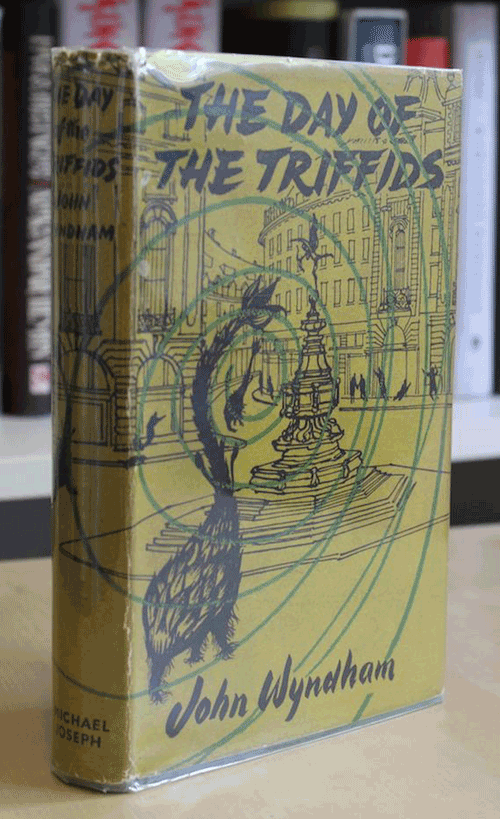 Alice's Adventures in Wonderland by Lewis Carroll – $8,800
The 1969 edition illustrated by Salvador Dali. Limited to 2500 copies, this is # 2,386. Twelve surreal illustrations with original woodcuts and an original etching by Dali. Copies of this prized book regularly appear on this list. We recommend Princeton's 2015 reprint if you don't have thousands to spare.
[Thanks to Andrew Porter for the story.]