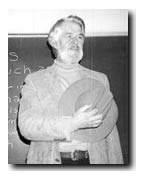 andy offutt, perennially popular convention toastmaster, prolific sf/fantasy author and two-term President of SFWA (1976-1978), died April 30 at the age of 78.  
offutt, who typed his byline in lower-case, wrote dozens of published novels, many under pseudonyms (most frequently, "John Cleve"), producing fiction so rapidly he teased that his idea of "writer's block" was getting stuck for 45-minutes as he dramatized in the introduction to his story "For Value Received" in Harlan Ellison's Again, Dangerous Visions.
i fought. i kept sitting down and trying to type. i snarled, cursed, cussed, obscenitized. Kept on fingering keys. (i use three fingers, one of which is on my left hand. it gets sorest.) i kept on. Come on, damn you! i know what a block is. i'd liefer forget, and i will never stop at a stopping point again!
His first professional sf story was the winner of the College SF Contest sponsored by If.  "And Gone Tomorrow" appeared in 1954. His next sale, "Blacksword," appeared in Galaxy in 1959. "Population Implosion" was selected by Wollheim and Carr for Ace's World's Best SF (1968). His first science fiction novel followed a Sixties vogue for funky titles – Evil Is Live Spelled Backwards (1970).  
Prior to becoming a full-time writer offutt worked several years for Proctor & Gamble, then ran insurance agencies in three Kentucky towns.
He married Jodie McCabe in 1957. They have two daughters and two sons, including author Christopher Offutt.
An energetic and amusing speaker, offutt was constantly in demand as a convention toastmaster. But, at the peak of his popularity, when called upon to emcee the 1974 Worldcon banquet, things seemed to get away from him. He extemporized for so long it was perceived as a discourtesy to GoH Roger Zelazny. Although offutt's reputation suffered, his friends rallied and showed their affection by making him the 1975 Midwestcon guest of honor – the only GoH the con had ever had up to that time.
offutt promptly rebounded in professional circles and was twice elected President of SFWA. Jodie Offutt wrote that among her husband's greatest pleasures as president was giving the Grand Master Award to Clifford B. Simak (1977).
"Cliff," he said, lip trem­bling as he handed it to him, "I've got tears in my eyes just presenting this. Why the heck aren't you cry­ing?"

"Andy," Cliff told him, "when I'm in my room by my­self and I look at it, then I'll cry."
Highly regarded by pros, offutt also was fan-friendly, often writing for fanzines. He contributed "A Chatty, Preferably Controversial Column" to Tom Reamy's Trumpet, actively participated in all the arguments in Richard Geis' various fanzines, and wrote letters to Algol, Mobius Trip and my own zines (though I heard from Jodie far more often).
He was honored with the Phoenix Award for lifetime achievement at the 1986 DeepSouthCon – where he was also, of course, toastmaster.
Later in life he had various health problems: a heart bypass in 1999, and a perforated ulcer in 2001 that forced him to step aside as toastmaster for Kubla Khan 29.
One of his collaborators, Richard K. Lyons, recalls:
As things worked out, Andy and I wrote and published four novels together. The problem that finally made us stop was that we were having too much fun. While that was fine by me since I was in it mostly for fun, Andy had a living to earn and the fun was eating a lot of his time.
For a man who needed to make a living, andy offutt was always remarkably generous with his time and writing talents. I won't forget that.
[Thanks to Sam Long for the story.]