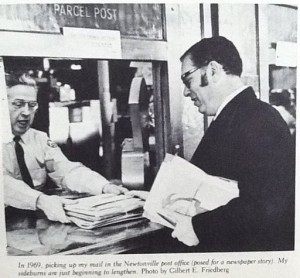 Michael Burstein wondered if the Post Office in West Newton, MA where Isaac Asimov once got his mail is among those the USPS is reviewing for potential closure. An example of Asimov's letterhead with his old West Newton address appears at Letters of Note.
The USPS says it may close some of its 32,000 retail offices nationwide because more customers are doing their postal business online or on smartphones. The shuttering of these small offices will certainly be felt in their neighborhoods:
The West Newton Post Office also on the list, is on Waltham Street, just steps from the police station and movie theater. Toward closing time yesterday, about a dozen people stopped by to pick up and drop off letters and packages.

"You feel like you're losing all of the community feel when they close all these little branches,'' said Lynne Georgian, 53, of West Newton.
Ed Seiler believes Asimov's post office is not on the hit list:
There are three post offices in the area: West Newton 02465, at 525 Waltham St., Auburndale 02466, at 2122 Commonwealth Ave., and Newtonville 02460, at 914 Washington St.

As you can see in the Horn Book letter [on Letters of Note], his postal code at the time was 65, which I believe is equivalent to 02465. I think that 45 Greenough Street is still in 02465, although it is extremely close to the border of 02466.

The picture caption clearly indicates Newtonville, and [an old New York] Times article describing his first-in-the-morning pickup and disposal of junk mail jibes with In Joy Still Felt, so I'm inclined to think that the Washington St. post office is the one at which he picked up his mail, and that location does not appear to be on the list.
Asimov's memoir In Joy Still Felt dramatically retells his experience of being in line at the local post office when a car nearly crashed into the building:
It was an automobile, hard up against a telephone pole just outside the post office, with the driver slumped over the wheel. There was no mystery about what had happened. The driver had had a heart attack while driving, and was dead. Had he been pointed in a slightly different direction at the moment of attack he would have gone through the glass front of the post office and all of us in line might have been killed.
[Thanks to Michael Burstein, Jamie Todd Rubin and Ed Seiler for the story.]
Update 07/28/2011: Revised story to address Seiler's information.