The 79th World Science Fiction Convention: My DisCon III Reporter's Notebook and Observations
By Chris M. Barkley: Right now, a week and a few days after DisCon III began, seems like a distant dream. My partner Juli and I actually went there, participated and went home.
As dreams go, it was pretty good. At least for us. I have a few thoughts about that and other things…
Mary Robinette Kowal was right in that the World Science Fiction Convention, as an institution, was saved by the heroic efforts of the volunteers who worked tirelessly to pull it off with her as their unflagging and almost indefatigable leader. My two main takeaways are that: (A) Virtual participation in the Worldcon should become a standard operating procedure from now on, and (B) No disabled person should be subjected to any WSFS venue or facility that is not fully accessible to everyone. Juli and I saw far too many people struggling to get to panels and events. I know that DisCon III had to make do with the venue that had but I think that future Worldcon committees are on notice; THIS MUST NEVER HAPPEN AGAIN, UNDER ANY CIRCUMSTANCES!
As I was writing this passage, Mary Robinette Kowal issued this statement through on the DisCon III website: "Kowal Apologizes for Raytheon Sponsorship of DisCon III".
Speaking of participation, I had a whole list of panels that I wanted to report on but things did not shake out as I had planned. For that I profusely apologize. Maybe next year. (Yeah, RIGHT!)
In looking over the longlist of Hugo nominations, I was somewhat surprised to see that Baen Editor-in-Chief Toni Weisskopf qualified to be a finalist in the Best Editor – Long Form category. Ms. Weisskopf declined the nomination. And after being uninvited as a DisCon III Guest of Honor earlier this year, and who can blame her. As I have stated elsewhere, while Ms. Weisskopf and I may not see eye to eye politically I was appalled that she was removed as DisCon III's Guest of Honor; once upon a time, she was originally chosen by the convention committee solely for her sterling editorial work at Baen Books. This wasn't the first time the Worldcon community has let her down, but I am quite sure it will be the last time.    
Speaking of voting results, I CAN'T BELIEVE TENET CAME IN LAST PLACE! What the HELL, man?
Also disappointing; that a Worldcon took place three and a half miles away from the headquarters of National Public Radio and they did not send a single reporter to cover DisCon III. I, on the other hand, was wearing a NPR baseball cap when I (briefly) attended the historic Site Selection Meeting Sunday morning. Because I cared, even if they did not…
Late Saturday evening and early Sunday morning, there was the now annual round of bitching from incels, racist malcontents and overall nitwits that the Hugo Awards are dominated by women, minorities and marginalized people, and that it was pretty obvious (to them) that they write "superior" sf and fantasy.
Well, first off, the dominance of white male writers as the sole influence in the fannish and professional writing is quite over. And here's an additional pro tip: GET OVER YOURSELVES. Your day (and night for that matter) is DONE. A majority of the people who vote for and care about the Hugo Awards have soundly rejected, repeatedly, year after year, your mostly male, mostly white, hetero-normative, sexist, racially insensitive and non-inclusive narratives. Just keep marinating yourselves in hate and bullshit, we're getting pretty good at ignoring you.
One such person who will not be heeding this advice is one Jon Del Arroz, whom well known fantasy and sf writer Adam-Troy Castro critically eviscerated is a Sunday morning Facebook post.
Enough Said on this subject. For now.
One of the odd things about the act of observing or reporting, is that once people know you are doing either, more often than not, people change their behavior. In one such instance, my partner, Juli, had vacated her room so the hotel attendant (I REFUSE to merely call them 'maids") could change the linen and towels.
While she was seated in one of the many comfy chairs located around the elevators, a man and woman approached to wait. When the man glanced over and noticed the press ribbon on her badge, he became very animated and friendly. He explained that he was an author and had a book out that he was selling at the convention. When he whipped the book out of his bag, Juli took a photo of him. Here it is:
This also happened right after the conclusion the Hugo Awards Ceremony; while I was busy snapping pictures of the winners as they took the stage, Juli was approached by the well-known Italian sf artist and Hugo nominee Maurizio Manzieri, who took the opportunity to introduce himself and tell her all about himself and how HAPPY he was to be there. She took a photo of him as well.
In both instances, she promised to include them in my reporting. And here they are. We were happy to include you. You're Welcome.
I'd also like to take a moment to personally thank one of DisCon III's Advisors, Randall Shepherd. Mr. Shepherd sent me a text early last Saturday morning, asking if I had a suit. At that time, I was hard at work finishing Day 3 of these chronicles and didn't see it until about an hour and a half before the Hugo Award Ceremonies.
Little did I know that had I promptly answered that text, I could have been a part of the Ceremony. Mr. Shepherd was responsible for a skit that took place at the beginning and the end of the Ceremony, wherein several people, impersonating Secret Service agents, took the stage and pretended to cordon off the area as a pretend motorcade interrupted the hosts with blaring sirens and flashing lights (just as residents of the District tolerate and loathe practically every day.)
I don't think being in the skit would have worked out for me because one of the things I forgot to bring to DisCon III were my clip-on sunglasses. But I THANK YOU, Mr. Shepherd, for thinking of me. Maybe next year…
I, for one, missed having Daniel Dern at DisCon III. That kid could cover some ground at a con. He was sorely missed.
For anyone who cares, I weighed the gigantic Krazy Kat collection of Sunday pages purchased from Mike Walsh on a digital scale upon our arrival at home. It was 13.8 pounds…OOOFFFF!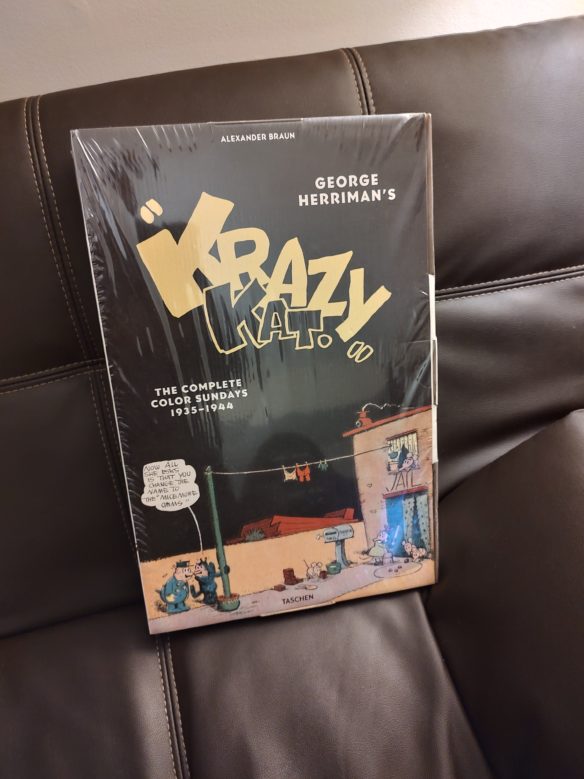 The one thing I think future Worldcons should do on a mandatory basis is having open receptions for the convention goers to meet the people they nominated for the Hugo Awards. I think that was a brilliant idea that every committee should consider. Period. Full Stop.
Our cat, Nova, seemed to be glad to see us after being gone for nearly five full days. So far.
I would be remiss if I did not comment on the 2023 Worldcon being won by the Chengdu bid. For the record, I voted for the Winnipeg bid. Because Winnipeg is a lot closer than Chengdu, China.
A lot of fans were openly lamenting that the 81st World Science Fiction Convention was going to be held in what many, including myself, consider a totalitarian, one party police state.
On the other side, the Chinese government has not only been encouraging people to read, they have been vociferously promoting the reading and writing of science fiction. Chinese fandom has grown exponentially in the past twenty years and the group that put together the Chengdu bid has been working towards this year's Site Selection for the better part of a decade.
I would also remind people of two very salient and sobering issues; first, that a lot of fans, both here and abroad, were actively talking about boycotting DisCon III if the previous (and heinous) administration had been reelected. The other is that the United States of America came within mere minutes of becoming a one party dictatorship itself nearly a year ago. And just because that attempt failed, doesn't mean we're out of the woods yet.
The fact of the matter is that Chengdu won the bid. The responsibility for holding the Worldcon is in their hands. And personally, I think they take this responsibility very seriously.
The biggest obstacle for everyone involved is whether or not the government of the People's Republic of China will be involved with the Chengdu Worldcon.
Because if the powers that be in Beijing decide to interfere with the programming, who may or may not attend or the administration of the Hugo Awards, I can pretty much guarantee that fandom will make sure that the first World Science Fiction Convention on Chinese soil will definitely be the last, at least in my lifetime.
One last thing.
While Juli and I were out and about the convention, several people stopped us and highly commended me on my frequent postings on the DisCon III Facebook page and my columns on File770.com. All of them mentioned that I should be nominated for a Fan Writing Hugo.
And I thanked them for thinking of me.
Which got me thinking when I got home.
There was a time, when I began these columns several years ago, that I WAS doing it for the chance at a nomination. But as the years went by, I began to notice that my name has never been among the long list of nominations. And as time has passed, I became resigned to the fact that I may never be nominated, much less win a Hugo Award.
I happen to believe that File 770 is one of the largest fannish platforms on the internet. And I do believe that my writings and opinions have been heard, that people are reading me and that I have had some impact in fandom.
But at this point in my life I am doing it for the love of writing and for the chance to be heard, not for my ego, the recognition or the glory.
So, while I feel incredibly good that people are noticing my work, I cannot and will not either campaign for the honor or ask anyone to vote for me.
Thank you for spending some of your time with me.
Merry Christmas, Happy Holidays and a Very Happy New Year to you ALL.