Short Takes: Zack Snyder's Justice League, 2034: A Novel of the Next World War, the Discon III Update and the Georgia/Dragoncon Situation
By Chris M. Barkley:
Zach Synder's Justice League ( Warner Brothers/DC Comics, 4 hours 2 minutes) with Ben Affleck, Henry Cavill, Amy Adams, Gal Gadot, Ray Fisher, Jason Momoa, Ezra Miller, Diane Lane, Jeremy Irons, Connie Neilsen and J.K. Simmons. Story and screenplay by Chris Terrio, Will Beall and Zack Snyder, Directed by Zack Snyder.
Bechdel Test: Passed.
I want to start by saying that I have a very soft spot in my heart for the Justice League. Back in 1997, I wrote a 13,000 plus word essay for the print edition of File 770 detailing my two year odyssey to obtain a copy of Justice League of America #47, the second part of a memorable JLA – Justice Society annual team up. The hunt for that comic book started my education about the history of comics and eventually, a decade later, to my entry into sf fandom.
When the first version of Justice League was released in November of 2017, I had no idea that Autumn, the daughter of director Zach Snyder and co-producer and partner Deborah, had died March of that year during post-production and that they had stepped away to deal with their grief.
Writer-director Joss Whedon (Buffy the Vampire Slayer, The Avengers) was brought in for extensive re-writes and re-shooting major portions of the film. Even though the film went on to earn $657 million at the box office, it was considered a financial failure for failing to earn back enough to cover its production and marketing costs.
(For the record, I gave the original film a enthusiastic review here in a File 770 column: "Barkley — So Glad You (Didn't) Ask: A Column of Unsolicited Opinions — #20".)
Had I known then what I know now, had I been better informed,I would have written a very, VERY different review…
When we left Batman at the end of the previous film, Dawn of Justice, he was in a very tight fix: Lex Luthor (Jesse Eisenberg) had hinted that he had signaled dark forces from beyond Earth that Superman (Henry Cavill) was dead and the planet was ripe for the taking.
When an alien emissary known as Steppenwolf (Ciarán Hinds) invades Earth looking for a set of powerful alien artifacts known as Mother Boxes, Bruce Wayne, along with Diana Prince/Wonder Woman (Gal Gadot), seek out and recruit other super powered individuals (Ray Fisher, Jason Momoa and Ezra Miller) to help against the threat.
But after being on the losing end of several encounters with Steppenwolf, Batman eventually realizes that the only way they may have a chance to survive is to revive Superman from the dead, even though they have no idea whether or not it will work or not.
The fan-driven drumbeat to release the "Snyder Cut" of Justice League began before the end theatrical run of the original film. And when the social media uprising started, I thought it was extremely foolish to expect Warner Brothers to even respond. Never in the history of filmmaking or marketing had a film studio seriously contemplated doing what happened after nearly two years of hectoring, with Warner Brothers shelling out a reported $70 million dollars to complete a film that only existed digitally on Zach Snyder's laptop.
What was produced is remarkable; a complete origin story of Victor Stone/Cyborg, the emotional fallout that Lois Lane (Amy Adams) and Martha Kent suffered from the loss of their beloved Clark Kent, the fleshing out Barry Allen's (Ezra Miller) slightly goofball but brilliant scientist and several tantalizing looks at DC Comics ultimate villain, Darkseid (voiced by Ray Porter).
So forget about what the naysayers are saying; Zack Snyder's Justice League is a big, exciting, sprawling, violent, intense, profane, beautiful and ultimately moving film.
Snyder may never write or direct another DC property but he exits this arena leaving everything (and I do mean EVERYTHING) on the field for us to admire. To him, the cast and crew and especially to his filmmaking partner Deborah Snyder, I say BRAVO!
2034: A Novel of the Next World War by Elliot Ackerman and Admiral James Stavridis, Penguin Press, March 2021, 320 pages.
When I was a lad in high school in the early 1970's, I read John Hersey's classic and landmark piece of historical journalism, Hiroshima, which chronicled the struggles of six survivors of the first atom bomb attack. Upon reading it, I hoped that every President of the United States, and every leader of a nation who had atomic weapons, should have some incentive to read it.
When it was published, in its entirety, in the August 31, 1946 issue of The New Yorker, it caused a shocking and sickening realization to unaware civilians that this new type warfare could herald the end of civilization. (Fallout, Lesley M.M. Blume's equally compelling story of how John Hersey circumvented the US military's coverup of what really happened at Hiroshima, was published last August).
In the seventy-five years since those attacks, the human race has, on several precarious occasions, managed to avert the end of the world. But since then, it seems to me that the further away we have come since Hiroshima and Nagasaki the more people have truly forgotten how horrible atomic warfare could actually be.
This past Christmas I received a year's subscription to WIRED Magazine. The very first copy I received was the February issue, which entirely devoted (for the first time, I believe) to a work of fiction, an excerpt of the novel 2034: A History of the Next World War by Admiral Jim Stavridis, USN (Ret.) and Elliot Ackerman.
As I read the excerpt, which vividly and realistically describes a expansive international conflict between China and the United States, I got the same terrifying feeling of dread I felt when I first read Hiroshima.
It begins when a flotilla of US destroyers are lured into an elaborate trap while at the same time an advanced Navy fighter jet is inexplicably hijacked in mid-flight and grounded in Iran. From there, various characters from all over the world are drawn together as the drumbeat of war grows louder and no one at any level of the crisis seems to be inclined to stop the oncoming catastrophe.
I had just finished reading 2034 on March 28th when the New York Times published the story below, which announced a 25-year alliance between China and Iran, which happened a mere 20 days after its publication: "China, With $400 Billion Iran Deal, Could Deepen Influence in Mideast".
This novel, written by two veterans who have an extraordinary and extensive experience with the military and governmental affairs, is an alarming piece of speculative fiction that has every possibility of being prescient in EVERY sense of the word. I urge everyone to read it because if the prospect of this scenario doesn't scare you shitless, I don't know what will…
Additional (and IMPORTANT) Reading: "What Did I Just Read? A Conversation With the Authors of '2034'".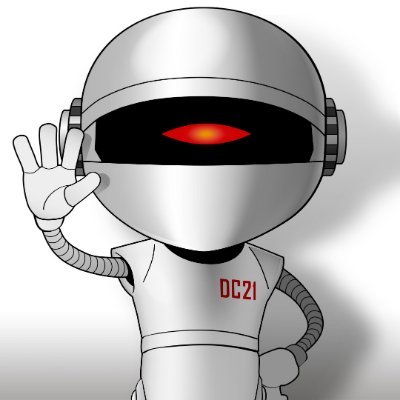 The Discon III Update
This past Sunday, the DisCon III convention committee issued an update on the current situation regarding the Wardman Park Hotel and whether or not the Worldcon would be virtual or in-person:
"Update on Convention Dates and Hotels".
As you can see, there isn't much to report on either front.
And seeing that we are on the cusp of April, I would not be pushing the panic button just yet. But if there isn't any movement by mid to late May, I think the convention committee should seriously think about an all virtual convention.
If the American gets it act together and the vaccination rate reaches 90% or better by mid-summer, I think it MIGHT be safe to hold a full or partial in-person convention.
But until there's some breaking news, all we can do is wait.
With some degree of measured optimism, I can truthfully say that I'm fine with that.
The Dragoncon/Georgia Situation
By now, nearly every conrunner and convention committee knows what's going on in the state of Georgia.
To wit; on Thursday, March 26, the Georgia House of Representatives and the state Senate passed SB202, a "voter reform bill", in rapid fashion on that very same day. Governor Brian Kemp said that the bill was created mainly in response to what he referred to as allegations of "fraud and irregularities" and "five-hour-long lines at the polls" in the 2020 election. He also stated that the "election reforms" would restore "voter confidence" in the state's election processes.
Oh, if only that were true.
Many critics of the bill have claimed that the creation of the bill and it's rather astonishing rate of passage to Governor Kemp's desk was in direct response to President Joe Biden's narrow victory in the November elections, followed by the election of two Democratic US Senators in a special election held in early January of this year.
Some of the more odious parts of the legislation include the arbitrary removal of Georgia's current chief elections officer, Secretary of State Brad Raffensperger and of any county's board of elections should there be any recurrence of what the House and Senate obliquely determine to be "voting irregularities". And never mind that the new law would also severely restrict voting by mail and outlaw the giving of food or water to any voters waiting in line to combat what the Republicans called "potential voting electioneering and influencing".
What the governor and Georgia Republican state legislators conveniently forget to mention is that it was Kemp, as the previous Secretary of State in 2018, in league with the legislature, were responsible for a number of changes, including overseeing the removal of voting machines and the closing of polling places in majority black districts, which resulted in people waiting for many hours in line to cast their ballots.
Compounding all of this was the arrest of Democratic representative Park Cannon, who was taken into custody and forcibly removed by five white Georgia State Troopers as she sought entry to witness Governor Kemp's signing of SB202, which was being done in the Governor's Ceremonial Office with the door marked with a "Governor's Staff Only" sign. When Cannon knocked on the door, she was seized and handcuffed in a very humiliating manner and was subsequently charged with two felonies, felony obstruction and preventing or disrupting a general assembly session. (Representative Cannon was released on bail several hours later.)
Ordinarily, this wouldn't be of any concern to organized fandom (I mean, besides the threat of voter voter suppression and a general threat to democracy) if it weren't for the fact that Dragon Con, arguably one of the largest annual gathering of fans in the United States, is permanently headquartered in Georgia capitol, Atlanta.
As of this post, there has been no comment yet from the Dragon Con convention committee or its board of directors. I suspect that they are carefully weighing their options seeing that a number of progressive political activists are calling for a boycott of Georgia businesses, venues and events. It should be noted that a majority of their fan base has been known to lean to the right politically. But there is no telling how many of them outside that base will react to a pro or con statement from Dragon Con.
Luckily (I suppose), for Dragon Con, the COVID-19 pandemic is still ongoing and while there are three vaccines in circulation at the moment, no one is quite sure whether or not it will be safe enough to attend a convention in person safely.
Having said that. Dragon Con can easily punt their way out of this situation by calling for a virtual convention and hoping that the growing numbers of activists, business, judicial and political forces can make Governor Kemp and Georgia Republican lawmakers see the error of their ways and just make this all go away.
But, as a major, for profit business concern in the state of Georgia, they cannot afford to do nothing. The longer they wait, the more complicit and compromised Dragon Con will be perceived by a significant number of fans. Enough fans, I would think, to affect either their standing in the community, their financial bottom line, or both.
They cannot escape making some sort of statement about the situation. As of this post, there hasn't been any word from Dragon Con on this situation. The authors, editors, artists, cosplayers and fans who do care about the precarious state of affairs in the state of Georgia do have a tremendous amount of influence in fandom and have long memories as well.
Tick-Tock,Tick-Tock, Tick-Tock….