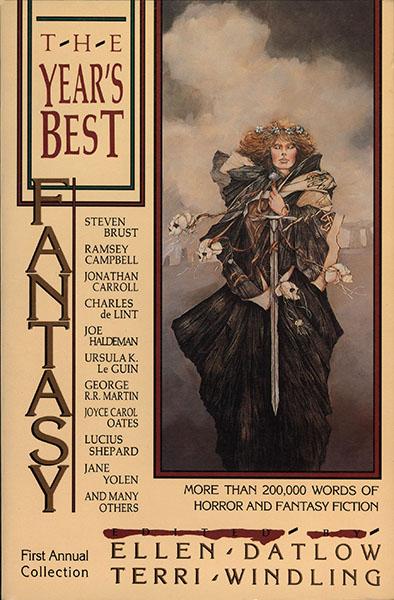 By Cat Eldridge: In honor of Ellen Datlow sharing the cover for Best Horror of the Year, Volume Twelve, let's note that the first volume in what would be the long-running award-winning Year's Best Fantasy & Horror anthology series was published in August of 1988. It wasn't called that but was titled The Year's Best Fantasy: First Annual Collection. Cover art here as it was for all twenty-one volumes is by Tom Canty.  It was edited by her and Terri Windling as it would be for the next sixteen years until Gavin J. Grant and Kelly Link would take over for Windling for the last five volumes. 
As a reviewer would note of a later volume, "…the essays at the beginning are fascinating: Summation of Fantasy 1993 by Windling; Summation of Horror 1993 by Datlow; Comics by Will Shetterly and Emma Bull; Horror and Fantasy in the Media by Edward Bryant." I don't remember if the first volume had the summations but I'll ask Ellen. (Some hours later and after a long email conversation of fiction, living spaces and dark chocolate.) Yes, she says that they've always had the summations.
Oh, the authors you ask. Just look at the cover below. It's a fair representation of the writers found in the series but I couldn't summarize the diversity of those whose writings are here as Datlow and Windling over their sixteen volumes would find writers and fiction of an amazing breadth, often delving into literary publications for these works that were delightfully obscure. Harlan Ellison and Jane Yolen are here, but so are Natalie Babbit, author of Tuck Everlasting, and Kathryn Ptacek, later winner of two Stokers, who I'd never heard at that point but who turned out to be delightful writers. Did I mention there's a Alan Moore Liavek novella here?
The first volume won a World Fantasy Award for Best Anthology and the series would eventually win a total of three World Fantasy Awards and a Stoker. You won't find them being offered up in digital form as the packager has said in an email to me when I asked if that was planned that they didn't secure digital rights when the original author contracts were done.
A hallowed series was off to a very fine start. If you've not read it, the trade paper edition can be had rather reasonably.