By Steve Vertlieb: King Kong premiered ninety years ago on March 2, 1933, opening simultaneously at both the Radio City Music Hall and Roxy Theaters in New York City, followed by an "official" March 23,1933, opening at Grauman's Chinese Theater in Hollywood. I guess that I first saw the film as a ten year old, somewhere around 1956, on WCAU TV, Channel 10 in Philadelphia. I'd grown up hearing stories from my mom about being a young woman in the early 1930's, and seeing a wonder-filled motion picture concerning a giant prehistoric ape in a lost world, escaping from captivity and carrying a woman to the top of the Empire State Building. I was so entranced by her stories that I often dreamt of Kong searching for me in the sometimes nightmarish realm of slumber, an enormous phantom stalking the streets of the city, peering through bedroom windows in menacing search of its prey. While I'd awaken from these dark fantasies screaming in the night, the imagery of the great gorilla both thrilled and mesmerized me, enticing this small impressionable boy into a surreal nether world of "beauties and beasts."
I can remember my excitement when it was finally announced that "Kong" would make his long awaited debut on local television over WCAU TV, the then CBS affiliate. My mom had punished me for something that I either did or didn't do, refusing to allow me to watch the film on our living room television set. I ran out the door in a panic, longing for an opportunity to finally see the movie that had tormented and tantalized my fertile imagination for so many desolate childhood years. I was swept from household to neighborhood household, visiting with each childhood friend until their moms summoned them to the kitchen table for dinner. I saw only scraps and isolated fragments of the film during that troubled afternoon but what I saw thrilled my thoughts and dreams beyond imagining.
The following Saturday afternoon I went innocently to The Benner Theater near my house to once more attend my fabled ritual of the weekly Saturday matinee. As the trailers to coming attractions unspooled, I suddenly felt a bolt of electricity surge through my little body, for there upon the magical movie screen came the black and white imagery of giant native doors slowly opening while a giant presence pushed his way to freedom on Skull Island. It was fate giving me a second chance, another opportunity to see King Kong at last, in the way that it was meant to be seen, upon the seemingly huge motion picture screen. I waited breathlessly for the days to expire and then, magically, it was Saturday once more. The majestic three notes that began and accompanied Max Steiner's triumphant musical score filled my ears, and I was transported to another world … a land of strange, forbidding islands, dangerous coral reefs, and a majestic gate jealously guarding and concealing the wonder and power of the mighty KONG.
I've probably seen King Kong over three hundred times. I've never tired of the exhilaration and wonder that I felt when I first fell in love with the greatest, most revered "monster" movie ever conceived. As I approach relative maturity, I reached out to Bantam Books who had recently published a paperback version of the original novelization of the picture by Delos W. Lovelace. The editors of the publishing company were kind enough to provide me with a post office box by which I might contact the original creator of the story and subsequent motion picture, Merian C. Cooper. Although I never had an opportunity to meet this legendary adventurer and film maker, we conducted an intense correspondence over the last eight years of his life from 1965 until 1973. During those years there was rarely a week that went by when my mailbox wasn't deluged with letters and special packages sent to me from this giant of the film industry, lovingly addressed to his youthful admirer and fan. Through mail, he introduced me to beloved animation genius Ray Harryhausen whose friendship, both through correspondence, telephone calls, and personal gatherings, endured for nearly fifty years. It was also through Merian Cooper's posthumous introduction that I found an eagerly anticipated opportunity to meet and develop a relationship with his star, Fay Wray, at her apartment dwelling in Century City, California in 1980.
Acclaimed cinema journalist, and primary historian for American Cinematographer Magazine, George Turner, was scheduled to appear as a guest speaker at the official Sixtieth Anniversary King Kong birthday celebration at the historic Gateway Theater in Chicago during the Winter of 1993.
Optical Effects pioneer Linwood Dunn was booked with him as a guest speaker for the event. At the last moment, Dunn was unexpectedly called away for another important assignment, leaving the festival without one of its two special guests. Scott Holton with Varese Sarabande Records suggested that the vacancy should be filled by a little-known writer who had known Merian C. Cooper through intense correspondence, and who had written a series of articles about the making of King Kong for the premiere issues of The Monster Times (January 1972), as well as the lead chapter for Avon Books' The Girl In The Hairy Paw in 1976.
Consequently, I was flown into Chicago and booked at the Chicago Hilton Hotel (several days following the departure of Harrison Ford, Tommy Lee Jones, and the cast and production crew for The Fugitive) and, along with George Turner, appeared on stage before an audience of 500 fans to talk about the making and production of the beloved fantasy film classic. It was an experience that I shall forever remember as a spectacular highlight of my own life and career.
In the years since 1968 when my own byline first appeared in a published magazine, I began my own writing career, sweetly encompassing over half a century of essays, articles, and commentaries in genre related books and magazines, concerning the immortal films and film makers whose works and creations continue to inspire my dreams. What follows is a visual remembrance of just a few of the memories, publications, individually inscribed photographs, and personal communications that have elevated my dreams and remembrances to gratifying reality.
The premiere issue of America's one and only bi-weekly monster tabloid, The Monster Times, published by Larry Brill and Les Waldstein from their corporate offices in New York City in 1972. The spectacular first issue, edited by the late Chuck McNaughton, featured my earliest professional gig as a published writer, offering my original series of articles on the making and production of Merian C. Cooper's classic 1933 "King Kong."
My work was later re-written, and re-structured, becoming the lead chapter for Avon Books' legendary tribute to Kong…The Girl In The Hairy Paw, compiled and edited by Ronald Gottesman and Harry M. Geduld four years later in 1976.
My series of essays on the making and production of the original 1933 production of the greatest "Monster" movie of all time appeared initially in the 1972 premier issue of The Monster Times. Editors Ronald Gottesman and Harry M. Geduld approached me about using my articles as the lead, or opening chapter, of their forthcoming book about the film, The Girl In The Hairy Paw.
Scheduled to be published by Prentice Hall the following year, a change in management at the prestigious book company cancelled production, causing a delay of several more years. Avon Books in New York finally agreed to publish what would have become the very first volume ever printed about the iconic gorilla.
The Girl In The Hairy Paw became a long awaited, and eagerly anticipated reality in the Spring of 1976 and did, indeed, feature my revised and revisited look at the production and reception of the classic King Kong as its opening chapter. Its wonderful cover art by Dave Willardson is reproduced here on the 90th anniversary of the film's "official world premiere" in Los Angeles on March 23rd, 1933.
In subsequent years my involvement and participation in the enduring legend of "King Kong" has continued to evolve. In 1981 I was invited by popular Philadelphia television host Gene London to appear with him on stage before a live audience at the city's prestigious cultural institution, The Philadelphia Museum of Art, speaking for one hour on the cultural and historical significance of the original 1933 "King Kong."
On August 11th, 1990, Gary and Sue Svehla's popular "Fanex" Convention played host to Ray Harryhausen's first major personal appearance in Baltimore, Maryland, and I was asked to host the well remembered event. Ray and I sat down on stage together for a two and a half hour discussion, before some five hundred fans and admirers, during which I interviewed him not only about his own fabulous film career, but about his love for 1933's "King Kong," and how it had inspired and influenced his own substantial stop-motion animation motion picture legacy.
I had an opportunity in the Fall of 2021 to sit down with Host, Actor, Comedian, and Writer Ron MacCloskey for his Emmy Award Winning Public Television Series, "Classic Movies with Ron MacCloskey."
Ron is the writer and producer of the new feature length documentary motion picture, Boris Karloff: The Man Behind The Monster, now playing in theaters all across the globe.
For this Halloween themed episode of the popular program, however, we explored the cultural significance, history, and legacy of the most famous "Monster" of them all … King Kong … and his ninety year influence on gorilla films of all shapes and sizes, as well as his career defining impact on the lives and reign of Stop Motion Animation legends, Willis H. O'Brien and Ray Harryhausen.
In 2022 I was invited by British producer/director Tom Grove to appear on camera for a thirty minute interview concerning my own lifelong involvement with Merian C. Cooper's creation for the three part documentary motion picture, The Legend of King Kong, currently in release, featuring interviews with actor Jack O'Halloran, special effects pioneer Jack Polito, and myself among many others.
These personal involvements over a lifetime of adoration for the most enduring fantasy film in motion picture history, as well as the beloved collection of memories and mementos that follow, have enriched my life experience more than mere words can ever adequately define or express.
A rare, commissioned "King Kong" sculpture designed and built by the late Stop Motion animator, David Allen, sitting proudly in my "dining room."
An impossibly precious, rare surviving "fin" from the back of the Stegosaurus model built for the original 1933 King Kong by Marcel Delgado that sits prominently in my home apartment.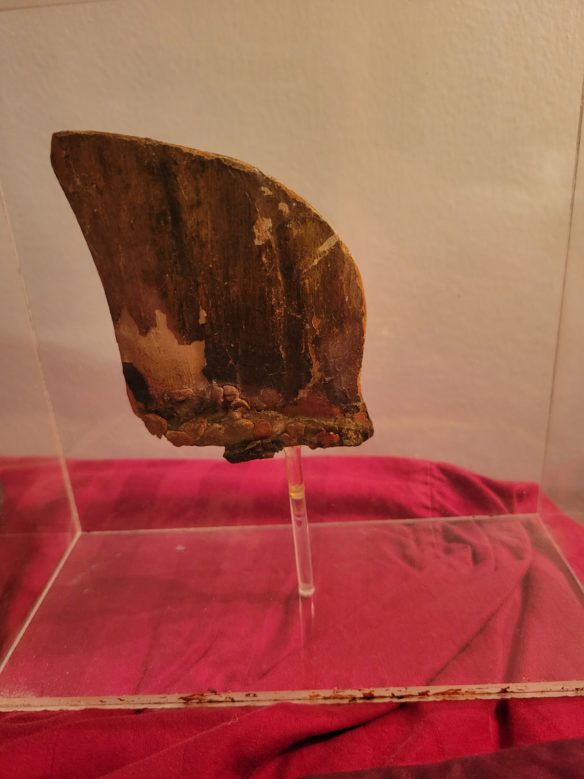 A re-production of the original Grauman's Theater premiere program, designed especially for the official opening of King Kong in Hollywood, with handwritten notes and observations by Merian C. Cooper, the co-director and creator of this motion picture fantasy masterpiece, and a variety of autographed stills signed by both General Cooper, and his exquisite heroine, the lovely Fay Wray.
The outer lobby of a movie theater in Australia, heralding the premiere of the now legendary RKO fantasy masterpiece.
Two photos of American Cinematographer Magazine featured journalist and special effects film scholar George Turner and I in the lobby of The Gateway Theater in Chicago, posing for publicity pictures, at the official sixtieth anniversary celebration and screening of King Kong.
The cover of Black Oracle magazine by artist Tim Johnson, published in the mid-Seventies, and highlighted by my review of the unfortunate remake of the early film, produced by Dino De Laurentis. Appropriately, echoing Robert Armstrong's final line as Carl Denham in the 1933 motion picture … "Oh no … it wasn't the airplanes. It was beauty killed the beast," I titled my critique "Twas Dino Killed The Beast."
An original 22 x 28 poster from the 1956 theatrical reissue of the original King Kong, hanging, proudly framed, upon my bedroom wall.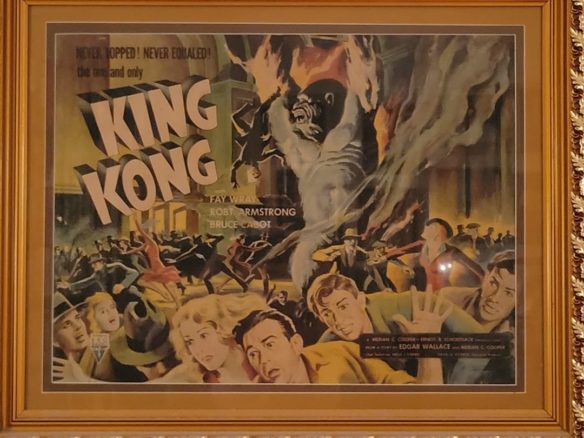 This special birthday cake, patterned from The Girl In The Hairy Paw cover art by Dave Willardson, was presented to me in Baltimore some years ago by friends Bruce and Ann Gearhart for my 70th birthday.