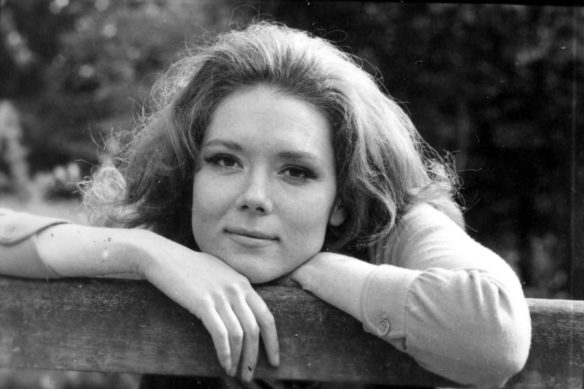 [Actress Diana Rigg died September 10 of cancer at the age of 82 reports The Guardian. Her genre work included appearances in the Bond film On Her Majesty's Secret Service, also Theater of Blood, The Great Muppet Caper, the Doctor Who episode "The Crimson Horror" (2013, with her daughter, Rachael Stirling), and as Lady Olena in Game of Thrones  (2013-2017).]
By Steve Vertlieb: She was the most beautiful woman of her generation, a ravishing, exquisite creature whose delicate high cheek bones and classic features captured the hearts of every young man whose dreams of romantic perfection ever aspired to the ethereal.
Diana Rigg, the classically trained actress who brought Emma Peel to stunning life on "The Avengers" television series was the perfect companion to John Steed, as played by the dapper Patrick MacNee, on the cult British spy series. Her physical beauty was breathtaking, while her whimsical performance as Mrs. Peel was both joyous and sublime.
In "On Her Majesty's Secret Service" she was, perhaps, the most memorable Bond girl of the James Bond franchise, playing Countess Teresa di Vicenzo, the ill fated heroine who alone married the famed super spy.
Her substantial talent was often obscured by her physical beauty and perfection, resembling, perhaps, a latter day Gene Tierney, for a youthful generation of adoring young men and women.
Diana Rigg has left us, partaking of a final journey that we each must ultimately embrace, but her influence upon an entire generation and culture remains impowering, iconic, and intact. In these jaded times, her candor and integrity will be sorely missed and revered. Now, more than ever, Mrs. Peel … You're Needed.