Review by Cat Eldridge: Ok I'll admit that I've a serious jones for the combination of dark chocolate and peanut butter. Now not all such combinations work that are designed around these two flavors as they usually tend to be too sweet. Say peanut butter fudge ice cream as it tends to be too sweet. So it's a bit surprising that two miniature candies, the dark chocolate version of Reese's Peanut Butter Cups and Trader Joe's Dark Chocolate Peanut Butter Cups are a serious addition to my munches list.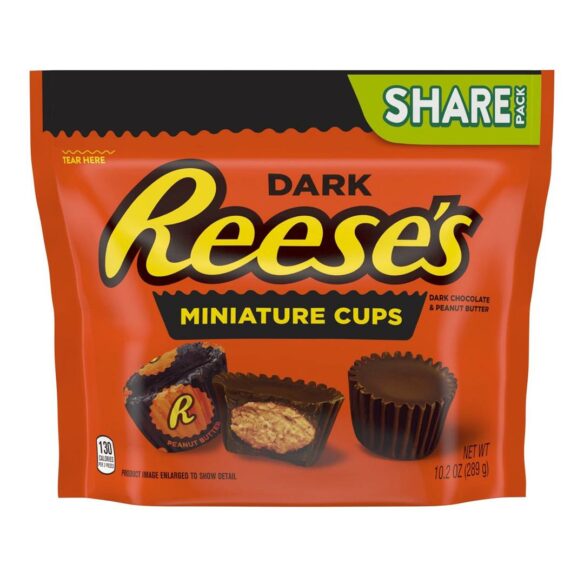 Now I was raised as most American kids were on the milk chocolate version of Reese's Peanut Butter Cups which frankly I'll admit will still do in a pinch. After all they are intensely redolent of peanut butter, albeit not your fancy gourmet peanut butter, but the commercial grade stuff found in a jar of Jiffy peanut butter. Overly sweet and somewhat bland as well.
The dark chocolate & peanut butter Reese's Miniature Cups are one of those treats I try not indulge in too often as I can gobble them down way too fast. I eat them four at a time, roughly the same amount of material as the much more common milk chocolate Reese's Cup I used to crave. When I upgraded to eating only dark chocolate, I found these one day. It was lust at first bite as they are delightful as the dark chocolate is far better than I expected. Not dark, dark I admit, but not bad at all. Though I think the new SHARE! logo is assuming you'll not be too greedy and keep them all to yourself as I do.
(Yes, I do share chocolate as you know, but I specifically buy that chocolate for that purpose.)
I didn't discover Trader Joe's Dark Chocolate Peanut Butter Cups until many years after I first started snacking on the former. I was in Trader Joe's one early Autumn afternoon when I noticed these small bags of dark chocolate peanut butter cups for just a dollar, a price that's never changed.
They are quite different than different the Reese's Miniature Cups with the dark chocolate being much more intense than the Reese's cups are and the peanut butter much more salty as well. Not to mention the small amount of cups in a package makes it easy to avoid over-indulging. Well sort of. If you need more, you can buy a much larger container of these, a full pound, something I've avoided doing.