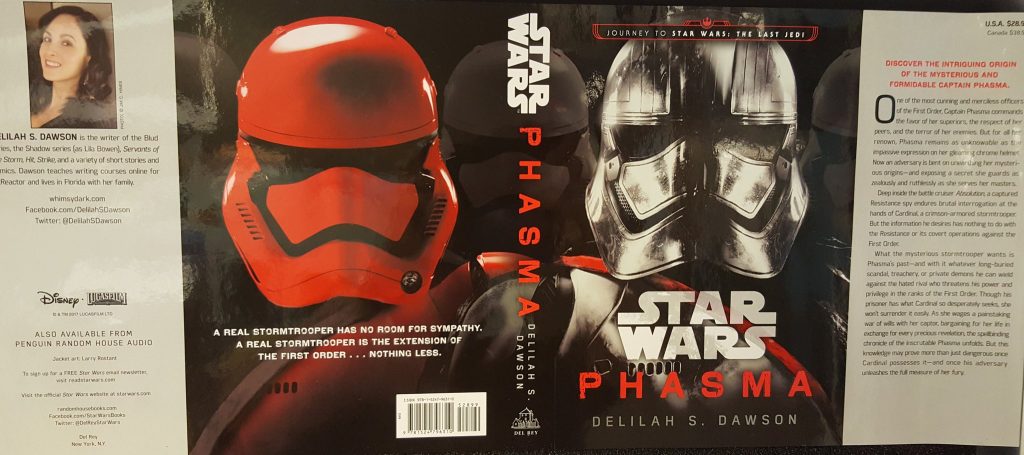 Delilah S. Dawson, author of the forthcoming Star Wars: PHASMA (9/1/17), The Perfect Weapon, Wake of Vultures, Hit, Servants of the Storm, and Blud, says she loves Dragon Con – but she sure doesn't make it sound easy to love.
And, yes, I know *nothing* is really "safe". But I've been harassed and groped at DragonCon more than all other cons COMBINED.
Here's are her tweets about staying safe. She has another tweetstorm on why she likes the con.
husband: Haven't seen that dress in a while.
me: Yeah, after those guys cornered, propositioned, and followed me at DragonCon, I hung it up.

— Delilah S. Dawson (@DelilahSDawson) August 26, 2017
If you're a lady coming to DragonCon for the first time, be aware. 6 hotels = it's easy to lose your pals after a few drinks. It's not safe.

— Delilah S. Dawson (@DelilahSDawson) August 26, 2017
Have a plan in place. Tell friends where you'll be. Don't go off with randos. Watch your drink. I wish DragonCon was safe, but it's not.

— Delilah S. Dawson (@DelilahSDawson) August 26, 2017
They stop checking DragonCon badges at hotel entrances around 10pm or so. Anyone could be in there. Trust your gut.

— Delilah S. Dawson (@DelilahSDawson) August 26, 2017
Some of my worst instances occurred in hotel elevators after dark, getting in an empty elevator with randos. Trust your gut. Be safe.

— Delilah S. Dawson (@DelilahSDawson) August 26, 2017
When in doubt, find a group of girls or some guys with badges who seem safe, especially Guest or Security badges. It's ok to ask for backup.

— Delilah S. Dawson (@DelilahSDawson) August 26, 2017
Lots of my harassment has started with negging. "You're not a real geek." "You don't even know who Leia is." They want a way in. Deny them.

— Delilah S. Dawson (@DelilahSDawson) August 26, 2017
I love DragonCon. This is my 6th year, I think? But it's 80k attendees + rando onlookers + usually a sports event. You've got to be safe.

— Delilah S. Dawson (@DelilahSDawson) August 26, 2017
I will say the Security people at DragonCon are FANTASTIC… but they're spread around 6 hotels and not always right there at midnight.

— Delilah S. Dawson (@DelilahSDawson) August 26, 2017
Also why you see me wearing boots or sneaks at DragonCon. I need to be able to run or fight, not wobble. Isn't that sad? Plus, the hills.

— Delilah S. Dawson (@DelilahSDawson) August 26, 2017
And mos def try to avoid the hamster tunnels between Hyatt and Marriott at DragonCon at night. Either full, pukey, or horror movie empty.

— Delilah S. Dawson (@DelilahSDawson) August 26, 2017
Use that phone at DragonCon. See creeps in a lonely hall, call a pal. "Yeah, I'm in the Westin, by Chastain. On my way home." Etc.

— Delilah S. Dawson (@DelilahSDawson) August 26, 2017
[Thanks to rcade for the story.]