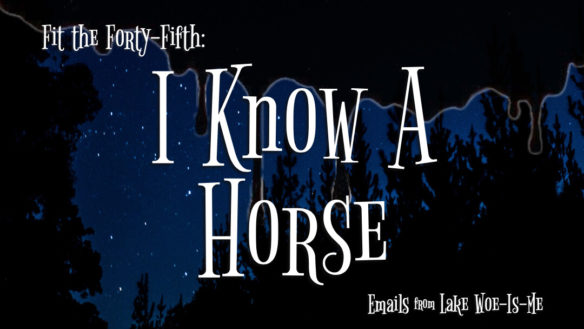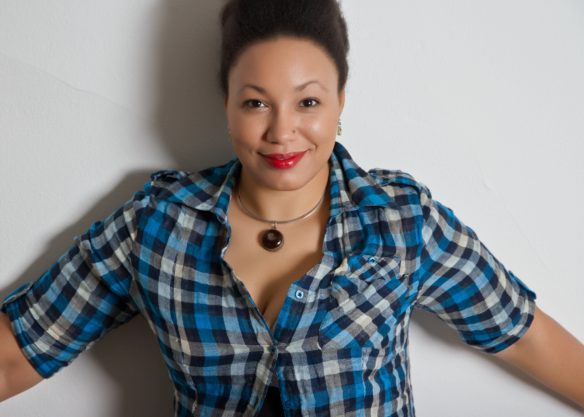 [Introduction: Melanie Stormm continues her humorous series of posts about the misdirected emails she's been getting. Stormm is a multiracial writer who writes fiction, poetry, and audio theatre. Her novella, Last Poet of Wyrld's End is available through Candlemark & Gleam. She is currently the editor at the SPECk, a monthly publication on speculative poetry by the SFPA. Find her in her virtual home at coldwildeyes.com. Wipe your feet before entering.]
I KNOW A HORSE
Hello All! Melanie here.
This week, we're continuing to celebrate one year of Writer X with a giveaway while supplies last! How do you get a box of Writer X goodies shipped to your abode? Simply leave a comment and I'll ping you back with the place to send your details.
If you left a comment on any of the Writer X fits from last week and haven't yet sent over your mailing details, please be sure to check my reply for where to send it.
Thanks for reading.
Without further ado…
---
Subject: CATAPALT!!!!!
Dear Gladys,
I'm sure you're dying to know about how my writing is going. Well, I am going to tell you about my latest epic fantasy novel in a minute, but first, I'd like to ask you an innocuous question that has nothing to do with any kind of trespassing.
What are your plans for Labor Day?
Of course the most important thing in my life is GETTING MY NOVEL WRITTEN BUT things haven't been right between me and my neighbor up the hill, Ms. B____, since I decimated her up-cycled wine bottle water fountain with my car last Hogswatch.
That said, it's still no excuse for not inviting me to her famous three-day Labor Day Long Wine Weekend that she throws every year!!!!
Personally, Gladys, I think that I am a charismatic asset to ANY party I attend no matter how many permanent water features I plow down with my car!!!! I have captivating conversation.You can't just get captivating conversation anywhere!!!!
And, whatever she says about how many helpings I eat of those delicious little piggy-in-a-blanket things she makes, there isn't a set serving size!!!!
Anyhoopla, as you know, Tryxy, #bestkitten, and I are back home safe and sound in our little house on Horn Hill. Tryxy is enjoying his new lease on life, and I am enjoying not having pencil shavings in my eggs. You could pretty much say things are picture perfect if it weren't for TWO THINGS:
1.) My boyfriend Tod Boadkins has pretty much checked out of anything that isn't WRITING HIS SECOND NOVEL which means I have to beat him and get my second novel written FIRST and then work on my first novel SECOND and
2.) A thirty foot wall has suddenly been erected between my house and Ms. B___'s house so I can't see what's happening in her yard and it's is blocking my writing feng shui!!!!!
3.) Not to mention the constant sound of ukulele music and laughter coming from Ms. B___'s yard that started promptly Friday night at 6 pm around the time her Labor Day Long Wine Weekend usually starts each year.
HOWEVER, I want you to know that I'm going to be sending you pages for my latest novel very soon, probably even this very night!!!! At first I was worried that I would never get this novel written especially since I have no idea what it's about, but things have been completely fixed!!!
As you know, Silverfox has a day job as a technical writer writing manuals for Mennonite factory workers and so he is VERY connected to the tech world!!! He has a friend who has a friend who has a llama that knew a horse who has a friend who knew Steve Jobs.
Anywort, that friend (via the horse) has started working on a very special software built for WRITERS. It has the top of the line algorithms, expensive pickles, streamlined gigabytes, and maybe not all of the technical things, but very many of them. It's still in testing right now, but I have convinced Silverfox to share the beta version with me. It's currently downloading into my laptop and has been for the last fourteen hours. It would have gone faster if I could get Tryxy to stop using all the bandwidth. He's busy googling the Miskatonic University Online Degree programs and you know what the Deep ONes do to bandwidth.
Hang on, Gladys, the FedEx guy is here and I need to sign for my new body armor.
Okay, I'm back and what I really wanted to ask you was if you happened to have a catapult???? Like, a person-sized one??? I need something that could clear…say….about thirty feet.
xox,
X
---
Subject:
Dear
Hang on, I have to get my earplugs, I can't hear myself think with all these ukuleles!!!!!
---
Subject: I AM IN THE SOFTWARE GALDYS!!!!!!
Dear Gladys,
Well, it's been another ten hours and my new writing software is almost installed!!!! In just three more hours, I'm going to be a famous epic fantasy writer!!!!!
I can't believe this, Galdsy, I am going to be the very first writer to use the FULL version of this software and that means that I WILL HAVE A LEG UP ON TOD BOADKINS!!!!!! I'm definitely going to have at least six books out by December!!!! I'm sure you're thinking that Silverfox has already started using this software so I can't be the first, but Silverfox made me promise that I would only use the market-ready features of the software but I feel LUCKY.
Finally, all of the stumbling blocks and people that have been TRYING TO SABOTAGE MY WRITING are going to be crushed like an up-cycled wine bottle water fountain under the chassis of my old mazda!!!! And you know what I can't wait for???? I CAN'T WAIT TO READ MY OWN BOOK!!!!! Usually when I read my own pages I get very bored, but that's just how it is and THIS TIME WILL BE DIFFERENT!!!!
If you have fifteen thousand to two million dollars laying around, you should definitely invest it in this company called Stea Latrope. Or Ste ala trope. Or something like that. Silverfox's friend of a friend of a horse who knew Steve Jobs is taking very exclusive investments from people and this is definitely a time to get in on the groundfloor.
You see, Gladys, this is very special software. Not only does it help layout your book and keep track of all your notes, and separates your chapters, and sends faxes to your beta-readers, it also has a super-secret function that can HELP WRITE YOUR BOOK FOR YOU. This is not cheating. It has very cutting edge tech that can read your unique writerly imprint and help you to be your most creative.
That's what it says on the website, Gladys. Be your most creative. As you know, I am VERY creative, Hector, I have original thoughts. I do things people can't anticipate!!!!! (I know your name's not Hector, but I bet you never saw it coming!!!!!)
Huh, well that's interesting. I just got an email from Silverfox saying that "whatever I do, absolutely DO NOT follow through with installing the special writing software on my computer."
Oh, he's just sent a text that says "Things that sound too good to be true, are."
You know what? I think Silverfox has gotten nervous. I think he's beginning to realize exactly the kind of power he has just placed into my hands!!!!!!!
What was I saying? I can't concentrate, Gladys. Something smells delicious outside. And the ukuleles have gotten a little louder. It's almost like there's a three day party underway that I haven't been invited to, but I know that's not true because I ran into Ms. B____ on Wednesday at Mr. Morgan's Food Emporium And Things Nicely Priced and I noticed a generous amount of FROZEN PUFF PASTRY BOXES in her cart. When I cornered her by the cheese and olive cyclops, she insisted that she WASN'T making those delicious little piggies in a blanket that she ALWAYS makes for her Labor Day Long Wine Weekend but that she's using them for an emergency diorama for her nephew, Pete.
Wait one second, Glayds, that's my protege R___, texting me. He's loaning me his trampoline and wants to make sure I'm home when he drops it off. I just told him that I have my earplugs in and that he should throw some stones at my windowpane to let me know when he gets here.
WAIT A MINUTE!!!!! You know who I just saw creeping up the street to Ms. B____'s house???? You remember my neighbor with all the chickens??? You know the one who hospitalized the town council with a bad batch of eggnog that one Hogswatch??? I just saw him darting past my house carrying a plate of deviled eggs dressed in little hula skirts!!!!!
I opened my window and it smells very much like pineapple, a charcoal pork roast, and those delicious little piggies in a blanket that Ms. B___ always makes for her Labor Day Long Wine Weekend.
Hold on, Gladys, I need to call Ms. B___. She should know that someone else has stolen her recipe and is giving it to someone who isn't me right now!!!!
xox,
X
P.S. SENDING PAGES SOON, GLADYS!!!!! I HOPE YOU"RE NOT AT A LABOR DAY PARTY OR SOMETHING BECAUSE YOU HAVE AN INSTANT CLASSIC ON ITS WAY!!!!!!
---
Subject: Small Hang Up
Dear Gladys,
Well this was totally unexpected. I may be sending pages a little late tonight because I'm having some trouble with my computer. It's got this single text file on it that tells me that my system is locked and to call this number to pay to unlock it. I think there's been some mistake. So I went back to the website that I downloaded the software from and it has a contact us section but it sent me through three hundred pages of FAQs and I can't find a number.
Gladys, could you please go to the Stea Latrope webiste and find their phone number??? I'm still trying to call Ms. B___ and then I really need to get this program open so I can start producing pages!!!!
That's funny. Ms. B___ isn't picking up. I'll call Tryxy and see if he can run over and tell her to pick up her phone.
Hmmm. Tryxy isn't responding to his text messages. He must be really focused on picking out an online degree program!!!!! Perhaps I'll try #bestkitten.
Oh right, #bestkitten can't use a phone.
Well things are temporarily on hold with my computer softawre. I'm sure it'll work itself out if I unplug my computer and plug it back in in the morning.
Gotta go, Gladys!!! R___ just hurled a stone through my bedroom window and broke my mirror. The trampoline is here!!!!!!!!
Just so you know, I believe Ms. B___, I just need some visual confirmation.
xox,
X
sent from my iPhone
---
Subject: I SEE YOU GLADYS!!!!!
Dear Gladys,
I see you down there in Ms. B___'s yard!!!! Look up!!!! I'm in the pink armor hanging over the wall.
xox,
X
P.S. SAVE ME SOME OF THE PIGGIES IN THE BLANKETS!!!!!!!
sent from my iPhone
---
Subject: Fishing Pole
Daer Gladys,
I saw you look up at me!!!! Please come up here and help me down!!!! I'm hanging from the pine tree over the wall. The back closure of my body armor got caught on one of the boughs.
Oh! You're looking at me!!!! Hi!!!!!!!
I saw that, Gladys!!!! I saw you look away!!!!!
Fine!!! Pretend that I'm not here, but if you're going to pretend, the least you could do is give me a fishing pole. The table of those delicious little piggies in a blanket is right underneath me and a little to the left and if I just had a fishing pole I could get some!!!!
OH MY GOD WHAT IS TRYXY DOING HERE????????? HE'S SUPPOSED TO BE LOOKING UP ONLINE DEGREE PROGRAMS AT MISKATONIC!!!!!!!! HE DOESN'T EVEN KNOW MS. B___!!!!!!! HOW DID HE GET INVITED????
BRING ME A FISHING POLE, GALDYS!!!! THIS IS SERIOUS!!!!! Tryxy has a big appetite and if he gets to the pigs in a blanket before I do, there's not going to be any left!!!!!!
xox,
X
P.S. You're looking very tan! How was Paraguay?
P.P.S. Is that a horse in a man-suit or a man in a horse suit? Does he know Steve Jobs? I NEED TO TALK TO THAT HORSE ABOUT MY COMPUTER GLADYS!!!!!!!
sent from my iPhone
IT'S MEAN
TO SNEAK
TO PARTIES
YOUR BFF
HAS BEEN
BANNED
FROM. BUT
AM NOT
OPERATING
OF MY OWN
FREE WILL.
IT IS ALL
OUT OF LOVE
FOR THESE
PIGS IN A
BLANKET.
SO GOOD