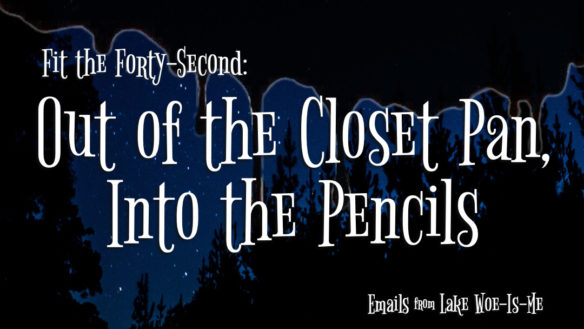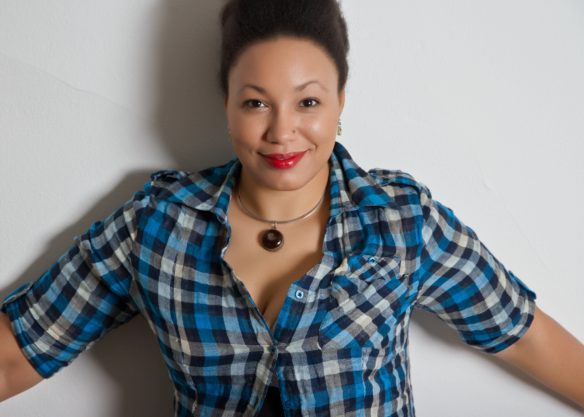 [Introduction: Melanie Stormm continues her humorous series of posts about the misdirected emails she's been getting. Stormm is a multiracial writer who writes fiction, poetry, and audio theatre. Her novella, Last Poet of Wyrld's End is available through Candlemark & Gleam. She is currently the editor at the SPECk, a monthly publication on speculative poetry by the SFPA. Find her in her virtual home at coldwildeyes.com. Wipe your feet before entering.]
ONE YEAR OF WRITER X!
Hello All, Melanie here!
Can you believe it? We've been getting emails from Writer X for ONE YEAR NOW! Honestly, when this started, I wasn't sure how long it would take for her to work out that I wasn't Gladys and neither were any of you.
If you've been here the whole time, I want to thank you for coming along with me on this trip. If you're just arriving, welcome! And thank you for reading.
Here's to success, however you frame it. I hope that Writer X continues to figure out how to be "the next big epic fantasy writer of all time." Perhaps more importantly, I hope she learns how to finish a first draft. That's kind of an important step in the process.
I wonder what Tryxy means by his note. I also hope we hear from Silverfox soon. It sounds like he's back in Cradensburg and didn't stay with the foxes, but I hope it's for the right reasons.
Without further ado…
OUT OF THE CLOSET PAN, INTO THE PENCILS
---
Subject: YOU ARE SOOOO LATE GALDYS!!!!
Dear Gladys,
My clairvoyance is telling me that you are not going to join us in Writeria in time to share our writer's vacation. I'm highly psychic Gladys and my ESP is able to pick up on things the ordinary mind can't conceive. There are psychic vibrations that are telling me you're just not going to make it. We are getting ready to head back through the very last portal before it closes and I don't see you anywhere. Did you change your hair? Or possibly your face? There's this little frog person with purple ears that sort of resembles you if I squint really hard and poke myself in the left eye while smearing cottage cheese over my right.
Knowing you, you are probably lost back in the snow drifts with the Deadly Gaimans who bear no connection to celebrated author and my PERSONAL MENTOR, Neil Gaiman. But thanks to our tireless work here in overcoming Dark Armies and the weird blizzards that have taken over this place, the snows should be clearing up pretty soon. So then you'll just have to battle the Deadly Gaimans in the muck and probably the mosquitos will come out, but, with your history of advanced anbo-jitsu and that summer you spent concocting bug repellent out of bottles of apple cider vinegar and a can of sardines, you should be fine!!!!
But you may be stuck in this alternate world forever since we've gotten the whole portal issue worked out thanks to all the stolen fantasy masterwork books, Silverfox, a misplaced nose, the orb from the Belgariad (better you don't ask), and a bottle of expired Tutti Fruiti Polar Seltzer (definitely don't ask, it's TOP SECRET!!!!!)
Anyhiccup, this vacation couldn't have ended at a better time. It's early June and summer is just heating up!!!! Tod Boadkins and my romance is back on an even keel with the power squarely in my lap and Tryxy and I have plans for matching outfits and a weekend trip to Ninevah for him to "Reconnect." Most importantly, I have BIG plans for my writing Gladys!!!!!!
I can feel it!!!! This is the summer I'm not only going to perfect my Writer's Tan, I'm ALSO going to become a famous EPIC FANTASY WRITER. My closet should be a lot quieter. My romantic life is finally back to the way I like it which is NOT single, and I have singlehandedly proven to Tod Boadkins that REAL WRITERS DON'T USE OUTLINES!!!!!
Oh. Gotta go, Gladys!!! The portal is getting ready to close. Have anice livfe here in WRiteria!!! I'll send you new pages soon!!!!! YOU"RE NOT GOING TO BELIEVES HWAT"S NEXT!!!!!!!!! IT'S EPIC!!!!!!!!!
xox,
X
sent from my iPhone
---
Subject: SMALL PROBLEM
Dear Gladys,
I have just arrived back here in Cradensburg and I have two important things to tell you.
!1.) THE WIFI WAS MUCH BETTER IN A MAGICAL LAND THAT HAD NO WIFI!!!! WHy is 9/10ths of New Hampshire without reliable WIFI????
@.) I can't get in my house.
Tryxy is very mad.
Whatever he tells you, it's way more complicated than that. ANd it's TOTALLY NOT MY FAULT!!!!
xox,
X
sent from my iPhone
---
Subject: We're crashing at your place tonight but also there's another third thing
Dear Gladys,
I have calmed Tryxy down by saying that you've invited us over to your house. Since you're probably trapped in Writeria forever, that shouldn't be too much of a problem. We'll keep the place dusted and I'll let out your dachshund.
This doesn't change the news I have to tell you.
Hang on.
Okay I'm back. Silverfox was texting me and asking me if we want to come stay at his place since our house is currently uninhabitable for reasons that have NOTHINGTO DO WITH ME but I just told him that you were going to let us stay at your place.
Apparently the vortex that opened up over Tryxy and my workplace IS THE DEMON AUTHORITIES LOOKING FOR TRYXY.
Not to worry, I'm going to handle this.
But that isn't the news that I want to tell you.
The news I want to tell you is
Gotta go, Gladys!!!! It looks like the windows of our house are about to blow and flood the neighborhood. I have to go tell my neighbors it's NOT MY FAULT.
xox,
X
P.S. Did you know it's August? How did it get to be August??????? I'm two months behind on my writer's tan!!!!!!
P.P.S. UNLOCK YOUR DOOR SO I DON'T HAVE TO BREAK YOUR WINDOWS TO GET IN LIKE I DID LAST TIME!!!!!!!! YET ANOTHER THING THAT WASN'T MY FAULT!!!!!
sent from my iPhone
---
Subject: WE SET OFF YOUR ALARM SYSTEM PLEASE TURN IT OFF!!!!!!
Dear Gladys,
We only broke your basement window. It wouldn't have had to come to this if you had unlocked the doors like I asked you to in my last email.
Right now I need you to call your alarm company and get this horrible siren turned off!!!!! How am I supposed to become a bestselling, world-famous fantasy author if I have to write with this stupid alarm?????? WRITERS NEED A VERY SPECIFIC SONIC ATSMOPSHERE TO WRITE!!!!!
Also, you've added a lot more art to you walls since I was last here. Im going to take some of it down. I need a good blank wall to stare at. That's how I get most of my writing done. Or the WRITING-STARING that is ESSENTIAL to creating a SOLID FANTASY NOVEL.
In fact, one of the things I'm going to do that will take my writing to NEW places is I'm going to incorporate a LOT more WRITING-STARING. I may have to take the art down from several of your walls. But that STILLLLL isn't my BIG NEWS!!!!!
BTW, Gladys (that means "by the way"), Tryxy just used your contact solution as a nasal rinse. You may not want to use it for your contacts after that. It's pretty much now solidly in nasal rinse territory. He can't get the smell of all the pencils in our house out of his nose. Producing lots of mucus. Demons don't like cedar and my signature pink pencils are of the highest quality so they're made from cedar.
I SEE YOUR COUSIN BLANCHE!!! I think she's huffing across the hill because she can hear the sirens!!!! ABout time!!!! Wow, has she always been that red???? Oh look, she has a shot gun!! I didn't know she collected shot guns, Gladys!!!!
Gotta go!!!
xox,
X
sent from my iPhone
---
Subject: LIGHT RENOVATIONS
Dear Gladys,
Well, well, well, your cousin Blanche has told me a very interesting thing. Apparently you are in PARAGUAY and NOT bringing me extra ham in Writeria for #bestkitten like I asked a week and a half ago in WRiteria time, but TWO WHOLE MONTHS AGO in your time!!!!!!
I'm not sure what to think about this. Fortunately Tryxy and I are getting very comfortable in your house since mine has accidentally become full of pink cedar pencils thanks to that little multiplication spell I found all those months ago. A critical ingredient of the spell is Amish Friendship Bread starter. Apparently, you're supposed to take the lid off the spell or else the Amish Friendship Bread explodes and then you're stuck with the results.
Gladys, I need you to understand that I am VERY PREOCCUPIED WITH other things. For one, the fact that it is UNEXPECTEDLY AUGUST has THROWN OFF my FAMous by summer plans!!!! My whole writing pace has to be reworked!!!!
In the meanhwhile., I need you to send me the number of a good archeological excavator. They have all the right tools for getting our house back to normall!!!
AND I DO MEAN AN ARCHEOLOGICAL EXCAVATOR GLADYS. NOT a backhoe Or WORSE, the commercial excavator you called the last time this happened with the moon cheese during the 2020 pandemic!!!!! Someone needs to be very careful around all the arcane memento boxes I have left from C___ and I don't want anyone damaging my collection of live laugh love paraphenalia!!!! That'll be very valuable someday, Gladys!!!!!
Anyhonk, this email is to inform you that Tryxy and I are making some light renovations to your place. Don't worry, we'll put your sledgehammer back where we found it. WE'RE GOOD HOUSE GUESTS!!!!
xox,
X
P.S. The Big NEWS will just have to wait until next week after I sort out my new writing approach. PATIENCE IS A VIRTUE GLDSY!!!
sent from my iPhone
CAN'T BREADE.
AM ALLERGIC TO
BENCILS. CAN'T
SAY DE LETTER
P OR TH. NEED
MORE NASAL RINSE.
AUTHORITIES ARE
HERE TO TAKE ME
PACK TO VOID
OF ASHIPUT.
GOING TO SEND
YOU A BRESENT.
LITTLE TOKENS
OF TIME HERE
WITH YOU
AND MY FRIENDS.
YOU'LL GET IT THOON.