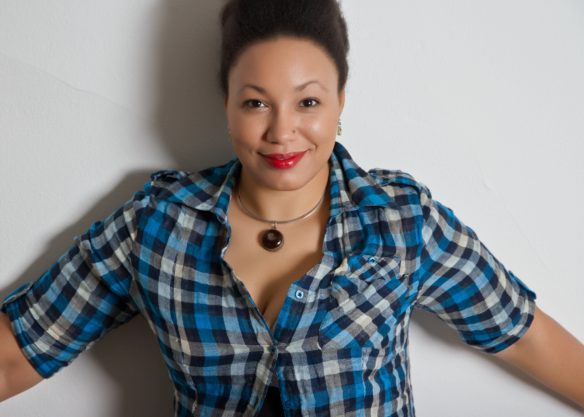 [Introduction: Melanie Stormm continues her humorous series of posts about the misdirected emails she's been getting. Stormm is a multiracial writer who writes fiction, poetry, and audio theatre. Her novella, Last Poet of Wyrld?s End is available through Candlemark & Gleam. She is currently the editor at the SPECk, a monthly publication on speculative poetry by the SFPA. Find her in her virtual home at coldwildeyes.com. Wipe your feet before entering.]
AN UNEXPECTED JOURNEY — TO JAIL
Hello All! Melanie here. =)
I hope your Pesach and/or Easter and/or Ramadan treated/is treating you well. Do you do much for the holidays?
My kids recently commented to me that we don't really celebrate any holidays. I was mildly perturbed. The way I see it, being multi-racial and multi-cultural, we celebrate SO many holidays that the only way to keep up with them all is to simply acknowledge that they're a day and they exist.
My youngest's response? "Yeah, mom. So basically because we celebrate all of them, we don't celebrate ANY of them."
And here I was thinking we were all festively doing nothing.
Without further ado?
---
Subject: ANOTHER BURGLARY GLADYS!!!!!
Dear Gladys,
I know that you are receiving this email earlier than you are used to and I technically still have three more days to wallow in despair about all these already established writers trying to steal the anti-horcruxes out of my very hands!!!! Sorry, I know that wasn't the end of the sentence. But it should be, Gladys!!!! I get very upset!!!!
Anywoo, where was I???
RIGHT. There was another book burglarly!!!! ON HORN HILL!!!! In the middle of the day!!!!! Tryxy and #bestkitten are in band practice and R____ just came over with his keyboard because they're auditioning keyboard players and, the next thing I know, Ms. B___ waltzes over and snootily says "Oh! I'm just checking to see if you have an alibi because someone just broke into Elvis Parkinson's house and stole his autographed copy of The Wheel of Time and I figured it was YOU."
NOW THEY'RE STEALING ROBERT JORDAN???? THAT'S TOO FAR, GLADYS!!!! That means the thief is ONE STEP CLOSER to being able to unlock the MAP if I can believe voices I hear in bathrooms!!!!
I've got to do something, Gladys. Even worse, my evil neighbor A____ is out there running a SMEAR campaign against me in the neighborhood!!!! And she sent me a bill for her broken living room window but she's not very smart, is she Gladys???? THE WAGON WHEEL BROKE HER WINDOW. I DIDN'T!!!!!!!!!!
Gotta go!!! The police are starting to arrive. I'm going down to the scene of the crime!!! Someone has to tell these police officers what they need to do and make it clear to my neighbors that I'm not stealing their books!!!!
Have to put down the phone, need to focus on my power walk!!!!
xox,
X
P.S. I'm still going to use my three days of wallowing!!!!
sent from my iPhone
---
Subject: I'm much calmer now, you can go ahead and call me back
Dear Gladys,
If you are wondering who was calling you from the town jail THAT WAS ME!!!! Did you check your messages????????
NOT XOX,
X!!!!!
P.S. PLEASE TEXT TRYXY AND ASK HIM TO TURN OFF MY DEVILED EGGS!!!! They will burn while I'm in jail!!!!!
P.P.S. Can you please talk to Tryxy about letting me audition for DemonKitty. I told him I was a virtuoso recorder player in third grade but I think he needs to hear it from you!!!!!
sent from my iPhone
---
Subject: Checking in
Dear Gladys,
I'm now emailing you from Detective Fischer's computer as part of the deal I am working out with her in exchange for my IMMINENT RELEASE.
I'm sure you are dying to know about my book.
MY BOOK WILL BE FINE ONCE I GET ALL THE ANTI-HORCRUXES WHICH I CAN'T DO WHILE I AM HOLED UP HERE ON TRUMPED UP JAYWALKING CHARGES!!!!
Gladys — what if my artistic soul is pointed in the wrong direction? What if instead of becoming a famous epic fantasy writer, I'm supposed to become a famous musician in the band DemonKitty???
Sitting here in jail, I just feel like I'm finally seeing the writing on the wall. What if the reason I can't get anywhere with my writing is because the industry is TOO CROWDED???? There's almost NO ONE trying to be famous pop stars. It's a WAY LESS competitive field. And I still have that recorder I bought when we were in third grade.
I just feel like the right answer was in front of me all along. Or in front of me, but in a trunk full of all the crap I kept from when I was a kid.
But what I'm really writing to you about is — if Detective Fischer questions you, DON'T SAY ANYTHING ABOUT THE ANTI-HORCRUXES!!!!! WE DON'T KNOW WHOSE SIDE SHE'S ON!!!!
Did Tryxy get back to you yet about leting me audition??? Tell him I can play greensleeves and the bluebells of scotland. Mostly. If you give me a few tries.
xox,
X
All correspondences sent from this device are subject to review by law enforcement and can be used as evidence in a court of law.
---
Subject: Proposal
Dear Gladys,
I?m still here with lame-o Detective Fischer and she is really trying to put the thumbscrews in but I think I?m wearing her down!!!!
I?m writing to offer you a proposal you can't refuse.
What if I let you become my new music manager?????
Isn't that exciting????
The first thing I need you to do is draw up a contract with me as the star recorder player?recordist? recordian? record player?
ANywiz, I need you to draw up a contract with me and DemonKitty and send it right back to me, okay??? This will immediately guarantee that you get at least 10 percent of whatever I get!!!! Well. Two percent. WIth possibilities of expanding to 10 percent. Or three percent. Or two point five.
xox,
X
All correspondences sent from this device are subject to review by law enforcement and can be used as evidence in a court of law.
---
Subject: LOOSE LIPS SINK SHIPS!!!!!!
Dear Gladys,
SOMEONE TIPPED DETECTIVE FISCHER OFF ABOUT THE ANTI-HORCRUXES AND YOU ARE THE ONLY PERSON I DIDN'T TELL ABOUT THEM!!!!!!
As a result, I STILL have not been released from jail. However, on the bright side, I have got Detective Fischer RIGHT WHERE I WANT HER. She is now allowing me unlimited emails!!!!
I'm still waiting for you to send me the contract but don't worry, I will give you a little time to go to an entertainment lawyer and make sure everything is perfect.
As I've been sitting there in the interrogation box, I've been thinking about this whole anti-horcrux thing and why I am so upset other than the fact that all of these established writers and editors are trying to sabotage my writing career!!!!! It's been hard to put my finger on it but I think I have come down to the center of my problem.
Tod Boadkins is in love with me.
Why else would he have such an adorable beard???? And why else would I watch him stalking me from my window where he couldn?t see me for three whole hours instead of getting any writing done???? OBviously he is really in love with me and I really can't blame him. I mean, he's a writer and he is obviously drawn to the fact that he has spent several weeks imprisoned in his own basement in the same building as the next big epic fantasy and/or famous recorder player for DemonKitty. WE'RE A POWER COUPLE!!!!
Well, no. C____ and I were the real power couple.
But Tod Boadkins is close.
Why else is he hellbent on getting those notes about the possible location and leads of one of the anti-horcruxes??? Obviously he just wants to be close to me!!!!
How do I get him to wake up to this, Gladys????
I need you to consider being my match-maker. I could probably even talk Tod Boadkins into signing with your new management company!!!!!
Anywoot, I have to go. Detective Fischer has more questions about my ninja suit and my role in sabotaging a sea-going vessel full of memoirists.
xox,
X
All correspondences sent from this device are subject to review by law enforcement and can be used as evidence in a court of law.
---
Subject: My Secret Secret SECRET Scheme
Dear Gladys,
THIS IS MY LAST EMAIL TO YOU FROM JAIL. I'm writing to let you know that I think I have the solution to our little underground secret secret group of people trying to get the anti-horcruxes before I do!!!!
Watch for my next email which should come before Sunday of next week.
It's time to summon a fellowship, Gladys!!!!! Don't tell Detective Fischer!!!!!
Do you have Elrond's phone number?
xox,
X
All correspondences sent from this device are subject to review by law enforcement and can be used as evidence in a court of law.
FUN FACT:
A RECORDER
WAS PLAYED
ON THE DAY
NINEVAH
BURNED
TO THE GROUND.
THERE WILL
NEVER BE
A RECORDER IN
DEMONKITTY.
THE ONE
BENEFIT OF
X IN JAIL
IS SHE'S NO
CLOSER TO
GETTING
KILLED.