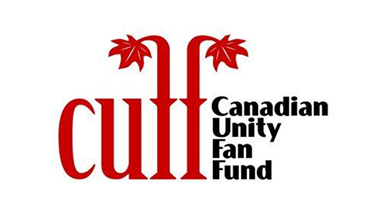 [Reprinted by permission of the author.]
By Garth Spencer:
THE CANADIAN UNITY FAN FUND. The Canadian Unity Fan Fund was conceived to represent distant fan communities in Canada to other fan communities in Canada. In its forty-odd years of operation, CUFF has usually brought fan delegates from one side of the country to the other, wherever Canvention was held. (The Canadian SF and Fantasy Awards were hosted by one or another convention in a given year, until the national awards ceremony recently began appearing online, on a regular annual schedule.) Now, a delegate will receive funds to travel to an SF convention this year elsewhere in Canada.
I became the 2023 Canadian Unity Fan Fund delegate, which meant I was to attend Pemmi-Con, the 15th North American Science Fiction Convention, held in Winnipeg July 20th through 23rd, 2023.
"WHO IS THIS SHMOE?" I'm just this guy who got to be known in fandom for a while. I entered fandom about 1980 in a small club in Victoria. Since then I have been involved in producing a number of clubzines and personalzines; running fanzine rooms and producing program books for SF conventions; producing a Canadian fan newszine for a few years, and incidentally establishing for everyone what the Canadian SF and Fantasy Award was. These days, I take part in four APAs (Amateur Publishing Associations) – eAPA, Apaplexy, N'APA, and Stipple-Apa – and I am the official editor of eAPA. I also plan to revise my personal website as a fannish resource site, and to put together a volume of Canadian fanhistory.
PROLOGUE. In 2023: I volunteered to stand as a candidate for CUFF[1] (again[2]) in 2023, partly because I hadn't heard of any other candidates, and partly out of a sense that various and diverse fandoms really deserve more mutual awareness. I thought I could at least try to see something of other fandoms, and tell some stories about fandom as I know it.
Fran Skene of Vancouver was the CUFF candidate in 2019, and then the COVID-19 pandemic happened, so travel was restricted and she served as CUFF administrator for the next four years.
As it worked out, my bid gained 3 western supporters and 3 eastern supporters: Rose Wilson (BC), R. Graeme Cameron (BC), Kent Pollard (Saskatchewan), Cathy Palmer-Lister (Quebec), Lloyd Penney (Ontario), and Diane Walton (formerly of Alberta, now in Nova Scotia).
In order to raise funds for next year and beyond, I prepared a list, offering interesting and amusing fan publications for sale. These ranged from hardcopy editions of classic fanzines to hardcopy (and some digital) editions of current fanthologies. I was (and still am) prepared to accept payments in person, by cash, money order, or Paypal at: 6960 Doman Street, Vancouver, BC V5S 3H7, or by Paypal at [email protected].
I included Confabulation, a collection of fannish fanwriting, "representing the most amusing fanwriting and faanfiction I could find, characteristic of fannish fandom … for benefit sales to CUFF, at $10 each," I wrote. (I also offered chapbooks under my Stop Press imprint based on my extended fanarticles about worldbuilding, how to construct a language, conspiracy theories, crank theories, or micronations, at $5.00 to $7.50.)
Also, at Pemmi-Con, I was to moderate the popular Turkey Readings – readings of science fiction or fantasy so bad, no reputable publisher would issue them today – acted out by volunteers from the audience! Listeners then got to bid on whether to continue, or cease! We've got some real stinkers (not all written by John Norman or Lionel Fanthorpe)!
Somehow we also evolved the idea of a fanzine auction, which I think was suggested by Erin Underwood (a Pemmi-Con committee member?) in a Zoom meeting.
PREPARATIONS. I tend to build up anxiety about non-routine events and appearing on time, so I tend to overpack and overprepare. Still I foolishly did not bring the thumb drive I usually keep on my key ring.
Among other things, I made myself a handy-dandy pocket program, based on the advance schedule information received in Pemmi-Con Progress Report 2. This turned out to be relatively useful until Saturday, when I actually had events to attend, and program changes to deal with. (Strangely, the committee settled the program schedule within the week before the convention, and still there were program changes.)
Tuesday July 18, 2023:
As it worked out, getting to the Vancouver International Airport and checking in with Westjet and boarding all happened without incident. Checking in at the Delta (now aka the Marriott Bonvoy) was also trouble-free.
It was interesting to check out the look of downtown Winnipeg, in comparison with cities such as Victoria and Vancouver. Older architecture leaned towards drystone and brick construction, contrasting with the glass-and-steel buildings from more recent development. Which makes sense, given that Winnipeg is not given to earthquakes, as we are on the coast.
Finding the committee (Operations room) was a bit of a treasure hunt; signage in the hotel developed only gradually over the first few days, apart from the scrolling program schedule on the hotel video displays (which was very useful).
Wednesday July 19, 2023:
Due to storm warnings on this day I stayed close to the hotel at first, until the evening's Break the Ice" dinner at a nearby Old Spaghetti Factory. Eventually I tracked down Registration on the second floor. My own registration was delayed, partly due to some breakdown in communications. Amusingly, they had no record of my membership, and had to write me into the records on the spot – #1000, as it happened, which told me something about the attendance. (I was informed later that about a third of the registered members had not attended, mainly due to COVID-19 concerns.)
Strangely, the committee supplied no program books at the convention – they were conceived as souvenir books, to be mailed to members after the event. Instead, there were daily program sheets in table format, supplemented by a daily convention newsletter. Maps of the hotel's internal layout were slow to appear.
There was a lot of meeting and greeting, of course, as congoers filtered in. There were R. Graeme Cameron, now from Nanaimo; Cliff Samuels and Eileen Capes from Calgary; John Bartley from Tualatin (near Portland); Cooki Lumsden; Stuart Cooper; Den Valdron, the Winnipeg writer; and Robert J. Sawyer, as well as Linda Ross-Mansfield, LeAmber Kensley, and Jannie Shea on the committee. My roommate John Bartley showed up this afternoon. Murray Moore talked to me about the art museum, which was heavy on Inuit art at the time.
I tagged along with Cliff Samuels and Eileen Capes to the "Break the Ice" dinner at The Forks Market. Unfortunately John Bartley, who was still recovering from flying coach, discovered he just couldn't walk that far and begged off.
Much like Granville Island in Vancouver, this is a former railroad yard redeveloped with a wide variety of shops, produce stores, restaurants and cultural centres, including a youth theatre. The "Break the Ice" dinner for early Pemmi-Con attendees drew perhaps sixty people to The Old Spaghetti Factory. We made the acquaintance of Mark Sneed, a new writer who was attending his first SF convention, and had an interesting conversation covering the background of the convention, the benefits of joining SFWA, and the several challenges we have encountered with varieties of English. (Mark Sneed has been an English teacher.)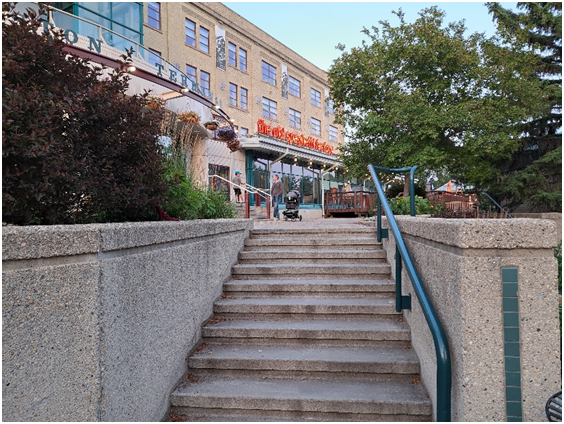 Thursday, July 20, 2023:
This day I received my program participant materials, took pictures of the internal hotel maps, and rechecked the program.
Foolishly I missed the opening ceremonies on Thursday. I gather my name was called, at least to stand up and wave.
Much of my concern was focused on the CUFF auction and the Turkey Readings, neither of which I had conducted before. My anxiety was unfounded, partly because I could follow the good example of Sandra Bond's auctioneering, and partly because there were other readers at the Turkey Readings.
Of interest is that Pemmi-Con panels generally ran for 75 minutes, with a 15-minute break between scheduled items. This seemed sensible and practical.
It developed that the consuite was in a room on the fourth floor – directly opposite the room I shared with John Bartley.
For whatever reasons, the dealers' room, artshow, and fan tables were relegated to a room in the RBC Convention Centre, which was over ten minutes' walk from the hotel via an elevated passage over a street. Thus I discovered there was a fan table for the Canadian SF and Fantasy Awards, with a display of its chronology and former awards; a fanzine table (empty); a display about me with blowups of my picture and bio (unexpected!); and a fan table and display for the Rotsler Award winners (I noticed the 1999 award went to Grant Canfield, and in 2008 to Taral Wayne). There were also displays promoting nuclear energy, and providing a history of nuclear engineering in Canada.
Given the function space available in the Delta hotel, this was neither necessary, nor advisable given the number of mobility-challenged attendees. Strange.
Room parties started on Thursday night, mostly on the fifth floor, representing Worldcons/bids from Seattle, Glasgow, and Minneapolis in '73 (2073, now). Or, should I say, they were attempted at first on Thursday night. The hotel staff were apparently not briefed on room parties, and Shawn Marier from the Seattle Worldcon committee had to negotiate with them to raise their room occupancy limit from four to ten people at a time. Granted, the room parties were in rooms really too small for parties. This might be why the renewed Minneapolis in '73 bid sort of took over the consuite.
And there was much rejoicing.
Friday, July 21, 2023:
There was a so-this-is-your-first-convention panel, which was good, and it was scheduled for 1:00 p.m., which is as usual and is not so good. (I have suggested, on more than one occasion, that since most people arrive at conventions later than 1:00 p.m. Friday, maybe a later panel, a Web page, or a widely-distributed free pamphlet would serve the purpose better?)
Saturday, July 22, 2023:
In conversation, Murray Moore mentioned that the Canadian SF and Fantasy Association was looking for a secretary, and I offered to take up the role. Murray subsequently informed the CSFFA regulars that I would serve, and he emailed me the information about the CSFFA Zoom meeting for Tuesday after Pemmi-Con.
There were three panels that required my participation – the "Rebuilding Fannish Community" panel at 4:00 p.m. (originally "The Greying of Fandom"), the CUFF Auction at 5:30 (combined with the TAFF Auction), and the Turkey Readings at 10:00 p.m. (rescheduled from 2:30).
At 4:00 p.m., "Rebuilding Fannish Community" drew at least twenty people, and turned into a productive discussion. To my satisfaction, we got beyond the usual cliches frequently observed about ageing fannish fans, and younger fans in several specialized fandoms. (Until Friday, the members arriving at Pemmi-Con were generally over 50 years of age.) We considered the diminishing numbers of clubs, the marginalization of fanzine fandom, the efflorescence of online communities, the effect of costs and current incomes on conventions, and the divergence of fandoms.
In the end, the sense of the meeting seemed to be that it simply isn't the job of elder fans to recreate the fan activities they knew. If we have any role, among contemporary fans, it comes down to getting out there, listening; asking a few questions; and, perhaps, offering a few parallels to similar events and issues from the past. If they are relevant. (Given the differences in today's costs and incomes from the past, the expectations and interests of fans, and the very different expectations and demands of hotels, many stories are not so relevant now.)
At 5:30 p.m., the combined Fan Funds Auction drew four or five people, compared to the auctioneers (Sandra Bond and I). I followed Sandra's lead and found the auction went fairly quickly. The audience were individually generous, and both fan funds made some modest money.
At 10:00 pm, the Turkey Readings drew eight or so people, and were amusing enough. Murray Moore, R. Graeme Cameron, and I took it in turn to read some bad 1970s sci-fi and fantasy, including R. Lionel Fanthorpe novels. Again, we made just a little money for CUFF. Tasia Papadatos from Ottawa commented that the selection of novels (other than Fanthorpe's) weren't really bad enough for the purpose. Perhaps in future years we have to seek out the real stinkers.
And so to parties. Saturday's party scene was rather quieter than Friday's; I was a bit disappointed.
Sunday, July 23, 2023:
Sunday was a fairly quiet day. I missed programming until four p.m. and the closing ceremonies, trying to start this trip report and, instead, ending up in an enjoyable consuite conversation, about Winnipeg and other convention stories.
The closing ceremonies, led by Tanya Huff, gave kudos to the Ghost of Honour, Lorna Toolis; to the convention committee, especially Jannie Shea (much enthusiastic clapping); and to the hotel staff, whose service was excellent.
And on Monday I had an uneventful flight home. (The cat was really glad to see me back.)
---
[1] The background to fandom, and the changes to fandom, should be summarized in a forthcoming fanhistory. I have found it to be a bigger job than I expected.
[2] At the end of this report is a link to CUFF trip reports online, including my own report on attending the 1999 Canvention in Fredericton, N.B. For more information about CUFF, follow this link.