Small press publisher Herbert Yellin died June 13. He was 79.
Yellin founded Lord John Press in 1978 to publish signed limited editions of modern authors.  The Lord John name came from the fact that so many modern authors he wanted to work with had the first name of John — Updike (with whom he was good friends and published a newsletter), Barth, Gardner, Fowles, Cheever, Hawkes and so forth. Lord he added "to marry Great Britain and America."
The first Lord John publication was a broadside by Joyce Carol Oates. Its first book was Hub Fans Bid Kid Adieu by John Updike.
The science fiction and fantasy genre authors Yellin published included Ursula K. Le Guin, Stephen King, Dan Simmons and Ray Bradbury (The Last Circus & The Electrocution.)
He is survived by his brother and two sons. The family obituary is here.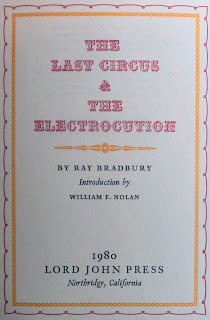 [Thanks to John King Tarpinian for the story.]