By Sultana Raza: On May 10, 2021 Moulinsart, which manages the Tintin franchise, lost a case to French artist Xavier Marabout. The reason? Marabout had placed Tintin in Hopper-like landscapes with scantily clothed women, a situation not to be found in any of the Tintin albums. The Rennes Court in France deemed Marabout's art-works to be parodies, thus not violating copyright. Moulinsart is supposed to pay 10,000 euros as compensation to Marabout, unless it decides to appeal against this decision. Moulinsart has announced on its website, that it intends to appeal against this judgement.
If Marabout ultimately wins this case, then it could open the flood-gates to many contemporary and future artists recycling works in their own way from well-known writers/artists, to profit from the exposure of the original art-works. This is a case (no pun intended) in point about the continuing popularity of Tintin and his cronies. However, even in parody, how far away from the creator's original vision should a recycling artist be allowed to wander away? After making it in international headlines, is Marabout hoping to exploit the shock value of his art-works? Commenting on another artist's work is one thing, but exploiting it, is another thing altogether.
***
Considered to be a genius by many, not only was Hergé skilled at drawing, he was also good at fascinating his readers with mysteries, and intriguing situations. For example, why was Prof. Calculus going into the heart of a volcano, following the agitated movements of his pendulum, instead of running away, like all the others? Perhaps he was so oblivious to his real surroundings, and was so desperate to find the cause of the wild swinging of his pendulum for the sake of science, that inadvertently, he was willing to risk his very life. Or was he running away from mundane reality? And why did Tintin rush back to save his friend from going deeper in the maze of the mountain? Possibly because that was Tintin's nature, to rescue not just the innocent people of the world, but it also showed his deep friendship with the absent-minded professor.
What pushes writers/artists to create entirely new worlds, with original characters, who nevertheless manage to creep into the hearts and minds of millions around the world? Could Snowy hold one clue to Tintin's worldwide popularity? Why spend hours and hours of one's life bringing these worlds, and characters to life? Possibly because the real world is either too daunting with its myriad of problems, or too boring to lead a humdrum life in it. And one can more or less control the interacting spheres one is creating, unless some characters decide to do the unexpected, such as rushing towards the heart of a volcano, following a pendulum.
This short essay explores the mysteries surrounding Hergé life and works. Are there any correlations between certain aspects of his life and works? Were his main characters influenced by his own life, and people he may have known, who may have escaped in another guise onto the pages of his albums? Various biographers and scholars have expressed their points of view through books, and videos, which are given in the lists at the end of this essay.
The current conditions of partial self-isolation are forcing us to explore various kinds of loneliness. While watching videos related to Georges Prosper Remi, or Hergé, as he's popularly known, I started exploring the emotional loneliness of Tintin and his friends. They are an assorted bunch, brought together by circumstances. While they may complement each other in various ways, and even get on well with each other, their personal lives seem to be barren emotionally, as they have few family or romantic ties. Sometimes the loneliness of the writer flows into his characters. According to Serge Tisseron, that may have been the case with Hergé.
***
Was this brilliant body of work as a result of escapism on Hergé's part? Perhaps his emotional life was a bit difficult to handle, and he sought refuge in his own stories. The huge amount of research that he did on various countries and cultures voluntarily must have required hours of absorption, wherein he could have forgotten his quotidian. Also, blowing up bubbles of stories in his mind probably allowed him to escape the daily grind.
Specially, as he paid so much attention to detail, while leaving a judicious amount of blank spaces to be filled in with the reader's imagination. It's a fine balancing act between creating enough details to make a fictitious world believable, and not to overcrowd the panels with too many details. Perhaps that's one of the reasons why these albums are still popular, as every generation can interpret them anew. Hergé didn't just build his worlds through his images, but also via recurring characters, jokes, and spoofs. For example, Marlinspike Hall often got calls intended for the local butcher, due to errors of the phone company. Though this can be interpreted as a general mix-up of communications, with Thompson and Thomson being the masters of misinterpreting everything repeatedly. In the end, however, either their mistakes were cute, or inadvertently led to further discoveries by the good guys. Though Hergé was supposed to be a workaholic, perhaps like a lot of writers/artists, his fictitious world was more attractive to him than the real one.
***
Not much is known about the early life or the family background of Hergé, the creator of Tintin. In his 2009 book, Tintin et le secret d'Hergé (or Tintin and the Secret of Hergé), Serge Tisseron explores Hergé's family secrets which permeate the latter's graphic novels. There is speculation that Hergé himself may have descended from the illegitimate children of a nobleman. Is that why nothing much is known about Tintin's parents? Also, Captain Haddock, a major character discovers that he is indeed descended from a noble line, which is outlined in The Secret of the Unicorn.
***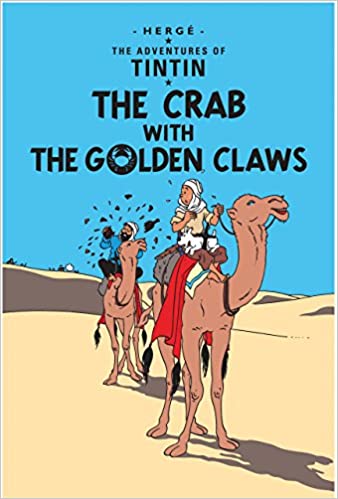 In fact, The Secret of the Unicorn (1943) and The Crab with the Golden Claws (1941) and to a smaller extent from Red Rackham's Treasure (1944) were adapted into a film, The Adventures of Tintin in 2011, produced by Peter Jackson, and directed by Steven Spielberg. A lot of hard work went into the making of this film, with Peter Jackson keeping his online appointments with Spielberg in the wee hours of the morning (due to the time difference) instead of delegating these meetings to other staff members. Unfortunately, this 3D computer-animated film didn't do as well at the box office as could have been expected. Perhaps the fans didn't care too much for the differences from the source material, or about computer-animated films in general. While the action sequences were quite spectacular, perhaps their length could have been shortened, because the appeal of these stories lies not just in action, but in the relationships, which are at the heart of all the stories.
***
For example, with Tintin's help Captain Haddock manages to regain his inheritance in the form of Marlinspike Hall. He lives there with Tintin, Nestor the Butler, and Prof. Calculus, not to mention the nosy Snowy. This anchorage of Captain Haddock in a place he can call his own brings him some emotional stability, and his drinking goes down, even if he remains somewhat prone to irascibility. Perhaps he used to drink to forget his own practical difficulties, and the bleakness of his emotional landscape. Though their friendship helps them get through many escapades, they're content to remain single, escaping complicated emotional attachments.
***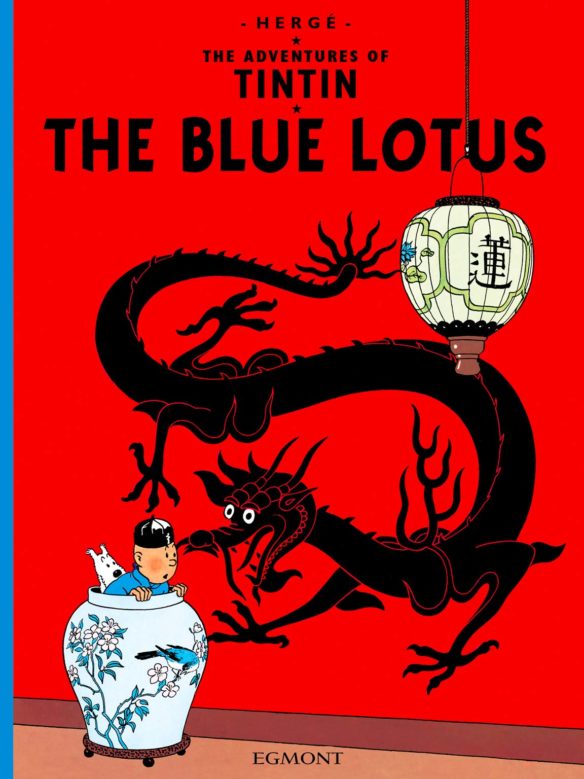 Funnily enough, unlike the humans inhabiting Tintin's world, Snowy doesn't just want to escape into his own world, but is forever ready and eager to engage with any situation and characters he happens to encounter. However, just once, when he got drunk, Snowy did have a good and bad angel in his own image, who were trying to urge him to do the right/wrong thing. No need to guess as to which dog angel won. But it was a hilarious, unique and entertaining concept, nevertheless.
Bothering Captain Haddock is one Biance Castafiore, a famous opera singer, who off-handedly shows Captain Haddock that she wouldn't be averse to his affections. But he has no inclination of showing them. Possibly Bianca Castafiore's constant tendency to fuss over her fripperies, and to surround herself with the fluff of flurried borders on elaborate gowns adorned with laces, with an assortment of furs, and scarves are a sort of refuge from any meaningful relationship. Why has her heart become as hard as her famous jewels?
Poor Prof. Calculus has no luck with her, since he's as maladroit in courting, as he is in everything else in real life, beyond the spheres of his studies and research. Is he secretly relieved that his love for the self-centred Castafiore remains unrequited. Does that push him further into his inner world, which he can control? Though a nerd, almost autistic, he's endearing as well, with his absent-mindedness and altruistic outlook on life. Perhaps he's interested in science not just because he has a brilliant mind, but also perhaps drowning himself in theories, diagrams, and formulas enables him to escape to his own domain which is more fun to puzzle out than strange creatures called human beings.
Castafiore's voice is capable of breaking glass. One can speculate that she is capable of breaking the wall of silence surrounding family secrets (perhaps regarding the nobleman's name who fathered the illegitimate children of a maid-servant who was Hergé's ancestor). There is a confusion over the names of Thompson with or without a 'p.' Which is strange to say the least, as all twins have the same last name. Therefore, could their names have been fabricated to hide their real names? Though they tend to knock about ineffectually, it's their good intentions that count.
***
Whether these musings are based on reality or not, these graphic novels, with an adolescent as the main character, have layers of psychological mysteries that go beyond most YA fiction. Serge Tisseron's speculations on different aspects of Hergé's life that he may have projected onto his fictitious personages, seem to fit the characters of these graphic novels. Being a brilliant artist and writer, maybe Hergé did feel lonely, for it's lonely at the top. Is that why his main characters are content to exist in their own emotional bubbles, even as they go run around saving the world? In those days when the visual media was not as extensive as now, his graphic novels went a long way to illustrate faraway places such as China, Tibet, or South America. Not only did his impeccable research bring these cultures to life, but also showed that the values of decent folks were the same all around the world.
Of course, it's a different question as to why Hergé was so concerned with world problems, and with righting wrongs in his graphic novels. Perhaps some unfair things had been done to the author's family, and Tintin was forever fighting for truth and justice, supporting the rightful rulers (who'd been overthrown) of various fictitious countries. These graphic novels continue to be popular even today because their messages are about common human decency, which is as relevant today as it was when they were first created in 1929. The world may have changed quite a bit since then, but Tintin and friends continue to delight and inspire a worldwide readership.
For example, a new exhibition, Tintin and Hergé will be hosted at the Power Station of Art in Shanghai from 6 Aug. 2021 till 30 Oct. 2021. It will showcase hitherto unseen photos and drawings by the Belgian master of comic books.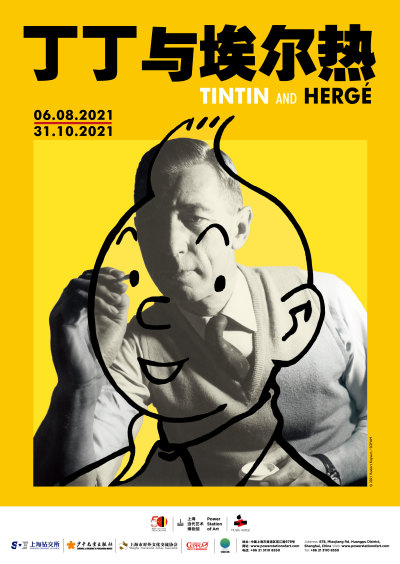 LIST OF RESOURCES TO FURTHER EXPLORE THE DIFFERENT LAYERS OF HERGÉ'S WORK.
(Since the resources in this list are in French, a good knowledge of French (B2.2) would be required to understand the videos).
Books
While hundreds of books have been written on Hergé and Tintin, here are four that explore the psychological aspects of Hergé's creations:
1/ Tintin chez le psychanalyste: Essai sur la création graphique et la mise en scène de ses enjeux dans l'œuvre d'Hergé (Ecrit sur parole) (French Edition) (French) Paperback – 1985
2/ Tintin et le secret d'Hergé (French) Paperback – 4 June 2009 by Serge Tisseron (Author) points out how Hergé's family secrets were played out in his graphic novels, giving greater insights into his characters. This has led to speculation on the significance of la Castafiore's voice breaking the glass (wall of silence).
3/ Tintin And The Secret Of Literature by Tom McCarthy seems to be very interesting as well, and gives an overview of many recurring patterns and their subtexts in Tintin's tales.
4/ Hergé, le pere de Tintin se raconte, edited by Nicolas Tellop is a collection of essays by and interviews of various experts, including Hergé's biographers. Published in 2020 as a Hors Serie edition by Vagatour Productions (Paris), it also features lots of photos, and excerpts from graphic novels and films, while exploring Hergé's influences, career, philosophy, and controversial stance during WWII.
Internet article:
Bianca Castafiore:
https://fr.tintin.com/personnages/show/id/4/page/0/0/bianca-castafiore
Tintin Catalogue:
https://www.tintin.com/tintin/actus/actus/001066/Piasa_fr.pdf
The catalogue was prepared by Piasa (an auction house) in cooperation with Moulinsart (the company managing Hergé's estate,). In it are also Hergé's b&w sketches, and sometimes plates without any dialogue in it. This could help provide insights into his creative process, and perhaps into how his mind worked, and what his vision was meant to be. I suppose unfolding the creative process of the source material could be interesting to any researcher, future artist, or readers wishing to delve more deeply into Tintin's world. The catalogue is in French, and some parts are also in English.
Videos:
Quite a few videos in French give further insights into Hergé's psychological make-up.
This is a non-exhaustive list of interesting videos on Hergé and Tintin:
-22 septembre 2016 – Integrale – Spéciale Tintin et Hergé, avec Michel Serres
-Serge Tisseron "La Castafiore et la psychanalyse de Hergé" | Archive INA
-13h15 le samedi: Hergé : une étoile si mystérieuse
-Hergé chez les initiés: La réalisation du Moi (a bit wonky, but shows the depths of Hergé's work)
Conclusion
Due to his bubbling creativity, mysterious background, and incalculable talent, Hergé and his work continue to intrigue readers and researchers alike. These graphic novels illustrate (no pun intended) how art can help people bridge the cultural gap, and identify common humane values. Long before the Black Lives Matter exploded on the scene, and expanded into how all lives of 'colored' people matter, Hergé had already showed us a more compassionate approach to multi-cultural encounters in some of his works. As the world shrinks to become a global village, perhaps it's time we learned how to get on with each other, instead of countries wasting huge budgets on funding weapons for (the prevention of) war. Diplomacy could achieve more, given the chance. Perhaps the biggest lesson given by Tintin are his humanitarian values, and his never-ending quest for justice (according to his worldview) in all aspects of life. Hopefully, he'll continue to inspire new generations to come.
Postscript
I was wandering around in Brugges, Belgium and I came upon this shop by chance, where some of our friends were prominently displayed. Here is a slideshow of my photos taken there.
BIO: Of Indian origin, Sultana Raza's poems have appeared in 90+ journals, with SFF work in Entropy, Columbia Journal, Star*line, Bewildering Stories, spillwords, Unlikely Stories Mark V, The Peacock Journal, Antipodean SF and impspired.
Her fiction received an Honorable Mention in Glimmer Train Review, and has been published in Coldnoon Journal, and Entropy. She's read her fiction/poems in Switzerland, France, Luxembourg, England, Ireland, the USA, and at WorldCon 2018, and CoNZealand 2019.
Her creative non-fiction has appeared in Literary Yard, Litro, impspired, etc. An independent scholar, Sultana Raza has presented papers related to Romanticism (Keats) and Fantasy (Tolkien) in international conferences.