By Steve Vertlieb: Miklos Rozsa's magnificent musical signature reached its conclusion on July 27th, 1995. Commemorating the life of one of cinema's most revered composers as we celebrate his musical legacy. Born April 18, 1907, Miklos Rozsa remains among the most revered composers in film history.
The 3-time Oscar winner for Best Original Score For A Motion Picture was a pioneering musician who, along with Bernard Herrmann, Alfred Newman, Max Steiner, Erich Wolfgang Korngold, Franz Waxman, Dimitri Tiomkin, and Victor Young brought dramatic, melodic musical form and structure to the sound of film, thereby forever altering the way we listen to movies.
Elmer Bernstein considered both Miklos Rozsa and Bernard Herrmann the finest practitioners of the developing art form of Music For The Movies in the remarkable history of the medium. In a career that comprised some forty-five years of scoring and achievement, Miklos Rozsa created lush, romantic scoring for such beloved fantasy films as Alexander Korda's The Thief of Bagdad, and the tale of a young Wolf Boy named Mowgli for The Jungle Book.
He became the defining voice of classic Film Noir with such scores as Double Indemnity, Brute Force, The Killers, The Naked City, and The Lost Weekend for director Billy Wilder and, as the 1950s approached, virtually invented the epic motion picture score for such films as Quo Vadis, Ivanhoe, Knights of the Round Table, Ben Hur, King of Kings, and El Cid.
He was a musical chameleon who reinvented both himself and the remarkably diverse genres for which he composed Time After Time. Here, then, is this published career retrospective and tribute to a consummate artist whose Lust For Life elevated the craft and power of Cinema to sublime ascension.
Together with Miklos Rozsa at Indiana University in Bloomington, Indiana, circa 1977, for a film conference…a wondrous event (also featuring George Pal) in which I spent eleven sublime hours in the intimate company and shadow of this giant 3-time Oscar winning musical genius. It just doesn't get any better than that. One of the greatest experiences, and most unforgettable honors of my nearly seventy-four years on this all too mortal plain.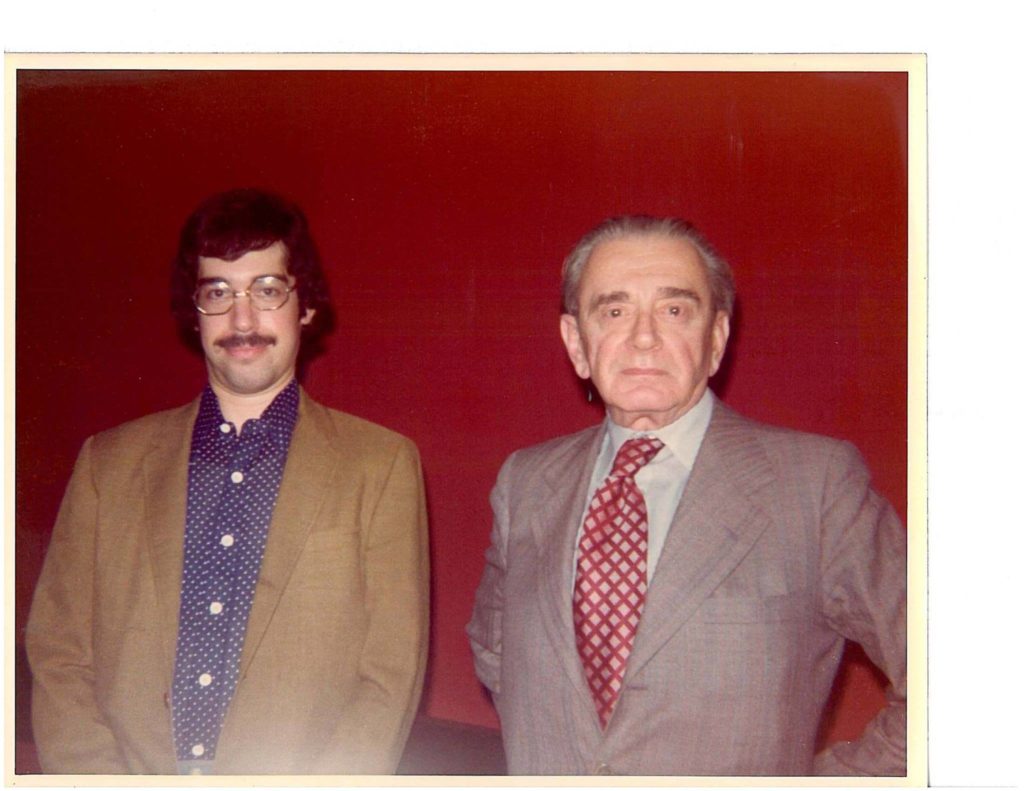 Honoring Miklos Rozsa's 100th birthday on April 18th, 2007, here is a special birthday proclamation issued by The Hungarian Ambassador To The United States. I'd been invited to a special commemoration of the composer's life at the Hungarian Embassy in Washington, DC by the ambassador, and was delighted to have met Juliet Rozsa for the first time after years of correspondence.
I carried this precious document with me to the nine-day Miklos Rozsa Film Festival which I'd programmed at Christmas of that year, and was privileged to read its contents to an audience of seven hundred enthusiastic film fans gathered together at The Castro Theater in San Francisco, California.
I lovingly presented the official proclamation to Juliet Rozsa, the three time Oscar winning composer's daughter on stage, prior to a live thirty-minute interview with her, in which we shared remembrances of her father's life and career, followed by a spectacular presentation of William Wyler's Ben Hur on the giant Castro screen.
After the screen presentation, we were invited by the ambassador to a sumptuous private supper at the embassy residence.
In 2007 I was asked by the folks who ran the venerable Castro Theater in San Francisco to put together a Miklos Rozsa film festival for their historic venue. I chose seventeen films to reflect a variety of moods expressed on screen by the wondrously gifted composer.
The film festival ran for nine days toward the end of December, 2007, and into January, 2008. I wrote the notes for the official program handed out for the once in a lifetime event, and hosted a thirty minute interview "live" on stage with Juliet Rozsa, daughter of this illustrious composer, before a paying crowd of some seven hundred movie goers prior to a presentation of the composer's masterpiece, Ben Hur, on the giant Castro screen.
Proclamations, tributes, and testimonials were written for the occasion by the Hungarian Ambassador To The United States, The Honorable Mayor of San Francisco, and legendary writer Ray Bradbury. Here is a first person report by Michael Guillen, an independent film journalist sitting among the capacity crowd during that memorable evening. "MIKLÓS RÓZSA—An Onstage Tribute"
Vertlieb read Bradbury's tribute to the Castro audience and the Rózsa family members on stage: "In all my life I've never had a more complete relationship with a composer than with Miklós Rózsa. When MGM asked me to write the narration for King of Kings, I immediately joined a partnership with Margaret Booth, the film editor, and we became fast friends. The most wonderful moment in my life was when I went on the sound stage to watch Miklós Rózsa conduct the score for King of Kings and then heard my own voice booming out over the orchestra and dear Miklós' head as I spoke the narration. I wish that I had a recording today of my voice with his music because it became a partnership and a great friendship for life. To everyone hearing his wonderful music this week, I send my love and regard to the memory of Miklós Rózsa."
Miklos Rozsa remains one of the most revered and legendary motion picture composers in screen history, and it was my sublime honor and privilege to know him for nearly three decades. A sublime inspiration guiding the direction and trajectory of my own life and career, we remember and commemorate the monumental influence, and birthday, of this superlative artist and man.