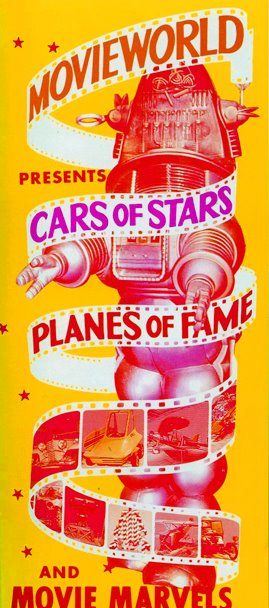 By Alan White: Pretty cool about Robby the Robot going for millions.
I wrote about this in Delineator so long ago, and just wanted to add a bit to the story FYI.
Following the MGM auction in 1970, I was working for Ed "Big Daddy" Roth at "Movieworld" in Buena Park.
After the dust had settled on the auction, the owners bought scavenging rights for the MGM lot.
I think they paid $10,000 for anything they could haul out of there. This was only a few weeks prior to the whole place being bulldozed for condos and stuff.
The owner, Jimmy Brucker, Ed Roth and I found tons of stuff abandoned in boxcars on the lot.
I don't recall how they got their hands on Robby, but I could see across the lot on the other side of some tall underbrush, all the wall panels from inside the United Planets Cruiser C57D, plus the large ray guns placements they used when fighting the ID monster.
I set out through all this shoulder high plants, and half-way across, stumbled into Robby's hot rod hidden amongst all this vegetation.  It was a wreck as you can see in the pic. Yes, I'll have to rescan these pics one of these days.
The wall panels and control desk without the big space globe could never be rebuilt. Everything had been left to the elements since, I suppose, 1956.
Thanks to 'The Kustom Car King" Ed Roth, Robby and the car were rebuilt and put on display at Movieworld.
The car came inches from winding up under a construction site.
So there you see only 3 degrees of separation between Rat Fink and the ID Monster!