Denny's invites you to stuff yourself as often as Hobbits with selections from its Middle-Earth-themed menu, coming November 6 as a tie-in with The Hobbit: An Unexpected Journey. And being a fan I'm sure you'll give the idea some thought.
Items on the menu include Radagast's Red Velvet Pancake Puppies, Bilbo's Berry Smoothie, Gandalf's Gobble Melt, "The Ring" Burger, Hobbit Hole Breakfast, Frodo's Pot Roast Skillet, and the "Build Your Own Hobbit Slam" with optional items such as "Shire Sausage."
The advertising campaign has already kicked off in Los Angeles. Around town are unbranded billboards displaying a message written in runes. Translation: "Middle Earth is coming to America's diner." English text will replace the runes on October 24.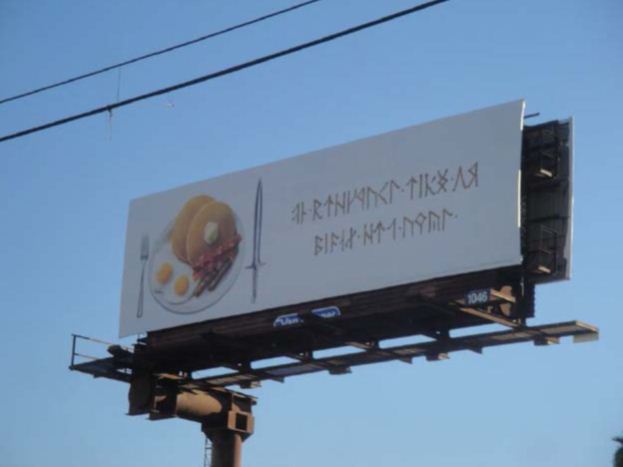 TV spots promoting the menu will air beginning November 12.
Trading cards are part of the tie-in campaign, too, reports Advertising Age:
Denny's customers will also receive a trading card pack with select "Hobbit"-inspired entrees that include collectible cards — there are 12 in total to collect — and Denny's coupons. The chain will also put QR codes on placemats that will provide customers with additional "Hobbit"-related content such as videos, online games and a behind-the-scenes look at the national TV spot.
Hobbits eat seven meals a day – breakfast, second breakfast, elevensies, luncheon, afternoon tea, dinner, and supper. Once Denny's publicity takes hold Taco Bell's "Fourthmeal" will sound like nothing more than a healthy snack.
[Thanks to Janice Gelb for the story.]