By Mark L. Blackman: The Beatles entered my consciousness not through the bathroom window but with my brother telling me about a new singing group with "haircuts like Moe" of the Three Stooges. (Decades later, he watched Sir Paul perform in Tel Aviv.) Soon after I saw their landmark first appearance on Ed Sullivan. By then Beatlemania had erupted – the moptops were the Fab Four – everyone had to get them into their lives. We followed their long and winding road from sweet love songs to India and Sergeant Pepper and The End.
When friends visited from England, they made a pilgrimage to Strawberry Fields – a place to go – then across the street to the Dakota.
This time of year is a sad one for Beatles fans. Last month saw the anniversary of George's death, next week will be that of John's murder. A celebration of their music, fame and legacy, what they meant, something to say that it's O.K. and make us feel good in a special way, is most welcome. We saw a reminder of their status as The '60s Icons last summer as fans gathered on the 50th anniversary of Abbey Road on, where else?, London's Abbey Road.
Yesterday, on the evening of Tuesday, December 3rd – Giving Tuesday – at its venue, the Brooklyn Commons Café in Brooklyn, the New York Review of Science Fiction Reading Series hosted a launch party (we're going to a party party) for Across the Universe, an anthology of 25 freaky and twisted (and shouted) speculative fiction stories about the Beatles and alternative variations of the still-Fab Four. Edited by Michael A. Ventrella and Randee Dawn, the ticket to ride features what-ifs by Spider Robinson, Jody Lynn Nye, David Gerrold, Cat Rambo, Lawrence Watt-Evans, Allen Steele, Pat Cadigan, Gregory Frost, Gregory Benford, Matthew Amati, Ken Schneyer, Bev Vincent, Patrick Barb, Gail Z. Martin, Barbara Clough, Eric Avedissian, Alan Goldsher, R. Jean Mathieu, Beth Patterson, and Christian Smith, coming together, plus the, um, Fab Five readers of the evening: Charles Barouch, Keith R.A. DeCandido, Carol Gyzander, Gordon Linzner, and Sally Wiener Grotta.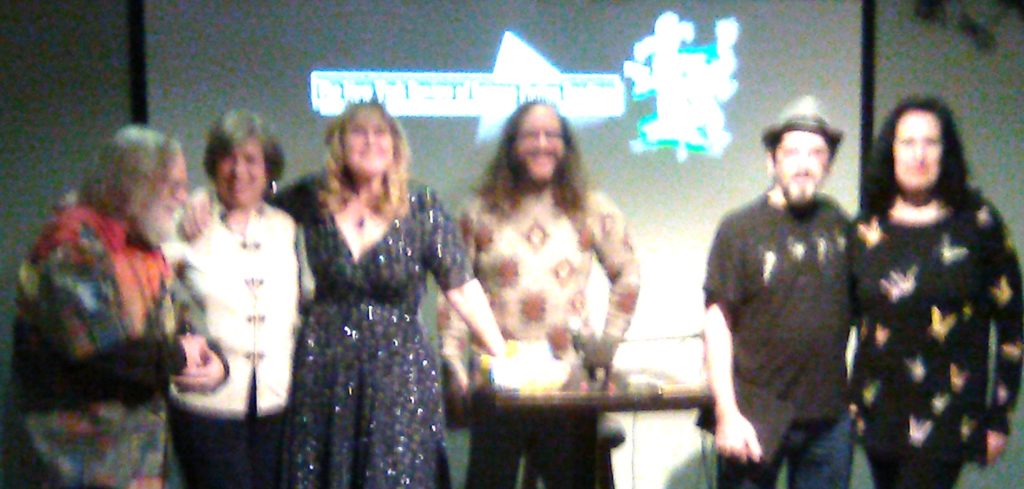 As we gathered, Beatles tunes played to get us into the spirit of things. The event opened, as usual, with producer and executive curator Jim Freund, host of the long-running sf/fantasy radio program Hour of the Wolf (with WBAI-FM back on the air, he's no longer sitting in a nowhere land) welcoming the audience to the last reading of 2019. He began by noting that tonight's readings would be on Facebook Live, rather than streamed on Livestream, plugging that the Café's kitchen would be open through most of the evening, and announcing that next month's readers (January 7th) would be Hildy Silverman and A.C. Wise (though without glitter). He reminded those who can to donate to the Series ($7 is the suggested donation, but no one is ever turned away due to lack of funds), and reported that the home audience may donate on its Patreon page, Jim Freund.
Bringing up guest host and the book's co-editor Randee Dawn, he reported that Across the Universe is actually the second such anthology, the first being All Together Now, edited by James Ryan. Dawn is a Brooklyn-based author and entertainment journalist who focuses on speculative fiction, but is co-author of The Law & Order: SVU Unofficial Companion. After recounting how she and Ventrella pretty much simultaneously came up with the idea, presented it to Ian Randal Strock of Fantastic Books and launched a Kickstarter campaign to realize it, she introduced the evening's first reader.
Sally Wiener Grotta is the author of The Winter Boy and Jo Joe, a journalist and the co-curator of the Galactic Philadelphia author reading series. She read from her story "The Truth Within," in which George goes to Key Biscayne and tries to get Nixon interested in ("hooked on") transcendental meditation: "Imagine a chilled Nixon at peace with himself. … And poof! No more carpet bombing and napalm."
Carol Gyzander, writer of various crossgenre 'punk stories and the second reader, read from "Deal with the Devil", which is one answer to "how did the Beatles get so good?" Set in Liverpool after their return from playing clubs in Hamburg (Pete Best is still their drummer), two kids, fans of Black Sabbath and Ozzy Osbourne, using black magic to connect with their idols, instead reach – through their old black and white "telly" – the Beatles.
Next up was Gordon Linzner, founder and former editor of Space & Time Magazine, author of The Spy Who Drank Blood, and who, as lead singer of the Saboteur Tiger Blues Band, has covered a fair share of Beatles songs. His story alludes to a tv show with four protagonists, "The Hey! Team." With John as leader and wacko Richard "Ringo" Starkey in the Murdoch role, they try to prevent the abduction of Chuck Berry's guitar Maybellene, while being pursued by Colonel Pepper (he was promoted).
"The Perfect Bridge," Charles Barouch's quickie was another time travel story. A computer programmer in 1978, using a "Yellow Subroutine," reaches across to 1967 to plant an Appleseed.
During the intermission, a raffle was held for those who donated, with three prizes: from Carol Gyzander's What We've Unlearned; Sally Wiener Grotta's Jo Joe; and Gordon Linzner's The Spy Who Drank Blood. Freund reported that the Brooklyn Commons was starting a series or festival of short subject films and invited us to sign up electronically at a terminal up front.
Opening the second half of the show was Keith R.A. DeCandido, who is perhaps best known for his media tie-in work across "33 different universes, from Alien to Zorro." In "Used to Be," which is set sort of in his "Precinct" fantasy police procedural series, the Beatles are recast as Jahn, Gyorg, Paol and Starki, D&D tropes (Jahn is a bard, Starki a barbarian).
Filling in for the scheduled final reader, Dawn read Matthew Amati's "Apocalypse Rock." Set in an alternate history where the U.S. lost JFK's Cuban Missile Crisis gamble, four musicians wander a postapocalyptic landscape of gangs and cannibal mutants to a battle of the bands at the titular site.
Then, in a bonus, the book's publisher ("the guy who writes the checks"), Ian Randal Strock, read "Rubber Soul" by Spider Robinson. In the 1985 story, John is resurrected 24 years after his death at 40, making him…
Finally, it being a party party and all the world is birthday cake, Dawn brought out a huge cake (though not honey pie or marshmallow pie) decorated with a copy of the cover art by Dave Alvarez. (I took a piece but not too much.)
The traditional Jenna Felice Freebie Table offered a small assortment of books. The audience of close to 80, counting Freund and the readers, included Karen Heuler, (House Manager) Barbara Krasnoff, John Kwok, James Ryan and Susan Bratisher Ryan.
It was a hard day's night. Goodbye, goodbye, goodbye.