By Carl Slaughter: Clarkesworld has survived and thrived in an ezine landscape strewn with casualties. Editor Neil Clarke's magazine has been a finalist for or winner of the Hugo, Nebula, Bram Stoker, Shirley Jackson, Chesley, World Fantasy, British Fantasy, Locus, and Parsec awards. He has been a three-time Hugo nominee in the Best Short Form category. Clarkesworld has received four Best Semiprozine Hugo nominations and won three times. In October, Clarkesworld celebrated its 10th anniversary.
CARL SLAUGHTER: What was your vision for Clarkesworld? How has that vision evolved? What's your vision for the magazine's future?
NEIL CLARKE: When we launched ten years ago, all any online magazine could hope for was survival and that was rarely the case. Attitudes, revenue opportunities, and a few other things have changed considerably since then. Over the years, we've been able to take advantage of this to responsibly grow the magazine into what it is today. Now, our vision is to be thriving and that includes things like becoming more international (subscribers/readers/listeners/writers) and making Clarkesworld my full-time career.
CS: What void do you see Forever filling?
NC: I wouldn't call it a void. Forever is scratching an itch I had to do more work with novellas and at the same time it promotes stories and authors I've enjoyed over the years. It was designed with six, twelve, and twenty-four month subscription milestones that determine whether or not it continues. It's a fun little side project I started before I started getting regular anthology projects.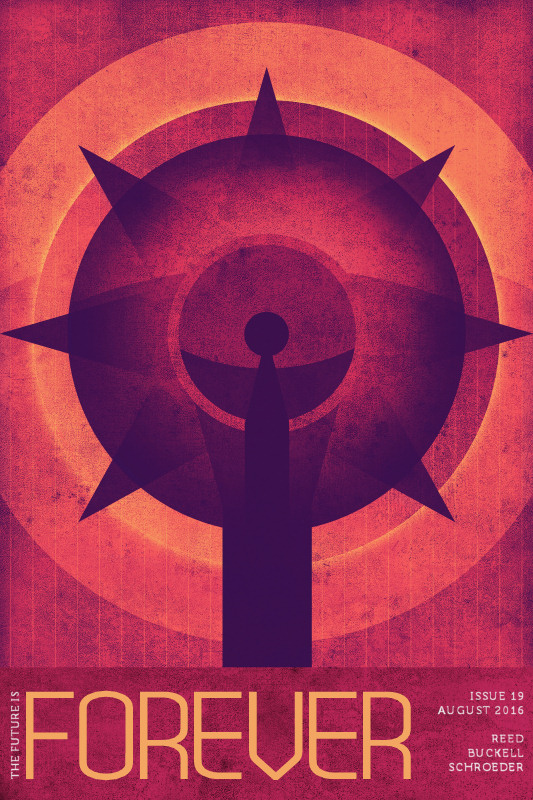 CS: In addition to your Clarkesworld anthologies, what does Wyrm publish?
NC: At the moment, not much more than that. After my heart attack, I reorganized my priorities and began allocating my time more wisely. In addition to the magazines and anthologies, I still have a full-time day job. Wyrm was the easiest thing to scale back without interfering with things I enjoy, so it's on hold until I leave the day job. I did use Wyrm to get Upgraded into distribution, but that's the only non-Clarkesworld project it's touched since 2012.
CS: What are the criteria for inclusion in your annual best series?
NC: The eligibility requirements for The Best Science Fiction of the Year series are very simple. A work must be:
science fiction
published in English for the first time that year
a short story, novelette, or novella
After that, it's like taking a year's worth of magazines, anthologies, standalone stories, and collections and turning it into a slush pile. Throughout the year, I'll flag stories I enjoyed and think I should come back to. That final pass can be a challenge and even when you love a story there's a chance you won't be able to include it. For example, last year I was unable to include Greg Egan's "The Four Thousand, The Eight Hundred" because the reprint rights weren't available. If a story doesn't make the final cut or can't be included, I add them to the recommended reading list in the back of the book.
CS: Why the interest in cyborgs?
NC: Like many my age, much of my early views on cyborgs came from The Six Million Dollar Man (childhood) and cyberpunk (college), but I also remember the Jarvik 7 heart transplant in the early 80's. My 2012 heart attack made it personal. The considerable damage to my heart caused my doctors to recommended having a defibrillator implanted, so, in early 2013, I went under the knife and became a cyborg. While I was recovering, I dove deeper into the stories and was inspired to launch a Kickstarter campaign for the Upgraded anthology. In many ways this was my attempt to make something positive out of the whole experience. I learned a lot from the experience and look forward to continuing this therapeutic track.
CS: How much of Clarkesworld's traffic is podcast? Do you see that increasing?
NC: The online edition of the magazine makes up the majority of our reader/listenership. The podcast comes in at a close number two. I report the stats for the online edition, podcast, print editions, and digital subscriptions separately because there isn't a clean way to determine the overlap. Each plays an important role in reaching a different audience. It's our responsibility to get our authors' works read by as many people as possible. From the beginning, we've accepted that means being in the format the readers want. Sometimes that's audio. Sometimes that's print. Each audience continues to grow, though.
CS: Will your anthology work increase?
NC: That's the goal. I'm wrapping up the second volume of The Best Science Fiction of the Year now and can happily report that I'm contracted for two more beyond that. I also have Galactic Empires coming out in January. Later this month, I'll start considering stories for the next two 2017 anthologies: More Human Than Human and War Machines. Clarkesworld Magazine: A 10th Anniversary Anthology is currently scheduled for early April.
CS: What will we see in Galactic Empires?
NC: Stories that span the breadth of the empire by some of the best writers working in that area over the last twenty years. A complete lineup can be found at: http://neil-clarke.com/books/galactic-empires/