By Steve Davidson: Where was I in 1978, the year that File 770 (the fanzine, not the room) was born?
I was in college in northern New Jersey.  Which made it very easy for me to continue my engagement with fandom, as I could hop onto the Erie-Lackawanna Railroad at College Station after a short walk from campus, could usually avoid paying the fare by figuring out which car the conductor was in and walking ahead of him down the length of the train (or get off and back on at a later station so as to circle back around behind the conductor. Hey, you go to college for a well-rounded education, right?), switch to the PATH in Hoboken and then switch to one of several different subway lines depending upon destination…usually either the somewhat Slan shack occupied by Mesrs. Farber, Shiffman, I think a guy named Patrick (for a while), and Suzle & Jerry and a host of other transients, or off to the HQ of Algol/Starship and a meeting of the Futurians or Lunarians or Fanoclasts or some other fannish name that escapes me right now, and engage in an afternoon and evening basking in the warm glow that was Fannish Society;  discussing the latest works, catching a movie premiere (and being interviewed by WBAI), eating Chinese food at the legendary Wo Hops(?), talking stenciling techniques, the latest fannish gossip, plans for new fanzines, helping move people in and out of temporary domiciles, planning trips to conventions.
I'd just come off a very heady two-year odyssey.  In early 1976 I'd learned that the 1977 Worldcon was being chaired and managed in my home town (from a classified ad in Amazing Stories) and had gone from playing the role of girl Friday at the chairman's house to managing the 1977 Hugo Awards Banquet.  Along the way I'd worked on other conventions (mostly gophering, occasionally working registration and security), but this was different.  By the time Suncon rolled around, I'd become enough of an insider to be given an orange felt hat for the "Meet the Pros (and staff)" party (that was how you told the Pros (and staff) apart from the other attendees), had met and become friends with numerous professionals, was receiving encouragement and advice from some of the best fanzine writers and editors in the business and had already been asked to work on other Worldcons, notably Iguanacon the following year and the Seattle in '81 bid (a fact I'd forgotten until re-reading the first issue of File 770 which you can read here – (http://fanac.org/fanzines/File770/File77001-02.html), as well as heading security for Balticon '78.
My fanzine efforts were also bearing fruit. In early '77 I'd applied to my university for what they called a "Leadership Grant" in order to continue publishing Contact: SF A Journal of Speculative Literature with Joseph Zitt, my fannish buddy, and we decided to use the funds to "go pro". Or semi-professional actually. With the offer of pay came access and we were able to round up a good set of contributors Laurence Jannifer, Ginjer Buchanan, Robert Foster, some wonderful artwork and land interviews with leading authors in the field.
We were to present the issue at Iguanacon, with the intention of planting our feet firmly in the sercon pool of fanzines ("serious and constructive").
Since we were basically living among fans (the last great generation of paper fanzine fans), our efforts did not go unnoticed.  It wasn't usual for a "fanzine" to land serious grant money.  That alone was newsworthy.
This was a time of The Alien Critic (SF Review), Locus (seemingly the perpetual Best Fanzine winner), Algol, Fanthology '76, Granfalloon, Drift…
It was also the occasion of a new newszine out of California, something called File 770.
Of course, everyone at the time knew that Locus was the king of newszines and that it had two erstwhile contenders nipping at its heels – Andrew Porter's Algol and Richard Geis's SF Review.  At the time, it was considered that this was a crowded and sometimes contentious field (sometimes?) and, if I remember correctly, it was also considered near folly to try and break into those ranks.
But File 770 had, enough so that I heard about it from other local fans and someone made a strong suggestion that I ought to send information about Contact to File 770 during the run up to Iguanacon.  It was also suggested to me that I hook up with Mike Glyer at Iggy, the both of us somewhat representing a new wave in fanzine publishing.
Iggy arrived in Phoenix and so did I.  Contact: SF did not.  The entire run of the magazine (less a few copies thank goodness) had been lost by American Airlines.  But I did have copies of the cover.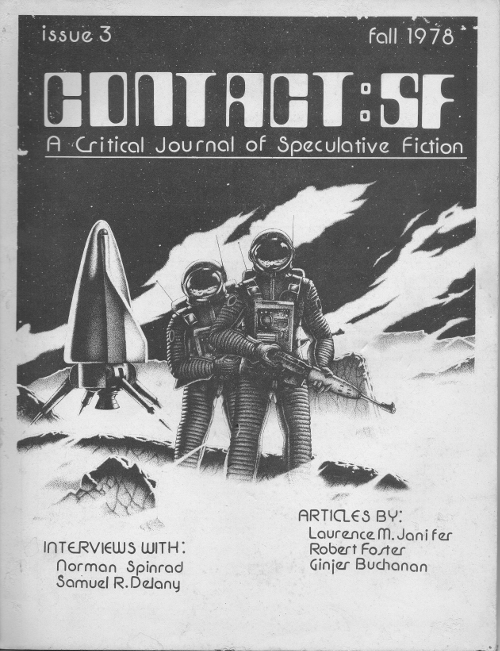 I don't remember who arranged the introductions, though vague memories suggest it might have been Jerry Kaufman and Suzle Tompkins (of Spanish Inquisition fame).  If I remember correctly though it has been 40 years, I was introduced to Mike Glyer and File 770 in the lobby of the main hotel, somewhere between the front desk and the restaurant.  I'm sure we both made noises about having heard of the other and appreciating each other's efforts and then Mike offered me the latest copy of his zine in exchange for a copy of my zine (one of the expressions of "available for the usual") and all I could show him was what the cover of mine looked like.
I'm sure we talked about a few other things, but since I was working security at the con, I soon had to dash off to take care of business – collecting a six-gun at the entrance to the hotel, protecting both Gahan Wilson and Harlan Ellison from rabid fan attention,  corralling fruit bats in the restaurant, caravaning to the local supermarkets to purchase every last package of Lime Jello and walking my feet bloody in the process.
But those are stories for another time.
Congratulations Mike!