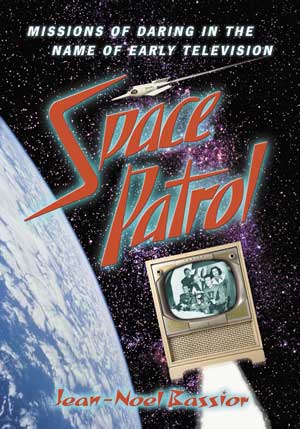 By Steve Vertlieb: In the early days of television, my boyhood was enchanted by the weekly adventures of Commander Buzz Corry and Cadet Happy aboard the spaceship "Terra V" of the inter galactic Space Patrol. The series, written by Norman Jolley and Mike Moser, and directed by Dick Darley, aired Live every Saturday morning from 1950 until 1955 over ABC Television and radio. Each episode would air first as a radio broadcast at 10 o'clock in the morning (EST) over ABC Radio, followed at 10:30 (EST) on ABC Television. The series was among the earliest and most professional of tv's original space operas, featuring imaginative scripts and top flight production. The program would continue to air for decades in syndication as Satellite Police.
Starring Edward Kemmer as Commander Buzz Corry, the show featured an ensemble cast that included Lyn Osborn as Cadet Happy, Ken Mayer as Major "Robbie" Robertson, Virginia Hewitt as Carol Carlisle, and Nina Bara as "Tonga." The show assembled a colorful recurring cast of villains that included Bela Kovacs as the nefarious Prince Baccarratti, and Marvin Miller as Mr. Proteus.
Marvin Miller would go on to star in his own popular CBS Television series, The Millionaire (as Michael Anthony, Executive Secretary to the fabulously wealthy John Beresford Tipton, voiced off camera by Paul Frees), as well as enacting the voice of Robby The Robot in MGM'S Science Fiction extravaganza, Forbidden Planet. Indeed, Space Patrol may well have inspired the filming of the MGM classic in 1956, as well as NBC's Star Trek series in 1966. William Shatner's Captain James T. Kirk was, in many ways, a haunting reinterpretation of Kemmer's Buzz Corry.
Ed Kemmer had been a heroic World War Two flyer whose P-51 fighter plane was shot down over France in 1944. He spent the next eleven months interred in a German P.O.W. camp, having escaped but later recaptured. It was the very same prisoner of war camp that inspired the popular Steve McQueen drama, The Great Escape. During his imprisonment, Ed would often stage plays for his fellow prisoners and, when the war ended, he embarked on an acting career.
Ed appeared from 1964 until 1983 as a featured player on such prominent soap operas as The Edge of Night, and All My Children. He also co-starred with Dorothy Malone in Too Much Too Soon, the story of actress Diana Barrymore. However, it was his affiliation with sci-fi that he is best remembered for. He co-starred with William Shatner (as the flight engineer) in Richard Matheson's classic Twilight Zone episode, "Nightmare At Twenty Thousand Feet" in 1963 as well as playing the lead in Earth Vs. The Spider in 1958.
Here I am some years ago meeting my boyhood hero at last. Ed Kemmer was a delightful gentleman, actor, and war hero who, wonderfully, became a personal pal during the last years of his life. When I first met Ed, I gushingly told him that I'd loved him for fifty years. He said "You couldn't possibly be that old." I assured him, however, that I was. I corresponded with Ed during the last years of his life, and often sent him tape recordings of Frank Sinatra, whom he adored. Dick Darley, who had directed the entire run of Space Patrol, had later directed the Rosemary Clooney television program, and Ed would often visit the set, discussing Sinatra with Clooney.
Meeting Ed was, quite literally, a dream come true for me. Along with William Boyd as Hop-A-Long Cassidy, and Larry "Buster" Crabbe as Flash Gordon, and Buck Rogers, Ed was one of my earliest, most cherished and remembered heroes. Ed suffered a stroke, and passed away on November 9, 2004. He was eighty-four years old.
The decades have separated us, but my memories remain as vital and clear as they were in 1950 when, in my innocence, I first heard announcer Jack Narz proclaim "High adventures in the wild reaches of space … Missions of daring in the name of interplanetary justice. Travel into the future with Buzz Corry, Commander in Chief of the … Space Patrol."