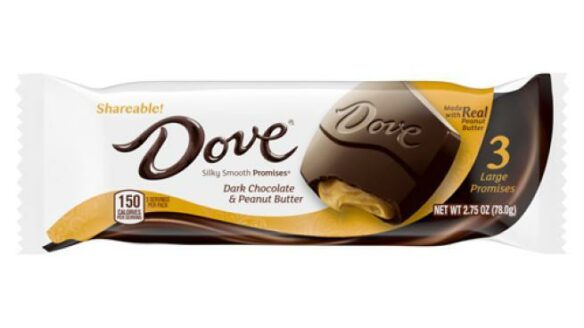 By Cat Eldridge: At one of my local supermarkets they put lots of candy at the checkout area. Most of it is the common stuff you'd expect there, Musketeers, Almond Joy, Reece's Peanut Butter Cups, Butterfinger and Hershey Bar with Almonds. No, not bad stuff but nothing really unexpected. You certainly won't find my favorite Reese's dark chocolate peanut butter cups here.
I did always wonder how this variety of sweet stuff is put together because it includes a handful of rather unexpected treats of which these Dove dark chocolate peanut butter bars are definitely welcome. Add to that I didn't even know the Dove company did anything of a dark chocolate nature in general or anything in particular like this bar.
Dove is owned by Mars and the company site says this of the bar, "Unrivaled in taste, our DOVE Dark Chocolate & Peanut Butter PROMISES now come in a large share-worthy size. Unlock a whole new level of chocolate indulgence with this shareable chocolate candy featuring 3 large PROMISES in each pack."
Ok, it's not high end, bittersweet chocolate but then I've not date found any such product that combines premium dark chocolate and high quality peanut butter, but I live in hope with such a product existing.
These bars are a tad sweet but the chocolate is quite good and the peanut butter's rather fine. Each bar is actually, as the Mars site noted, three separate pieces and quite frankly one piece is enough most of the time. I don't purchase them every time I shop there but I do get them frequently.