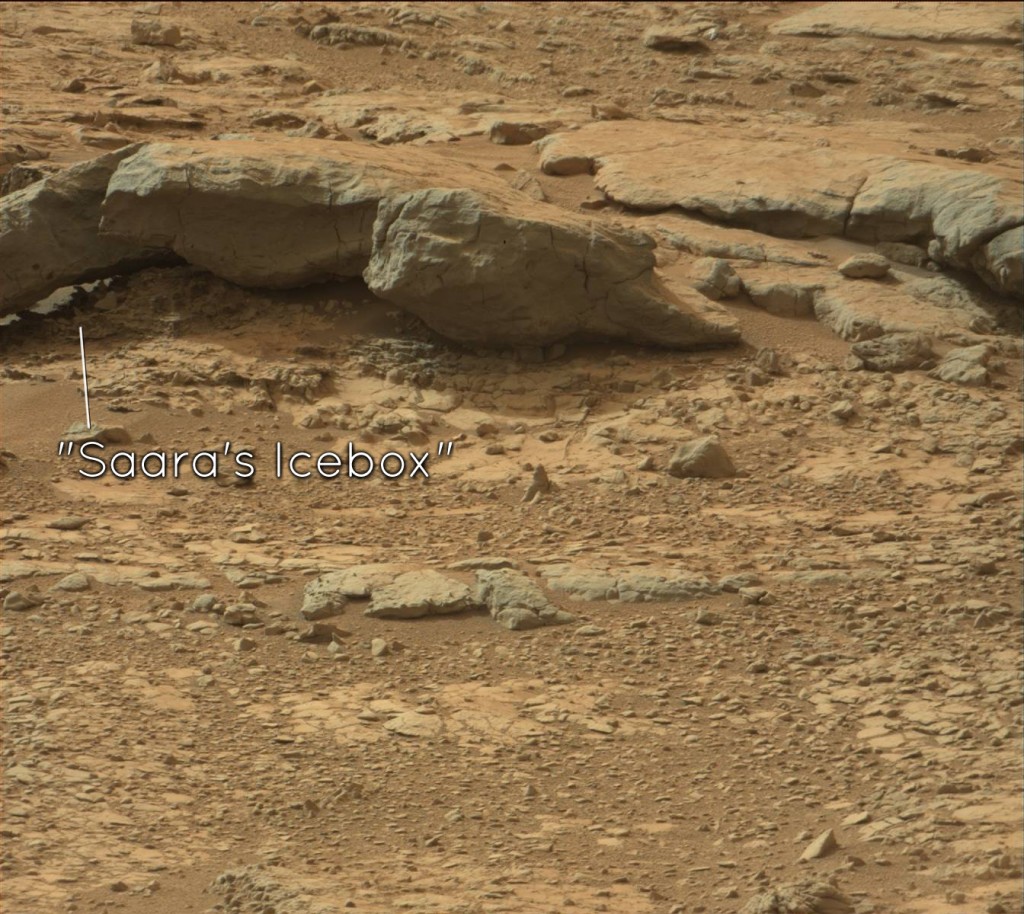 By Taral Wayne: Here's something odd for you. While downloading photos from NASA's Curiosity site (some 200 from Sol 137), my eye was caught by a strange white patch deep in the shadow of one overhang. I've seen some other whitish rock or glaze in other photos, but this looked completely different. It looked, in fact, like snow or ice. There's even a dark area beneath it as though it was slowly melting. I suppose it could be ice — why not? So far we've discovered ice in a number of places. This particular overhang might just be cool enough to sustain a patch, at least temporarily.
I immediatey emailed the website and identified the photo. One other also shows the patch, though it's much harder to see it — so it doesn't appear to be a glitch in the first photo. No word from NASA, naturally…
Do you think it possible nobody had spotted it? If they have, they've been rather close mouthed … or could they deem it something of no interest, I wonder?
I've dubbed it "Saara's Icebox," somewhat whimsically. I'd love it to stick, but I don't imagine there's much chance of it.
Although, oddly some names I suggested to NASA by e-mail for highlands on Titan have appeared on one NASA map. Nobody mentioned adopting my suggestion … so it might be a coincidence.
Postscript: Another photo of the overhanging rock formation has turned up in Sol 170's photo cache. The white stuff, whatever it was, doesn't seem visible. The view is distant, though, so it's hard to see if there might be just a little left. Perhaps significantly, the dark stain that had been below the white stuff is also gone or going. Seems that it's too late to investigate anything now. Good one, NASA!