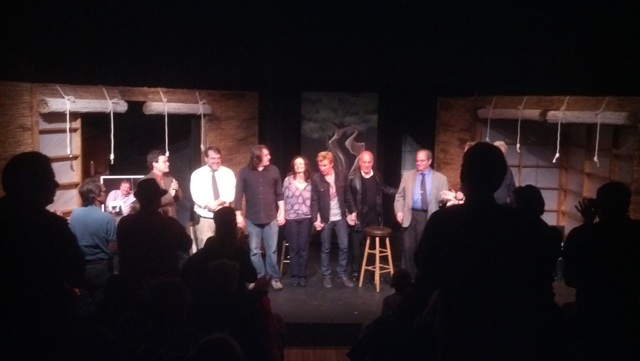 By John King Tarpinian: On Sunday, October 22 the cast of Ray Bradbury's Pandemonium Theatre Company gave a final farewell to their friend and mentor at the Fremont Centre Theatre in South Pasadena, CA. This was a very casual event, no fancy staging, costumes or makeup, just actors who loved Ray saying goodbye. To honor Ray's love for libraries 100% of the box office went to the Friends of the South Pasadena Library.
The mayor of South Pasadena said a few words as did the head librarian. Then a few of the actors took turns giving a reading from a scene of their favorite Bradbury play that they'd appeared in. Then they said how Ray touched their lives and careers.
People were reminded of a few actors who got their start under Ray's wing. F. Murray Abraham's first paying job, on stage, was in the Wonderful Ice Cream Suit in Los Angeles. Joe Mantegna played in a stage production of WICS in Chicago and went on to reprise the role in the movie of the same name. The last crop of actors in Ray's theatre troop hopes their being touched by Ray's magic portent great things for their future.
Afterwards, actors and patrons were invited to raise a glass of champagne (or sparkling apple juice) to Ray in a final salute.